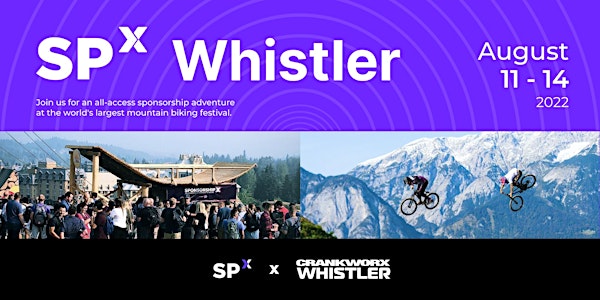 SponsorshipX Whistler
SponsorshipX is a live action marketing conference that gathers top sponsorship and marketing professionals for an incredible experience.
Refund Policy
Contact the organizer to request a refund.
About this event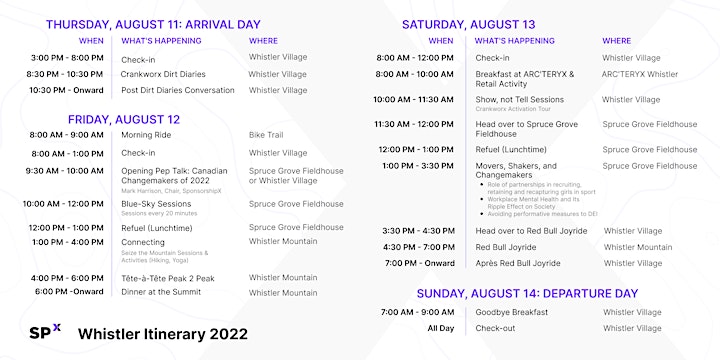 About this event
A yearly event taking place in beautiful Whistler, BC, in partnership with Crankworx, the world's largest mountain bike festival. A sponsorship adventure, SPX Whistler seeks to motivate and connect our delegates through inspirational content, behind-the-scenes access, and incredible experiences, where sessions are just as likely to take place at the base of Whistler Mountain as they are at the summit.
Join us August 11-14, 2022 for inspirational speakers, action-packed content and amazing experiences you can only get at SponsorshipX.
Confirmed Speakers for Sponsorship X Whistler:
Hildah Juma, Executive Director, Black Talent Initiative
Mitch Thompson, Co-Founder & CEO, PandoPartner
Cliff Fregin, COO, Indspire
Carling Jackson, Celebrity Artist, Carling Jackson Art LTD
Leanne Nicolle, President and CEO, Big Brothers Big Sisters Toronto
Eliot Jackson, Founder, Grow Cycling Foundation
Mitch Sharm, Manager, Sports Sponsorship, TD
Hossein Hassani, Vice President, EV Ecosystem, General Motors
Claire Jones, SVP Operations, MiQ
Marsha Gaye-Knight, Manager, Partnership Marketing, CBC Sports & Olympics & Founder, Black in Sport Business (BSB)
Ian Hoffman, Director, Product Creative Services, Arc'teryx Equipment
Jayson Faulkner, Director, Spearhead Huts Society
Kristen Gambetta, President, ShelS
Ariki Tibble, Event Director, Crankworx Rotorua
Russell Kovshoff, Manager, Game Presentation, LA Clippers
Christine Clark, Managing Partner, Thinkingbox
Ashley Curran, Associate Vice President, Community Impact and Sport Partnerships, Canadian Tire Corporation
Peter Hwang, President, CEO and Founder, Tre'dish Inc.
Peter Cosentino, President, DEC Sports & Entertainment
Tyler Jordan, President & CEO 7mesh Industries Inc.
We have more than 20 confirmed speakers coming to SponsorshipX Whistler. Come forge bonds that are critical to building our community of sponsorship marketing professionals and become the driving force behind your personal network.
Pass Rates:
ALL PRICES LISTED ARE IN $CAD
Individual Pass: $1,695 per pass + tax
Cancellation & Refund Policy:
All sales final.
Registration Policy:
Registration fees do not include tax. All fees are listed in Canadian Dollars (CAD) and include a service fee of 3.5% + CAD$1.00 per ticket plus a 2.5% processing fee.
The registration payment must be submitted by Credit Card at the end of the registration form. Invoicing is not available.
To be able to attend SponsorshipX you must have paid your registration fees in full via credit card.
You will receive a confirmation email upon completion and payment of your SponsorshipX registration. If you have not received your confirmation email within 24 hours after completing registration contact info@sponsorshipX.com.
By completing the registration form you accept a binding agreement of the above-listed cancellation and registration policies.
Privacy Policy:
We collect your email address in order to:
Send information, respond to inquiries, and/or other requests or questions.
Process orders and to send information and updates pertaining to SponsorshipX.
Send you additional information related to SponsorshipX.
Market to our mailing list or continue to send emails to our delegates after the original transaction has occurred.
Speakers
Every effort will be made to keep presentations and speakers as represented on the official www.sponsorshipX.com website, however, unforeseen circumstances may result in the substitution or cancellation of a presentation topic or speaker.
Use of Photography and Videos
The stakeholders of SponsorshipX may take photographs and videos of delegates, workshops and social functions during SponsorshipX. Photographs and videos may be used in the marketing and promotion of future SponsorshipX events and will not be used for or distributed to third parties.
Contacting Us
If there are any questions regarding this privacy policy, you may contact us using the information below.
The T1 Agency
10 Alcorn Ave, Suite 101
Toronto, ON
M4V 3A9
Canada
info@sponsorshipX.com