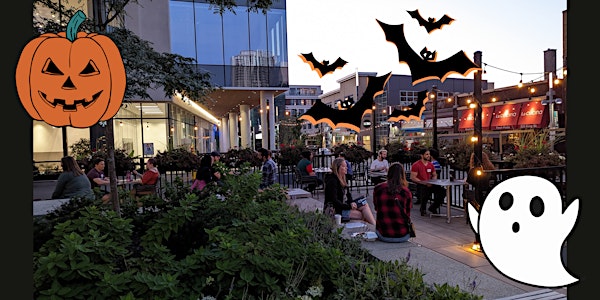 Spooky Speed Friending at Cafe Pyrus - MOVED TO OC
Come make some friends, and enter our costume contest! Ticket sales for this event will help SFKW purchase new supplies for next season.
When and where
Location
Cafe Pyrus 305 King Street West ##101 Kitchener, ON N2G 1B7 Canada
Refund Policy
Contact the organizer to request a refund.
Eventbrite's fee is nonrefundable.
About this event
Please read through all provided info even if you have read it and/or participated in previous Speed Friending events, as some details have changed.
-----------------------------------------------------------------------
Hey KW!
Want to make some friends in a fun, casual outdoor setting? Come on downtown to our Speed Friending event, located on the glorious patio space of Cafe Pyrus!
Just like in speed dating, Speed Friending participants will rotate through multiple one-on-one conversations with each other throughout the evening, and then choose who they do and don't want to keep in touch with! After the event, mutual matches will be sent each other's contact information. Unlike speed dating, Speed Friending is about building platonic connections! It's a great way to make some new friends and enjoy some #DTK vibes!
-----------------------------------------------------------------------
Costumes for this event are encouraged but not required!
All participants who dress up will also have a chance to win SFKW's Best Costume Contest - Top 3 contestants will win prizes!
More info on that coming soon. 🎃
-----------------------------------------------------------------------
www.speedfriendingkw.com • IG: @speedfriendingkw • #speedfriendingkw
-----------------------------------------------------------------------
IMPORTANT INFORMATION:
1. Friending begins promptly at 6:30pm! Please arrive 10-20 minutes early for check-in, and to allow yourself time to fill out some required paperwork before we dive in.
2. Late comers may be required to forfeit their spot! If you purchased a ticket but arrive after 6:30pm, you may not be able to participate, as introducing late-comers into the rotation throws it off.
3. You will be required to provide an email address for us to send to your matches! If you do not have an email address you are comfortable giving out, please create a new one prior to the event that we can share with your matches. Once you receive your matches' contact info, feel free to let them know which apps or social media sites you'd prefer to keep in touch on!
4. This is an 18+ event! For consent & liability reasons, we cannot accept participants under the age of 18.
5. If you don't receive a confirmation email upon purchasing your ticket, check your spam folder! We've had a few participants tell us that's where they found their ticket confirmation and event reminder emails.
6. Walk-ins will be asked to make a cash donation to participate! We do not have the ability to process debit or credit donations outside of Eventbrite.
7. We recommend flying solo, or attending with one other friend! We absolutely understand that entering new social situations can be intimidating, and bringing friends can provide comfort. Unfortunately, when you attend Speed Friending as part of a large group, you increase your chances of being sat with people you already know! This means less opportunities to meet new people, and isn't that what Speed Friending is for?
8. Minimizing the spread of Covid is important! If you have come into known contact with a Covid case within two weeks of the event, have tested positive for Covid, and/or are experiencing symptoms of any kind, please remain home.
-----------------------------------------------------------------------
www.speedfriendingkw.com • IG: @speedfriendingkw • #speedfriendingkw
-----------------------------------------------------------------------
CODE OF CONDUCT:
1. Masks are welcome! While we are choosing not to mandate masks this year, we want folks who prefer to remain masked to know that this is a welcome space to do so! If at any time you are seated with someone who chooses to remain masked, please respect their choice and do not ask them to remove it.
2. Don't be a prick! This is an intersectional, inclusive space. We do not tolerate racism, sexism, transphobia, whorephobia, or any other forms of discrimination or prejudice towards minoritized communities.
3. The goal here is friendship! Speed Friending is done with the goal of making friends. If a mutual attraction happens to blossom, please feel free to go forward with that if and when you connect with your match after the event. If you are specifically seeking romantic and/or sexual partners, though, kindly focus those efforts elsewhere!
4. Keep conversations non-sexual! This is not the place to discuss your sexual preferences or exploits. Having said that, we are 100% sex worker friendly! All we ask is that any sex workers or sex-worker-adjacent folks save the explicit details for conversations outside of the event.
5. Respect boundaries! It's important to us to make this a space people can both be and feel safe in. If someone does not want to answer a question, or chooses to change the subject while you're chatting, do not push or prod! Just let it go and let the conversation move in a different direction.
6. Do not ask for contact information! You will be notified by Speed Friending KW of all mutual matches within a few days of the event. This ensures a no-pressure approach that prevents folks from feeling coerced or obligated to maintain contact with anyone they do not wish to stay connected to.
7. Do not try to contact anyone who did not match with you! Sometimes you might feel like there's a connection where there isn't one, and that absolutely sucks! Under no circumstances should you reach out to anyone who did not mutually match with you at the event, though. If you were hoping to match with someone who didn't feel the same way, let it be an opportunity to practice letting go and moving on.
8. Do not take home or vandalize any event supplies! This includes but is not limited to hand sanitizer, laminated cards, folders, and writing utensils. It creates a lot of extra work for us (and costs us money!) when we have to make or purchase replacements for stolen or damaged supplies.
-----------------------------------------------------------------------
www.speedfriendingkw.com • IG: @speedfriendingkw • #speedfriendingkw
-----------------------------------------------------------------------
Limited seats available, so grab your ticket now to save your spot!
If it turns out you can't make it, PLEASE NOTIFY US IN ADVANCE so we can offer your spot to someone else!
-----------------------------------------------------------------------