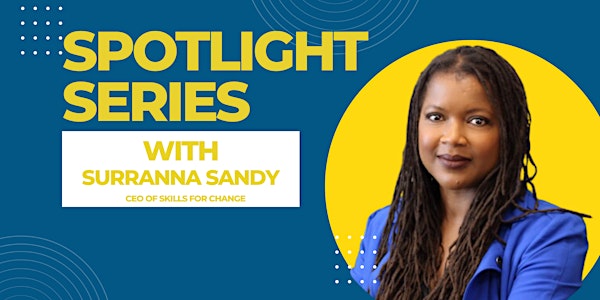 Spotlight Series: The Rise of Digital Economy & Digital Equity Movement
Join us on February 14, 2023 from 11:00AM-12:00PM EST for a panel discussion on the impacts of digitalization
Date and time
Tue, Feb 14, 2023 8:00 AM - 9:00 AM PST
About this event
Sustainable pathways for digital employment and skills development are crucial to Canada's future. Nothing has taught us this more than the COVID-19 pandemic; Digitalization is becoming inevitable.
This Spotlight Series discussion will explore the rise of the Digital Economy and the movement for Digital Equity.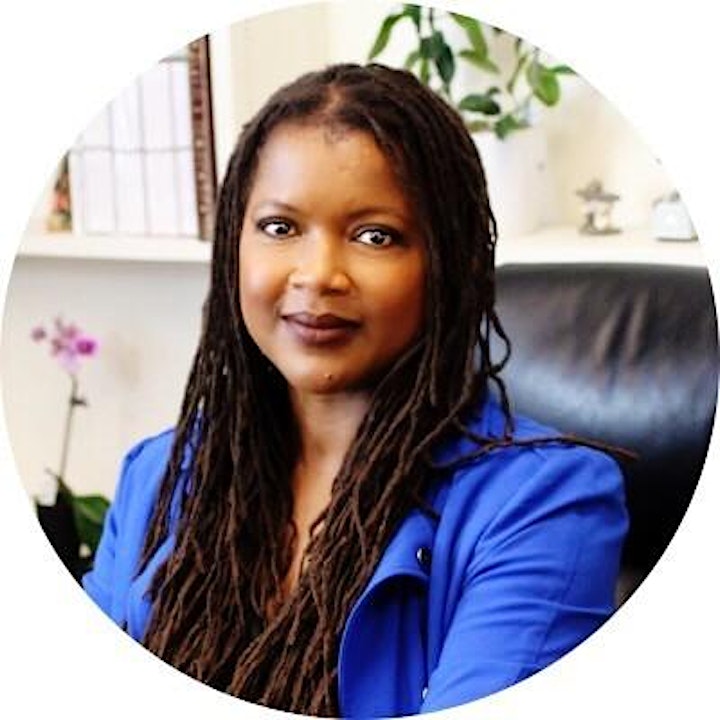 Surranna Sandy is the Chief Executive Officer of Skills for Change (SfC), a registered charity and nonprofit multi-service agency in Toronto, Ontario serving 16,000+ Immigrants and Refugees annually. Prior to becoming the CEO of SfC, Surranna enjoyed a successful career as President and Founder of Surcorp Group, a Career Management firm with offices in Toronto and Ottawa. Having the first-hand perspective of an Immigrant in a new country, Surranna found her calling in advocating for and advancing the needs of immigrants and refugees as a volunteer and board member in the settlement sector.
In 2012, Surranna elected to resign from her firm and accept the invitation to serve as Skills for Change's CEO, turning her advocacy of ensuring that Immigrant and Refugee has a fair chance to realize and fulfill their potential into her life's vocation. Under her leadership, Skills for Change has grown from 5 locations in GTA to 10 locations in GTA and Southwestern Ontario serving over 16,000 clients per year. Surranna has led Skills for Change in expanding its programs and services from serving primarily internationally educated professionals to also serving Immigrant Women, Youth, Entrepreneurs and Seniors.
Surranna has a Master of Arts in Leadership and Management from Anglia Ruskin University, an MBA in Human Resources Management from the University of Wales, an Hons Bachelor of Arts in Leadership and Management from Northumbria University, a Diploma in Human Resources Management, and a Certificate in HR Management.
Surranna was awarded the Government of Canada's Canada 150 Outstanding Neighbour award. This award is in recognition of her community service, as CEO of Skills for Change.
She is Chair of the Board of Directors of the Toronto Workforce Innovation Group and is a Board Member of First Work, Ontario's Youth Employment Assistant Centers. She is a member of the Advisory Committee of the Ontario Nonprofit Network's Decent Work for Women project and serves as Steering Committee Member for the Consortium of Agencies Serving Immigrants.She is a member of the City of Toronto's Partnership & Accountability Circle ("PAC") for The Toronto Action Plan to Confront Anti-black Racism.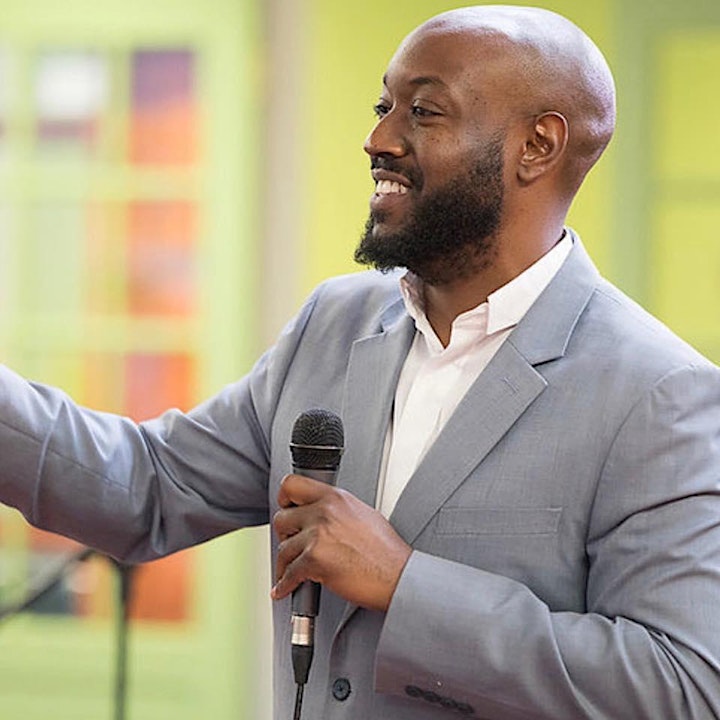 At the age of 24, Victor Beausoleil co-founded Redemption Reintegration Services, one of the largest youth-led, youth justice agencies in Canada. In 2013, Victor Beausoleil received his first public service appointment by the Premiere of Ontario Kathleen Wynne, as a member of PCYO (Premiere's Council on Youth Opportunities). Victor has worked diligently in the broader equity seeking communities across Canada for the past nineteen years.
As a lecturer, Victor Beausoleil has travelled extensively throughout Canada, The United States, UK and Africa for speaking engagements for community organizations, institutions and philanthropic foundation. He has been a board member of the Atkinson Charitable Foundation, a member of the grant review committee's of the Laidlaw Foundation, and the Toronto Community Housing Social Investment Fund.
Victor is currently on the board of directors for the Toronto Community Benefits Network, The Board President of CCEDnet- The Canadian Community Economic Development Network, on the loan review committee for the Fair Finance Fund, on the advisory of the Table of Impact Investment Practitioners, on the advisory of New Power Labs/Marigold Capital and on the board of REAC - The Regional Ethno-Advisory Council for Corrections Services Canada, on the board of the Tribe Network and a Co-founder of the Canadian Centre of Non-Profit Digital Resilience.
The Toronto Star, Toronto Sun, National Post, Share Newspaper and The Caribbean Camera, have all highlighted Victor Beausoleil's work in communities across Canada. Victor is currently the CEO of Intuit Consulting and the founder and Executive Director of SETSI- The Social Economy Through Social Inclusion Coalition. Victor has written thirteen books and is a husband and father of four brilliant children.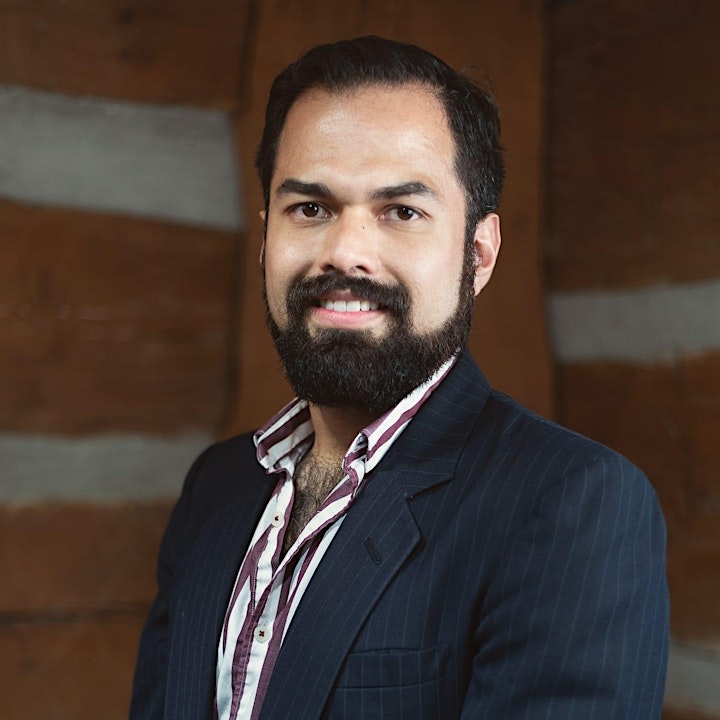 Alejandro Mayoral Baños is a Mixtec activist and the Executive Director of the Indigenous Friends Association (IFA) based in Tkaronto, Canada. Alejandro has a Ph.D. in the joint program of Communication & Culture from York University and Toronto Metropolitan University, where he specialized in the intersections between decolonization and digital technologies. Alejandro believes that incorporating Indigenous ways of knowing and doing into the design of digital technologies can create safer and more sustainable virtual spaces for everyone. Alejandro serves on several initiatives in Canada, Mexico and the United Nations Forum of Climate Change, linking digital education initiatives to the self-determination of Indigenous peoples.
Jennifer Sloan
Vice President, Public Policy, Mastercard
Jennifer Sloan has extensive experience across all aspects of government, media and public relations, and internal and external affairs. In addition to working for Target (Canada), and Vale (Inco) Ltd., she also worked with some of Canada's leading government and political figures and represented Canada as the Head of Political/Economic Relations & Public Affairs at the Canadian Consulate in New York. As the vice president of public policy at Mastercard Canada, Jennifer leads the development and management of the company's public affairs and government relations programs. She is a member of Mastercard Canada's business leadership team and Executive Sponsor of Mastercard Changeworks™, Mastercard Canada's social impact program.
Jennifer is also the Chair of the Board of the Canadian American Business Council (CABC) and the current and first independent chair of Music Canada's Board of Directors. She previously served as the president of the University of Georgia's Grady College Alumni Board and the Board of Trust, the president of the Canadian Club of Toronto, and was the chair-elect of the Ontario Chamber of Commerce (OCC) Board of Directors.