Discover distribution and business opportunities in the Nordic Video Game Industry!
About this event
Interactive Ontario invites Video Game studios to join us on April 29th at 12 pm EST for a discussion featuring experienced panelists who will highlight distribution and business opportunities within the Nordic Video Game industry.
The session will cover:
Market trends regarding the Video Game Industry in the Nordic countries
Nordic business do's and don'ts to support success
Opportunities for Canadian video game studios within the Nordic Video Game industry
Introduction to the Nordic Game 2021 virtual conference and what benefits Canadian attendees can expect from their participation.
Presentation from a Nordic Publisher with a Canadian subsidiary
Zoom Link Will Appear in the Confirmation Email
Open to all Canadian Video Game/Interactive Digital Media Studios
SPEAKER SPOTLIGHT
Susana Meza Graham, ALDEON
Susana is a seasoned games industry professional with extensive experience in making companies, their business and people grow. She's an active board member and investor in several games & tech companies worldwide, including AI company TRU LUV and the creator-led, cooperatively-owned movement GLITCH which is backing bold new forms of play and the people who define them. She's the Co-founder & Chairwoman of independent investment company Aldeon, which she runs with two business partners. Aldeon focuses on games & tech founders in early stages and currently has 23 holdings. In her previous roles as CMO and COO she helped grow Paradox Interactive from the ground up, into one of Sweden's largest games companies. Over the course of 14 years she took the company through a number of phases including a successful IPO and listing. In her "spare time" she supports organisations and individuals working with societal impact in different ways.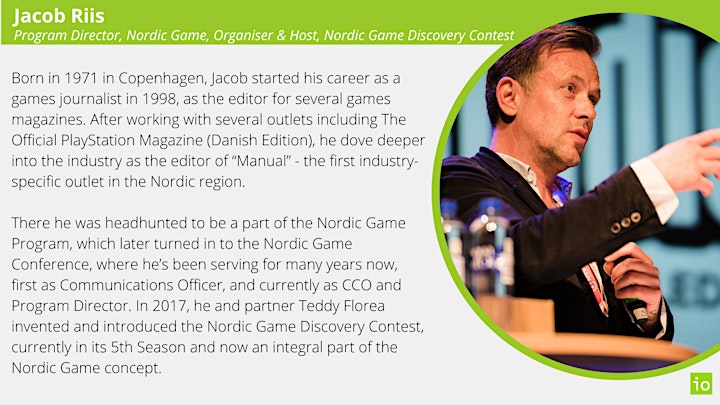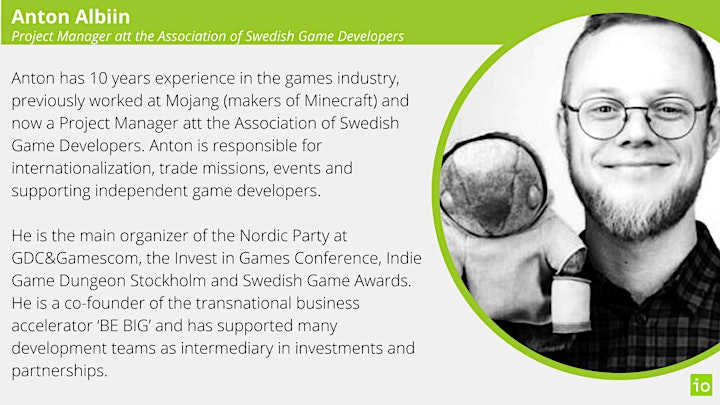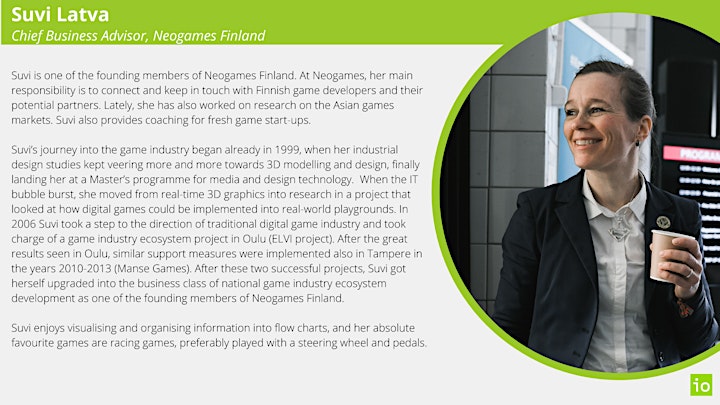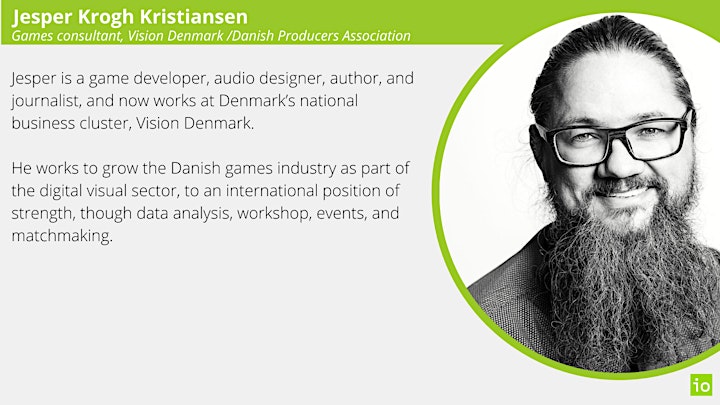 À l'honneur : Tendances et opportunités dans l'industrie nordique du jeux vidéo
Découvrez les opportunités commerciales et de distribution de l'industrie nordique du jeu vidéo!
À propos de cet événement
Interactive Ontario invite les studios de jeux vidéo à se joindre à nous le 29 avril à 12 h HNE pour une discussion avec des panélistes expérimentés qui mettront en lumière les opportunités commerciales et de distribution dans l'industrie nordique du jeux vidéo.
La session couvrira:
Les tendances du marché concernant l'industrie du jeu vidéo dans les pays nordiques.
Les choses à faire et celles à éviter dans les pays nordiques pour favoriser la réussite des entreprises
Les opportunités pour les studios de jeux vidéo canadiens au sein de l'industrie du jeu vidéo nordique
Une introduction à la conférence virtuelle Nordic Game 2021 et une présentation des avantages que les participants canadiens peuvent attendre de leur participation.
Une présentation d'un éditeur nordique ayant une filiale canadienne
Le lien Zoom apparaîtra dans le courriel de confirmation
Ouvert à tous les studios canadiens de jeux vidéo et de médias interactifs numériques.
PLEINS FEUX SUR LES CONFÉRENCIERS
Susana Meza Graham, ALDEON
Susana est une professionnelle chevronnée de l'industrie des jeux, qui possède une grande expérience dans la croissance des entreprises, de leurs activités et de leurs employés. Elle est une membre active du conseil d'administration et une investisseuse dans plusieurs entreprises de jeux et de technologies dans le monde entier, y compris l'entreprise d'intelligence artificielle TRU LUV et le mouvement GLITCH, dirigé par des créateurs et appartenant à des coopératives, qui soutient de nouvelles formes audacieuses de jeu et les personnes qui les définissent. Elle est cofondatrice et présidente de la société d'investissement indépendante Aldeon, qu'elle dirige avec deux partenaires commerciaux. Aldeon se concentre sur les fondateurs de jeux et de technologies en phase de démarrage et compte actuellement 23 participations. Dans ses précédentes fonctions de directrice générale du marketing et de cheffe de l'exploitation, elle a contribué à la croissance de Paradox Interactive, qui est devenue l'une des plus grandes sociétés de jeux suédoises. Pendant 14 ans, elle a fait passer l'entreprise par plusieurs phases, dont une introduction en bourse et une cotation réussie. Pendant son «temps libre» , elle soutient de différentes manières les organisations et les personnes qui travaillent sur l'impact sociétal.