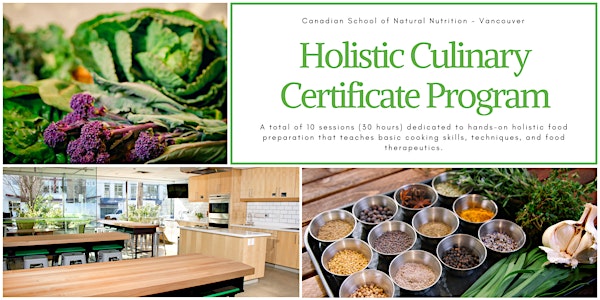 Spring 2021 Holistic Culinary Certificate
Holistic Culinary Certificate Workshops
When and where
Location
Canadian School of Natural Nutrition - Vancouver Branch 102 - 2245 West Broadway Vancouver, BC V6K 2E4 Canada
About this event
A total of 10 sessions (30 hours) dedicated to hands-on holistic food preparation that teaches basic cooking skills, techniques, and food therapeutics. 
Cooking classes are taught by a professional Chef and Registered Holistic Nutritionist™ professional and are designed to integrate food therapeutics into the kitchen, provide recipes, and give students increased confidence and skill in the areas of meal planning, food shopping, and food preparation.
Classes run on Wednesday evenings from 6:30 pm to 9:30 pm. Students are asked to wear appropriate closed toe shoes. Students will receive a CSNN apron to keep.
Click here for full class descriptions.
$150 Early Bird Discount Before March 5th!
April 7th - Kitchen Culture & Knife Skills
April 14th - Probiotic Foods & Beverages
April 21st - Ancient Grains & Legumes
April 28th - Eating Plants from Land, Lake & Sea
May 5th - Practical Food Preparation for Busy Lives
May 12th - Raw Foods & Nut Cheeses
May 19th - Alternative Baking & Raw Sweets
May 26th - Eating for Growth & Performance
June 2nd - Healthy Broths
June 9th - Global Cuisines
$150 Early Bird Discount Before March 5th!
**Students are required to fill out additional documentation (Registration Form, Kitchen Waiver, COVID-19 Waiver, Contact Information Form) which will be emailed out upon receiving registration. Please email van@csnn.ca with any questions.**
Instructors:
Robert Wilson-Smith
Robert is a Registered Holistic Nutritionist™ professional and a professional chef. He is a graduate of New York City's Natural Gourmet Institute (2007) and has worked in some of Vancouver's best known vegetarian, vegan, and raw food restaurants as well as at yoga retreats in Mexico and India. Robert believes that food politics and a love for the environment cannot be separated from wellness and nutrition. He flavours his CSNN cooking classes with these beliefs and a passion for healthy food. Robert is a certified yoga teacher and has been fueled by a plant-based diet since 2000. 
Katherine Hastie Katherine is a Registered Holistic Nutritionist™ professional and a trained culinary and pastry chef. She works full time as a farmer at the UBC Farm and is passionate about local and sustainable plant based foods. Katherine enjoys sharing her knowledge of preparing and growing healthy food with the students at CSNN, and she loves getting students excited about cooking and spending time in the kitchen. 
Martina Herfort Martina is a Registered Holistic Nutritionist™ professional and professional chef. Her passion for all things food began with her parents chocolate shop, bakery and restaurant. With an admiration of fine food Martina knew early on she wanted her career to be food driven. Blending her formal culinary education with her experience at CSNN has allowed her to broaden her horizons beyond a classic kitchen setting and into her role as a culinary instructor and personal chef.
COVID Precautions:
Students will be provided with food safe gloves at each class which are mandatory for attending class. Masks are also a requirement for attending cooking classes.
Students are encouraged to bring their own masks in an effort to reduce waste, but they will be provided to students (at a cost of $1 each) who need them.
Along with wearing masks and gloves for the duration of cooking classes, students are asked to wash their hands frequently. Where we would normally ask students to help with cleanup/loading the dishwasher, to avoid crowding CSNN staff will take over these duties for the time being.
Please bring containers to all cooking classes as food will be sent home with students if it is not possible to share the meal in class.
Students are asked to not wear aprons outside of the kitchen (i.e. going to the washroom or outside to the street).
Attendance Policy:
Students must attend all 10 classes to obtain the Holistic Culinary Certificate. Students are permitted to reschedule a class subject to availability. The fee to reschedule is $50 plus applicable tax per class.
Wellness Policy:
Students wishing to attend classes must not be showing any signs and symptoms of COVID-19. Students and staff who are feeling unwell or have come in contact with anyone that has tested positive for COVID-19 are asked to stay home until their symptoms have resolved or they have been cleared through testing. CSNN Vancouver reserves the right to ask students to return home if they are showing obvious signs of being unwell. Student who miss classes due to illness or isolation will not be charged the rescheduling fee.
Refund Policy:
If for any reason you are unable to participate after you have registered please note the following.
Registration fee is non-refundable.
All other fees are non-refundable after March 24th, 2021. 
Registration is transferable prior to the start date.
To obtain certificate, one person must attend all 10 classes. Splitting classes is not permitted.
Interested in furthering your Nutrition education? Check out our Introductory Program!