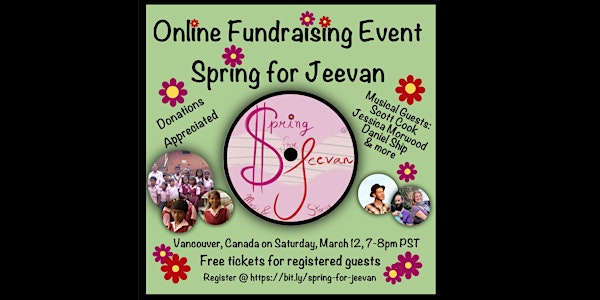 Spring for Jeevan: An evening of music and stories
A fun-filled evening of music and stories, featuring the founders of the Jeevan school and their musical guests.
About this event
Join us on March 12 to raise some funds for the children at Jeevan school in Varanasi, India! You'll hear from the founders of the Jeevan school how the school began and some of the challenges and successes they've had along the way. You'll hear about the challenges the school has faced due to Covid-19, and what's currently happening at the school.
To donate directly please visit: https://www.basichumanneeds.org/donate
Time Zones
This is an international event! Guests from all over are welcome and encouraged to attend. The event is taking place Saturday, March 12 at 7pm PACIFIC STANDARD TIME.
In Melbourne, Australia, this will be Sunday, March 13 at 2pm
In Taipei, Taiwan, this will be Sunday, March 13 at 11am
The Event
At the event, stories of the school will be interspersed with musical numbers; each of the musical guests has a connection to the Jeevan school. Musical guests include Scott Cook (Canada), Michael Gordon (Canada), Marien Van Staalen (Netherlands), Vinod Prasanna (India/Australia), and Adam Berne (USA).
The school has been hard-hit by the Covid-19 pandemic, and is currently struggling to stay open, and provide a much-needed stable environment and education for the over 200 children who attend. Please join us on March 12 to hear more about the current state of the school, and what your donation would mean to the children. This event is free but donations are strongly encouraged!
Basic Human Needs (BHN) Indian Children's Development Society
BHN was formed with the belief that if you provide basic human needs to a child you will be able to break the cycle of poverty. We believe that we can break this cycle by advancing education and begin alleviating poverty to poor and homeless street children. These basic human needs include education, shelter, food and caring.
BHN is a non-profit located in Vancouver, BC. BHN supports the work of the Jeevan School in Varanasi, India. This is a independant organization in Varanasi that runs a free school and free hostel for street children, as well as provides a clinic space for free medical care.
Photos from Jeevan school.