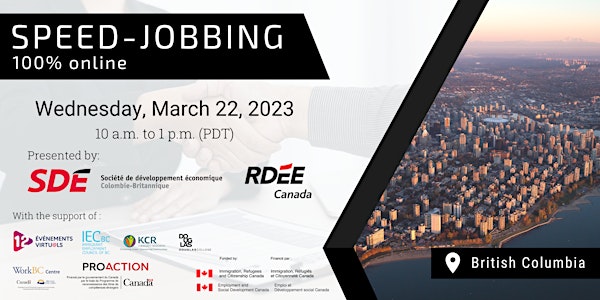 Spring Recruitment Event -Online Speed-Jobbing 2023-Recruiter Registration
Looking for qualified candidates ?
Refund Policy
Contact the organizer to request a refund.
Eventbrite's fee is nonrefundable.
About this event
** Français ci-dessous **
Join us on March 22th, 2023 for our 100% online Speed-Jobbing
Our 100% Speed-Jobbing event connects BC employers with qualified bilingual immigrants willing to settle permanently in the local job market while keeping the advantages of its unique format.
Why exhibit at our 100% online Speed-Jobbing?
An innovative recruitment format, similar to speed dating event, with 12-minute interviews per candidate
A scheduled agenda with candidates profiles pre-matched with your job postings
NO line up in front of your virtual booth/room!
Candidates from various occupations including IT, Project Management, Sales, Human Resources, Finance, Communications and more…
International recruitment
Candidates are bilingual in English and French – but French is just a plus!
Speed-Jobbing: how does it work?
There will be 12 rounds in total
We will provide the individually scheduled appointments for each recruiter 24 hours before the start of the event. You will see the round #, with the name and contact information of the candidates you will meet.
For each round, the candidate is given access to your virtual booth. You don't need to exit the virtual room !
Each round = 12 minutes, then 3 minutes for candidates to switch virtual booth
We will show the time remaining on our virtual platform.
There are no set-up questions.
Exhibitor Expectations & Information :
Personalized Training Session: a free training session will be provided to all exhibitors to learn more about the Virtual Speed-jobbing and take advantage of all its benefits.
Registration fee : a $100 registration fee will be required per organization. The fee will be payable through Eventbrite. Each organization can present up to 2 recruiters during the event.
Virtual booth set-up: each exhibitor can set a virtual booth with a description, a logo and a short video of maximum 2 minutes to present his/her organization.
Technical Support will be offered throughout the event by our partners 12SC
If you are interested in taking part in our Speed-jobbing event, please RSVP by February 20th, 2023 and for eventual questions please contact us :
by phone at 604 612 1890
or by email at jffilion@sdecb.com
Following your registration, we will contact you to collect information on your job openings to help us pre-match candidates with your organization.
If you have further questions, we will be more than happy to help you!
_______________________________________________________________
Rejoignez-nous le 22 mars 2023 pour notre Speed-Jobbing 100% en ligne
Notre événement Speed-jobbing 100% en ligne met en relation les employeurs de la Colombie-Britannique avec des immigrants qualifiés bilingues, souhaitant s'établir de manière permanente sur le marché local de l'emploi, tout en gardant les avantages de son format unique.
Pourquoi participer à notre Speed-jobbing 100% en ligne ?
Un format de recrutement innovant, similaire à un événement speed-dating, avec des entrevues de 12 minutes par candidat
Des entretiens programmés avec des candidats dont le profil a été pré-jumelé avec vos offres d'emploi
Pas de file d'attente devant votre kiosque virtuel
Des candidats avec des profils variés tels que les TI, la gestion de projet, la vente, les ressources humaines, la finance, les communications et plus…
Des candidats bilingues en anglais et français.
Le Speed-Jobbing : Comment ça marche ?
Il y aura 12 rondes au total
Nous acheminerons les agendas d'entretiens à chaque recruteur 24 heures avant le début de l'événement. Vous verrez le numéro de la ronde, avec les informations des candidats que vous rencontrerez.
Pour chaque ronde, vous aurez accès à une salle virtuelle.
Chaque ronde = 12 minutes, puis 3 minutes pour que les participants changent de salle virtuelle.
Nous afficherons le temps restant sur la plateforme virtuelle
Vous procédez aux entretiens de la manière que vous souhaitez
À quoi s'attendre et informations additionnelles :
Session de formation personnalisée : une session de formation gratuite sera offerte à tous les recruteurs pour en savoir plus sur le Speed-jobbing virtuel et saisir tous ses avantages.
Un soutien technique sera offert par nos partenaires chez 12SC tout au long de l'événement.
Si vous êtes intéressés à prendre part à notre Speed-Jobbing virtuel, veuillez s'il vous plait réserver votre place avant le 20 février 2023 sur Eventbrite et pour d'éventuelles questions, n'hesitez pas à nous contacter :
par téléphone 604 612 1890
par courriel : jffilion@sdecb.com
Suite à votre inscription sur Eventbrite, nous communiquerons avec vous afin d'en apprendre plus sur les opportunités d'emploi au sein de votre organisation et de nous aider à pré-jumeler les candidats avec vous.
Pour de plus amples informations, il nous fera plaisir de vous assister!