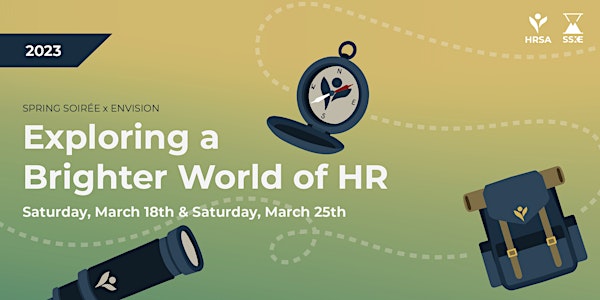 Spring Soirée x Envision 2023
Welcome to Spring Soirée x Envision 2023!
By SFU Human Resources Student Association (HRSA)
Date and time
March 18 · 3pm - March 25 · 2pm PDT
Location
Pinnacle Hotel Harbourfront 1133 West Hastings Street Vancouver, BC V6E 3T3 Canada
Refund Policy
Contact the organizer to request a refund.
Eventbrite's fee is nonrefundable.
About this event
Spring Soirée x Envision 2023 (SSXE 2023) is hosted by the SFU Human Resources Student Association (HRSA) where undergraduate students are able to network with professionals and compete in an intermediate case competition.
Spring Soirée will be happening on March 18, 2023, from 3:00 pm to 8:00 pm where students and guest professionals will have the chance to connect and share insights about the Human Resources industry. We will be hosting a in-person networking event and an online case competition to welcome undergraduate students from all schools and faculties in the Lower Mainland!
Envision will be hosted on March 25, 2023, from 9:20 am to 2:00 pm. All SFU undergraduate students will have the opportunity to showcase their analytical and presentation skills in front of guest judges and the client company.
Spring Soirée will be held in person at Pinnacle Hotel Harbourfront while Envision will be held online through the Gather Town platform where we expect courtesy and respect among all participants. Any disrespectful comments are grounds to refrain from further participation. Let's treat each other with kindness!
"Why attend Spring Soirée?"
Meet like-minded peers and establish meaningful connections that can lead to future opportunities!
Gain insights and perspectives from 20+ experienced industry leaders and gain a deeper understanding of the field!
Learn from the cutting edge of HR with our open panel and keynote discussion!
Food and refreshments included!
"Why attend Spring Soirée AND compete in Envision?"
Have the chance to demonstrate your skills at SFU's ONLY internal HRM case competition!
Develop teamwork, collaboration, and leadership abilities!
Apply knowledge gained the week earlier at Spring Soiree!
Build your portfolio and have a chance to demonstrate your talents to prospective HR industry employers!
Win up to an estimated $500 in prizes for you and your team!
Please note: to be eligible to participate in Envision with selected team members, please ensure every member has purchased "Spring Soirée x Envision" tickets before sales end. We recommend purchasing as soon as possible, as tickets are very limited.
Spring Soirée 2023:
3:00pm - Open Doors & General Check-in
3:15pm - Opening Remarks
3:30pm - Engagement Activity
3:50pm - Keynote Speaker
4:20pm - Light Appetizers & Refreshments #1
4:45pm - Special Presentation
5:00pm - Networking Session #1
5:50pm - Lights Appetizers & Refreshments #2
6:15pm - Panel Discussion / Q&A
7:15pm - Networking Session #2
7:50pm - SSXE Raffle Draw
7:55pm - Closing Remarks
Envision 2023:
9:20am - Gather Town Open & General Check-in
9:35am - Opening Remarks
10:00am - A-Teams Preliminary Round
10:20am - B-Teams Preliminary Round
10:40am - C-Teams Preliminary Round
11:15am - Break
12:00pm - Remarks & Finalists Announcement
12:10pm - Finalist Presentation (A)
12:25pm - Finalist Presentation (B)
12:40pm - Finalist Presentation (C)
1:25pm - Break
1:40pm - Winner Announcement & Awards
1:45pm - Closing Remarks
Check-In:
For Spring Soirée , please arrive at the check in desk at least five minutes before the start of the event. Details about parking will be sent out via email. Both events will have a mandatory formal/business casual dress code.
For Envision. Please ensure you have a good internet connection, working camera and microphone so that you're ready before the sessions begin.
Please stay updated with the email you have provided us as we will send out a follow-up email with further information about the event. We're excited to meet you virtually for a memorable time!
Connect with HRSA:
IG: @sfuhrsa
FB: @sfuhrsa
Frequently asked questions
Event Ticket Refund Policy
Attending Spring Soirée and not Envision? (If you only bought a SS ticket)
Attending Spring Soirée AND Envision? (If bought a SSXE ticket)
Want to compete in Envision, but can't attend Spring Soirée?
About the organizer
The Human Resources Student Association (HRSA) aims to serve the needs of Simon Fraser University students (business and non-business) by providing opportunities for social interaction among the student body with scholarly and professional interests from multiple disciplines within the field of Human Resource Management.

Professionals benefit from this interaction through an increased awareness of their companies and by having the opportunity to develop relationships with bright, young graduates entering the marketplace.

HRSA hosts a number of events that allow companies to come out and network with students as well as other professionals. Not only will students have a chance to meet industry professionals but companies will have an opportunity to advertise their services as well as recruit new members for their organizations.

If you are an industry professional and your organization is interested in getting involved with our association, please view our Sponsorship Package and feel free to contact us via email at president@sfuhrsa.com.