Description
Workshop Description
Universities and Research Centers have been licensing technology to Corporate partners for many years, but as these large companies reduce their research staffs, it is becoming increasingly difficult to find a home for early stage technologies. Company creation has emerged as a supplement to the licensing model, which allows the technology to incubate and opens up opportunities not available to a technology alone.
Michael Poisel, Senior Director, PCI Ventures, has built a sustainable new venture model for the University of Pennsylvania. He will be reviewing his model, while also exploring the many challenges and nuances that must be navigated to be successful in the academic environment. Please join us for a half day workshop to evaluate and explore how company creation strategies can work for you.
Agenda:
8:00 am - Registration Opens
8:30 am - Workshop Begins
In the first half of this session Michael will take us through an overview of PCI ventures and their programs including: Upstart, UPadvisors, AppitUP, UPtheOdds, and Jolt Funding.

Followed by a Q&A Session
10:00 am - Mid-morning break
10:30 am - Resume Workshop
In the second half of the workshop Michael will cover some of the key factors PCI looked at when undertaking their model including: Fiduciary duty, conflict of interest, relationship with licensing team, scalability, sustainability, faculty vs. student businesses, recruiting managers, university funding, and the golden rule.

Followed by a Q&A session
12:00 - End of Workshop
Speaker Bio - Michael Poisel, Senior Director - PCI Ventures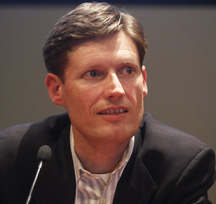 Since joining the University of Pennsylvania in 2009, Michael has been building entrepreneurial programs for the university. He currently manages PCI Ventures, which includes UPstart, AppitUP, and UPadvisors.
The mission of UPSTART is to provide Penn faculty and staff with the means and support to launch businesses based on their promising research. Through the creation of the companies, UPSTART focuses the faculty member on applied research and building the commercial value of the technology to their benefit as well as the university and society in general. After the company is formed, UPSTART continues to assist in the development of the business by providing several additional entrepreneurial services including Addressable Market Analysis, Product Strategy Development, Fund Raising Assistance, Commercialization Grant Preparation and Management Team Recruitment.
In the past four years, UPSTART has initiated over 100 company projects of which many are now operating businesses.
Prior to Penn, Michael made investments in enterprise software and business services for NewSpring Capital, Apax Partners and GE Capital spanning more than ten years in private equity. He began his career in manufacturing operations for General Electric/Lockheed Martin and participated in the successful completion of several commercial and government satellite programs.
Michael graduated with honors in Mechanical Engineering from Rose-Hulman Institute of Technology, holds an M.S. in Systems Engineering from The Moore School of Engineering of the University of Pennsylvania, and has an M.B.A. in finance and entrepreneurial management from The Wharton School of Business of the University of Pennsylvania.
Organizer of Springboard Speaker Series - Startup 101 with Michael Poisel