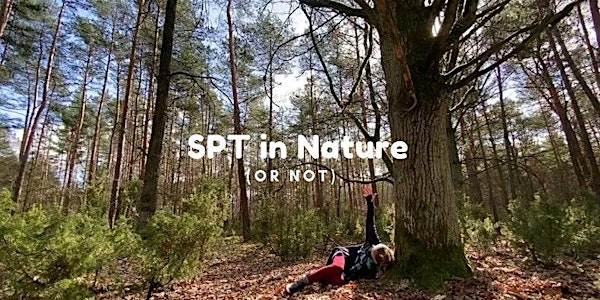 SPT in NATURE (or not)
A change of seasons for many, a time of harvesting the abundance of the Earth as we sense into our relationship with all life, together.
Refund Policy
Contact the organiser to request a refund.
Eventbrite's fee is nonrefundable.
About this event
THE PRACTICE CONTINUES TO EVOLVE.
Join us for our monthly Social Presencing Theatre in Nature (or not) online gathering. Our hosts will be Rita Venturini from breautigful Sintra in Portugal and Lornand Radju from spectacular Budapest in Hungary.
Join us at this time of shifting energies from approaching winter in the Northern Hemisphere and the heat of summer in the south. This is a time of preparation and uncertainty about what the climate will bring this year.
We will explore and sense into our bodies, the earth body and the social body through SPT practices.
Join us in nature or wherever you are, whether you are a long term practitioner or beginner. Let's see what we harvest together.
Bring friends! Everyone is welcome!
_______________________________________________________________________________________________
Social Presencing Theatre (SPT) is a methodology, developed under the leadership of Arawana Hayashi, for understanding current reality and exploring emerging future possibilities, using Theory U as a conceptual framework. It uses simple body postures and movements to dissolve limiting concepts, to communicate directly, to access intuition, and to make visible both current reality, and the deeper – often invisible – leverage points for creating profound change.
We offer this space to anyone, who would like to experience this profound practice. YOU DO NOT HAVE TO BE IN NATURE. Some of us will, and the NATURE WILL IMPACT YOUR EXPERIENCE as well. Everybody is welcome to join. You do not have to have prior experience of SPT. Just openness to listen to your body and trust in the process to guide you.
More about SPT: https://www.presencing.org/aboutus/spt
We are offering this space the first Friday of each month 16:00-17:30 CET / 10:00-11:30 ET
This event is gift-based. All the donations received will go to Pachamama Alliance. This way, we will not only receive from the Earth, but also give something back to her. Pachamama Alliance is an organization we know and trust, which supports indigenous action to protect the Amazon Rainforest and the Indigenous Peoples who live there (www.pachamama.org) and Indigenous land rights everywhere.
You will receive a ZOOM LINK together with your ticket confirmation (look for it in the "Additional Information" section). If something didn't work or if you have questions please contact David at dburman@web.ca
We hope to see you there!
Aga and David
Tags: Online Events Online Conventions Online Community Conventions
Location - Online event
Organiser
Aga Rzewuska-Paca / empoweredliving.pl; David Burman / DrawdownToronto.ca
The founders of this theme are a group of SPT practitioners, group-process facilitators, change makers, artists and more. We met at the SPT Advanced Practitioners Course (cohort 5) in 2018. We inspire each other, enjoy each other, and like practicing and exploring together. We come from different places on Earth, bringing our unique gifts to this space.
Aga Rzewuska-Paca, Poland - supporting individual and collective empowerment with her embodied passion
David Burman, Canada - not a founder but enthusiastic participant is passionate about regeneration of Mother Earth's life support systems
Group Founders gratefully acknowledged: Antje Schwarze, Germany - transformative presence; Giulio Ghirardo, Italy - exploring what makes us one; Jenny Mackewn, UK - creative catalyst; Rita Venturini, Portugal - rediscovering wisdom of the body to support a loving unfolding of humanity; Viviana Galdames, Chile - enabling human spaces