Spurring Entrepreneurship in the Arts, Culture and Community:Mission Possible

Tuesday, 14 November 2017 from 1:30 PM to 2:30 PM (EST)
Event Details

All EWeek events are FREE and open to the public.
Please reserve your ticket here.
GOOGLE CHROMEBOOK FOR RAFFLE
______________________________
Mission Possible: Spurring Entrepreneurship in the Arts, Culture and Community
with
David Moss
Senior Cultural Manager and Consultant
zicatelARTS management & consulting inc.
______________________________
Throughout his career, David Moss has drawn on his entrepreneurial spirit and passion for creative expression to develop a visionary approach that bridges cultural production, social innovation, and community building.
From co-producing his own music with an internationally renowned rock star when he was only 20 years old, to leading the venerable Saidye Bronfman Centre for the Arts, the Opéra de Montréal, and spearheading the creation and managing Culture Days across Canada, David will share stories and lessons learned throughout his journey as a cultural entrepreneur.
David will speak on a range of topics from unleashing your unique leadership talents and taking baby steps towards great achievements, to learning to trust your instincts, the benefits of team-work, and tapping into your passions to guide and inspire you, day-in and day-out, in your Mission Possible.
About David Moss
Board and Steering Committee Member
La Piscine / The Rodier Project
Board Member
World Design Summit Organization
Over the course of his dynamic career, David has developed passionate convictions of the positive impact arts and cultural participation have on citizens and communities.
He began his creative and entrepreneurial journey as a professional songwriter, producer and performer and has over twenty-five years of experience in arts management and cultural development.
David held the positions of Executive Director of the Saidye Bronfman Centre for the Arts, General Director of the Opéra de Montréal, and founding National Executive Director of Culture Days. He has successfully led strategic projects through his consulting company zicatelARTS for some of Canadas' foremost organizations including les Grand Ballets Canadiens de Montréal, la Ville de Montréal, the Canadian Arts Summit, the Society for Arts and Technology and the Alberta Ballet. He earned a Bachelor's degree in Commerce (Marketing and Finance) from Concordia University in Montréal and a Music Certificate from the Guitar Institute of Technology at the Musician's Institute in Hollywood, California.
David is recognized for his vision, leadership and ability to mobilize and drive diverse teams. He has raised over $60 million dollars for the arts from private and public-sector sources as well as through earned revenue programs. David has a keen understanding of the arts & cultural sector and is called upon as an adviser to all levels of government, private foundations, philanthropists and other interest groups within and outside of the cultural sector. He is a frequent guest speaker and mentor to emerging arts administrators and cultural workers.
Most recently, David spearheaded the creation and was the driving force behind Culture Days, the largest arts and cultural participation and engagement initiative in Canadian history. Propelled by his leadership, a diverse cross section of the entire Canadian arts and cultural sector is mobilized to host some 8,000 events in 800 cities and towns in every province and territory as part of the organization's annual event. Over 12 million Canadians' have participated in events to date, while Culture Days has become a staple in the Canadian cultural calendar.
As a community-engaged volunteer, David has contributed to numerous boards, committees and juries. He is an active member of the Board of Directors of La Piscine, the World Design Summit Organization and Human Playground, and of the Grands Ballets Canadiens' Major Gift committee.
He is also a mentor in the Cultural Human Resources Council's Talent 2 Lead program. David was a founding Board and Executive Committee member of Culture Montréal and Chairman of MUTEK, an internationally renowned Electronic Music and Digital Creativity Festival. He served on the Cultural Tourism Advisory Committee for the Ministère de la Culture et des Communications et de la Condition feminine du Québec and Tourisme Montréal, the National Steering and Advocacy Committees of the Canadian Arts Summit, the advisory board of the John Molson School of Business at Concordia University, the board of the La Vitrine Culturelle de Montréal, and was a member of the orientation committee of les Journées de la culture. He served as a jury member for government grant programs, the Montréal Prix Arts Affaires, the Globe and Mail Business and Arts Awards. David was a special guest of the Mayor of Montréal on the Cultural Delegation for the City's pivotal 2002 Planning Summit, and a member of the Special Advisory Group for the City of Montréal to create a blueprint for the city's first Cultural Policy adopted in 2005.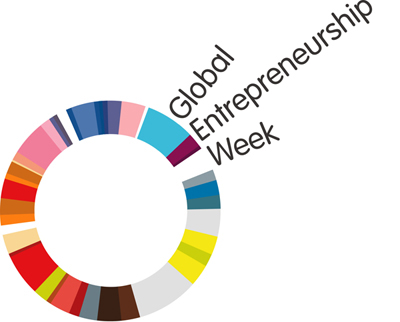 Did you know that the more EWeek events you attend the greater your chances of winning a Google Chromebook? Exchange your passport for the contest draw on Thursday. See Passport for details
When & Where

Dawson College, Conrod's Lounge
4001 Boulevard de Maisonneuve Ouest
Montreal, QC H3Z 3G4
Canada

Tuesday, 14 November 2017 from 1:30 PM to 2:30 PM (EST)
Add to my calendar
Organizer
Eweek @ Dawson College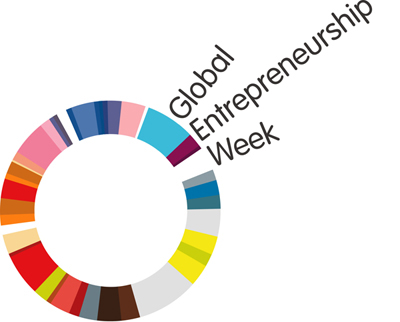 The place to be 
November 12 to 15, 2018!!
Dawson College's Centre for Innovation and Entrepreneurship Education will host Entrepreneurship Week (Eweek) coinciding with Global Entrepreneurship Week, November 12 to 15, 2018. 
Global Entrepreneurship Week (GEW) is an international movement to inspire millions of young people to embrace innovation, imagination and creativity through entrepreneurship. It is estimated over 15 million youngsters participated worldwide in tens of thousands of events and competition for Global Entrepreneurship Week. In Montreal, Dawson College's EWeek will provide a diverse and strong line-up of speakers, networking events, contests and activities for Montrealers and Dawson College students alike.
Many young students will have their first glimpse of a possible alternative career path and connect with seasoned entrepreneurs. All Montrealers are invited and all events are free. Hear inspiring stories of successful entertainers, photographers, illustrators, designers, dancers, programmers and farmers who launched their own businesses.
Dawson College is ideally placed to be a gathering place of high-profile community events. Situated in the heart of Montréal's downtown core, at the Atwater metro station, Dawson is Québec's largest CEGEP with roughly 8,250 full-time day students, 2,400 continuing education students, 600 faculty and  a 200+ team of support staff. The college currently offers over 30 programs in 50+ fields of study, including a variety of programs in the creative sector.
We hope to inspire the next generation of entrepreneurs.  Do you have a big idea??? Would you like to sponsor and event?  Do you want to connect with like-minded people or maybe just observe what the buzz is all about?  Join us for Eweek in November!!
Check out the calendar of events on our site and like us on
Thank you to our sponsors for their invaluable support of Dawson College's Eweek.
______________________________

______________________________