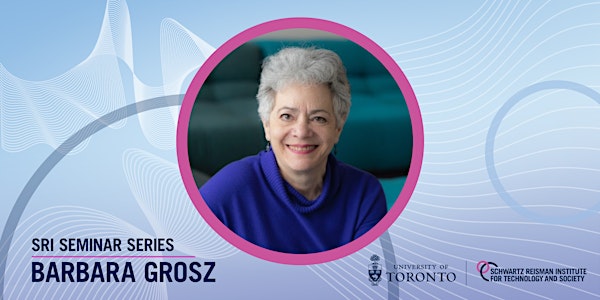 SRI Seminar Series: Barbara Grosz
Join us on October 12th for a talk by Barbara Grosz (Harvard University), "Fostering Responsible Computing Research."
About this event
Our weekly SRI Seminar Series welcomes Barbara J. Grosz, Higgins Research Professor of Natural Sciences in the Paulson School of Engineering and Applied Sciences at Harvard University. Grosz's contributions to AI research include fundamental advances in natural-language processing and theories of multi-agent collaboration, and innovative models to improve healthcare coordination and science education. Grosz is a co-founder of Harvard's Embedded EthiCS program, and is known for her role in the establishment and leadership of interdisciplinary institutions and for her contributions to the advancement of women in science.
In this talk, Grosz will present the major findings of a recently-published U.S. National Academies report on responsible computing research, including practical steps for researchers to better ensure that ethical and societal consequences of computing are more fully considered.
About the Schwartz Reisman Institute for Technology and Society
The Schwartz Reisman Institute for Technology and Society is a research institute at the University of Toronto that explores the ethical and societal implications of technology. Our mission is to deepen knowledge of technologies, societies, and humanity by integrating research across traditional boundaries to build human-centred solutions.
Explore each session in advance by visiting SRI's Events page.
Missed an event? Visit's SRI's YouTube channel to watch previous seminars.
Please note that seminars are recorded and shared publicly after the event on SRI's YouTube channel.