SSuRe Seminar Series Part 7: From fly to mammal: Targeting ion channels in...
Description
About SSuRe Weekly Scientific Seminars:
Each week, a leading SickKids scientist provides a dynamic, engaging talk intended to teach you something about a different area of research happening in the hospital and research institute. By the end of the summer, you'll have a better understanding and appreciation of the key roles basic and clinical research have in advancing our knowledge of human health and disease. All summer research students should attend! This week's topic?
From fly to mammal: Targeting ion channels in brain cancer with Dr. Xi Huang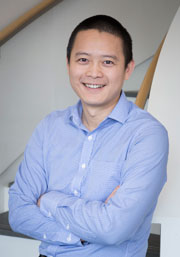 About Xi Huang, PhD:
Dr. Huang is a Scientist in the Developmental & Stem Cell Program at The Hospital for Sick Children, a Principal Investigator at the Arthur and Sonia Labatt Brain Tumour Research Centre, and an Assistant Professor at the Department of Molecular Genetics at University of Toronto. In 2010 Dr. Huang completed his Ph.D. study in the lab of Dr. Chin Chiang at Vanderbilt University by studying embryonic brain development. In 2015 he completed a postdoctoral fellowship in the lab of Dr. Lily Jan at University of California, San Francisco (UCSF) by studying potassium channel function in brain cancer. Dr. Huang started his laboratory at SickKids in April 2015, and his group studies the function of ion channels in brain development and tumorigenesis using multidisciplinary approaches including Drosophila and mouse genetics, xenograft modeling, cell biology, pharmacology, and electrophysiology.
For more information on Dr. Huang's work, visit:
SickKids website: http://www.sickkids.ca/AboutSickKids/Directory/People/H/Xi-Huang.html
Huang Lab: http://lab.research.sickkids.ca/huang/