SSuRe Seminar Series Part 8: Structural and functional brain changes follow...
Description
About SSuRe Weekly Scientific Seminars:
Each week, a leading SickKids scientist provides a dynamic, engaging talk intended to teach you something about a different area of research happening in the hospital and research institute. By the end of the summer, you'll have a better understanding and appreciation of the key roles basic and clinical research have in advancing our knowledge of human health and disease. All summer research students should attend! This week's topic?
Structural and functional brain changes following concussion with Dr. Benjamin Dunkley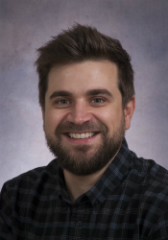 About Benjamin Dunkley, PhD:
Dr. Dunkley is MEG Clinical Associate in the Hospital for Sick Children, Associate Scientist, and Assistant Professor in the Department of Medical Imaging at the University of Toronto. His main research interests include the use of functional neuroimaging (particularly magnetoencephalography) and computational neuroscience to study brain oscillations and connectivity in neuropsychiatric populations. His recent studies have covered adult PTSD and mTBI, in military and civilian populations, and as an extension of this project, Dr. Dunkley is now also studying adolescent concussion. Generally speaking, he is interested in how acquired brain injury and trauma affects the functional networks of the brain and how these changes relate to difficulties in cognition that those with trauma experience.
For more information on Dr. Dunkley's work, visit:
SickKids website: http://www.sickkids.ca/AboutSickKids/Directory/People/D/Benjamin%20T.%20Dunkley.html