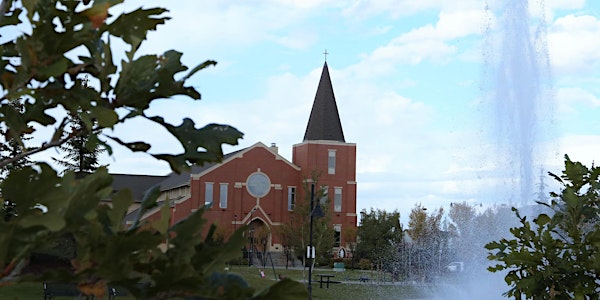 St Albert the Great Sunday 5 PM Mass Celebrations
Sales Have Ended
Registrations are closed
All requests to attend this Mass have now been closed. Please select another time that has availability if you wish to attend a Mass.
Event Information
Location
St Albert the Great Parish
10 Prestwick Drive Southeast
Calgary, AB T2Z 4J6
Canada
Sales Have Ended
Registrations are closed
All requests to attend this Mass have now been closed. Please select another time that has availability if you wish to attend a Mass.
St Albert the Great Weekend Mass Celebration
About this event
Welcome to St. Albert the Great Parish!
Over the past number of weeks, we have had to turn away far too many people who have arrived at weekend Mass after we have closed and locked the doors at the beginning of Mass. To help eliminate the last-minute crunch at the weekend Masses, and to help allow our wonderful volunteers the opportunity to celebrate Mass, we will be introducing optional registration for each weekend Mass starting November 6 and 7.
Those who are registered will be guaranteed a seat for Mass, provided you arrive at least 15 minutes prior to the commencement of Mass. Anyone not registered or arriving less than 15 minutes prior to Mass, will be seated until we reach our capacity, or when the doors are locked 5 minutes prior to Mass.
Once the doors are locked, we are unable to admit anyone until the Mass concludes.
LATE COMERS WILL NOT BE PERMITTED.
Our volunteers are working very hard to provide a safe environment at which to celebrate mass. These measures will help ensure that our volunteers can better keep you safe while having the opportunity to celebrate mass with their families.
You are required to provide the name of each individual attending so that they can be checked in prior to entering the Church for the Mass they are registered.
If the Mass you want to attend is already full, please select a different Mass. Some Masses will fill up very quickly.
If you have to cancel your attendance to a Mass, be sure to do so by clicking on the "view and manage your order online" link on your confirmation email.
Also note we are unable to accept registrations by phone.
Thank you for your cooperation in this matter. We truly appreciate your patience and understanding.
Please take a moment and read the following:
SELF ASSESSMENT: Use the AHS self-assessment tool. If you have any flu-like symptoms, please stay at home. Remain at home and self isolate if you or anyone in your household is feeling sick. Volunteers and staff reserve the right not to admit anyone exhibiting symptoms.
ATTENDEES: Everyone will be seated by Household. Proper social distancing of 2 meters between Households will be observed. Please refrain from moving to a different pew. This allows the ushers to properly seat all attendees.
CHILDREN: Children must remain with their parents or guardians at all times.
ENTRY and EXIT: Enter through the main entrance doors at the south end of the building as all other entryways will be closed. Doors will open 30 minutes prior to each Mass. After the Mass everyone may exit through the main entrance and east exit doors.
CHECK-IN: As you enter you will be asked your name by the volunteers so they can check you in.
MASKS & PHYSICAL DISTANCING: You are required to provide and wear your own non-medical mask (fabric or disposable mask). Children under 2 years old are not required to wear a mask. Masks must be worn at all times while you are in the church. Please maintain physical distancing of 2 metres between people who are not from the same household at all times.
CONGREGATIONAL SINGING: Congregational singing is a high-risk activity and is not allowed. Infected people can transmit the virus through their saliva or respiratory droplets while singing or chanting.
Please note that Bishop McGrattan's decree dispensing Catholics from the Sunday obligation remains — this means that even though public Masses have resumed, Catholics are not obliged to attend Mass and those who attend do so out of their own free will and risk.
How to register:
Click the red "Select a Date" button at the top right of this page near the picture of the church.
Select the red "Tickets" button for the Mass date and time you wish to attend.
The next page requires you to indicate the specific number of attendees in your household including infants. Select the red "Register" button to continue with the registration process.
In this next step, please ensure that you indicate the first and last name of each ticket holder/attendee, for contact tracing purposes.
Complete the process by clicking the red "Register" button. You will receive your e-ticket(s) by email. Please be sure to confirm that you received your confirmation email to ensure your registration was completed and your seats reserved.
Please review the documentation on this link prior to coming to the Mass as it provides information that will make your experience enjoyable.
Date and time
Location
St Albert the Great Parish
10 Prestwick Drive Southeast
Calgary, AB T2Z 4J6
Canada