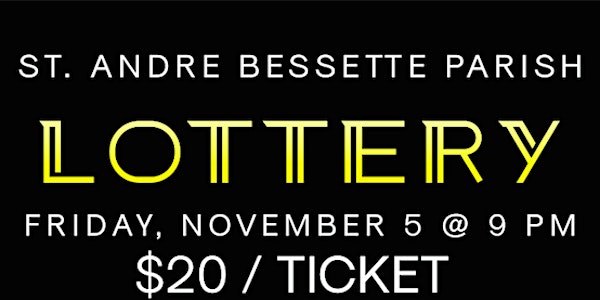 St. Andre Bessette Lottery
Thank you for supporting the St. André Bessette Lottery!
About this event
Thank you for your interest in purchasing a St. André Bessette Lottery Ticket. Your support will help build our Church. There are only 1,500 tickets available for sale!! Tickets $20 each.
The Lottery draw will take place on Friday, November 5th at 9 pm and will be live-streamed on our YouTube Channel: St. Andre Bessette Parish - Maple.
Our Grand Prize is a Peloton Bike and a 1 year membership plus 14 other prizes. For a complete listing of prizes or to review our Lottery Rules and Regulations, please visit: www.standrebessette.ca.
Once you have made your purchase, we will fill in your stub and email or text you a photograph of your ticket(s). The stub will be deposited into the drum and your portion of the ticket will be held at the Parish Office. Be sure to keep the photo of the ticket.
Winners will be contacted by phone, text and/or email on November 5, 2021 after all the draws have been made.
Tickets will be available for online sales until November 4, 2021 at 11:59 pm.
Lottery License: M279029