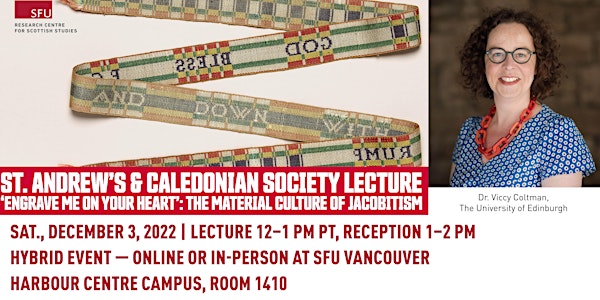 St. Andrew's and Caledonian Society lecture
Join us for the St. Andrew's & Caledonian Society lecture by Professor Viccy Coltman followed by a reception on Dec. 3rd at 12 PM PT.
When and where
Location
Simon Fraser University - Vancouver Campus 515 West Hastings Street Vancouver, BC V6B 5K3 Canada
About this event
The lecture portion of this event can be viewed online (on Zoom) or in person at SFU Vancouver, Harbour Centre Campus, Room 1410. Please indicate how you would like to attend when you register.
Please note that Professor Leith Davis will also be presenting her two most recent publications in person and that will be followed by a reception with delicious food and beverages.
We hope to see you there.
Description of Lecture
'Engrave me on your heart': The material culture of Jacobitism
In this illustrated online lecture, art historian Professor Viccy Coltman (University of Edinburgh) discusses a number of images, objects and textiles associated with the third generation Jacobite claimant, Prince Charles Edward Stuart, dating from the decades in and around the mid eighteenth century. Viccy's talk will offer an overview of material culture study and through case-studies of surviving objects, will reveal a once dynamic culture of support for a Stuart restoration in Britain, in which followers were encouraged and even entreated to embrace the Jacobite cause as affective participants.
The talk will revisit material from Viccy's latest book, Art and Identity in Scotland: A cultural history from the Jacobite uprising of 1745 to Walter Scott, (Cambridge University Press, 2019; paperback 2021) supplemented with some new objects that she has identified since publication.
Biography of Professor Viccy Coltman
Viccy Coltman is a professor of eighteenth-century art history at The University of Edinburgh, where she has been based for the last two decades. Professor Coltman is the author of three books and editor of two more. Her area of specialisation is later eighteenth- and early nineteenth-century Scots, both within Scotland and beyond its geographical borders, to Britain's colonial and imperial territories. Viccy's current book project, Wartime, is a cultural history of the sometimes-controversial contribution of Scottish-born commanders-in-chief of the British army and the role of the lionised Highland regiments during the Revolutionary and Napoleonic Wars (1793-1815). This project has been sponsored by a Paul Mellon Senior Fellowship and a visiting fellowship at Brown University in the U.S.
Viccy is highly sought after as a PhD supervisor and is currently working with nine PhD students at Edinburgh on a range of dissertation topics.