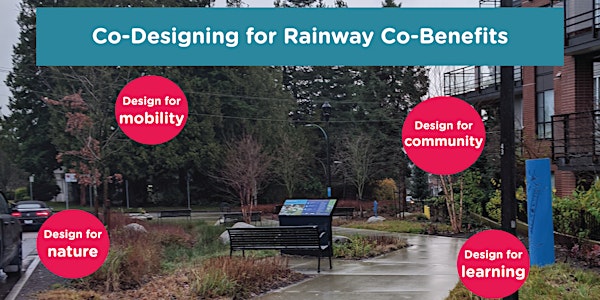 St. George Rainway Public Workshop: Co-Design for Co-Benefits
Join us for a virtual workshop to co-design for co-benefits along the St. George Rainway!
About this event
Did you know that on average 24,600,000 L of rainwater fall on St. George Street each year? This urban rainwater runoff carries pollutants including including oil, mircoplastics, bacteria, and fertilizer from our sewer system into False Creek, often untreated. During extreme rainfall events, the runoff can also cause localized flooding.
About the St. George Rainway
The proposed green rainwater infrastructure improvements will help to capture, convey, clean, and absorb rainwater from St. George Street using a combination of engineered and natural systems such as soils, plants, and trees. This can help to both improve water quality and reduce local flooding. But that's not all green rainwater infrastructure can do. The St. George Rainway offers a great opportunity to design a community amenity that supports co-benefits such as active transportation improvements, placemaking, and enhanced urban nature.
Co-design Workshop
At this workshop, we want to hear your ideas on how we can incorporate co-benefits into the Rainway design that will benefit the community. Help us explore opportunities for the Rainway through four design challenges:
Design for mobility: The Rainway will be a blue-green system that manages rainwater, contributes to the urban forest and natural systems, and enhances active transportation routes. How can we design the Rainway for enjoyable, safe and accessible mobility while also making accommodations for rainwater and green space?
Design for nature: Through settlement and development patterns over the past one hundred plus years, the natural systems that have sustained and connected communities on these lands for thousands of years have been disrupted. How can we design a Rainway that strengthens ecosystems and our relationships with water and nature?
Design for learning: Outdoor spaces can provide opportunities for hands-on immersive learning. How can we design the Rainway as an educational resource for the community and foster knowledge on topics such as water, green rainwater infrastructure, Indigenous cultural values and knowledge, nature, plants, and historic streams, among others?
Design for community: Public spaces can be hubs that bring neighbours and the community together. How can we design the Rainway to reflect the culture, values and needs of the community and foster a sense of connectedness?
Your feedback at this workshop will influence the St. George Rainway Design
We will use ideas from this workshop to inform a survey that will run from June 14-July 4, on Shape Your City. This survey will help to narrow down the top design ideas.
After this phase is complete, City staff will use the ideas submitted to develop several design options for the Rainway, which will be brought back to the public for comments in Phase 3 later this year. In spring 2022, there will also be a chance to provide feedback on the final design option. To learn more & sign up for our mailing list to receive updates, visit https://shapeyourcity.ca/st-george-rainway.
Learn more about green rainwater infrastructure and Vancouver's Rain City Strategy in the video below.