Description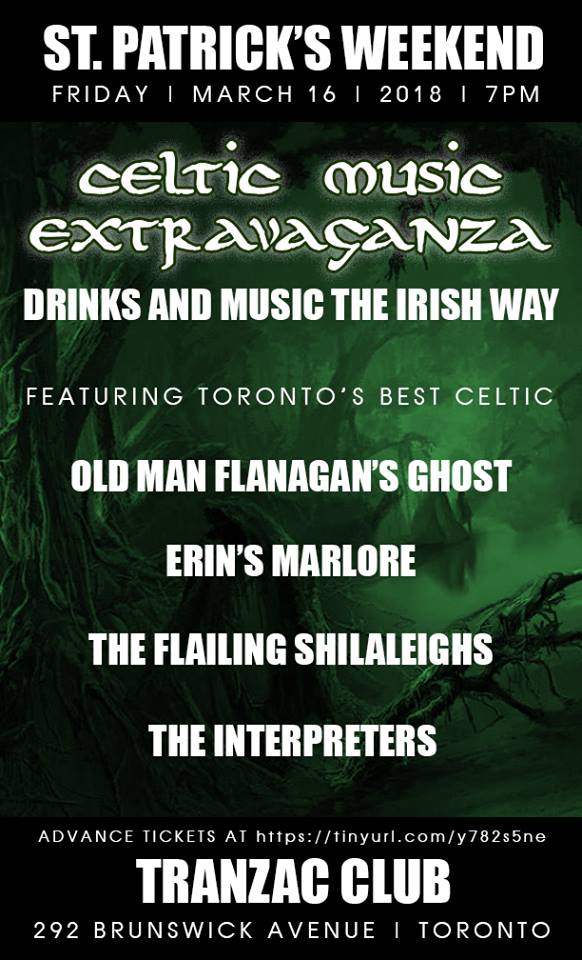 Grab your tickets now!
You wait all year for a good time celebrating Paddy's Day, but you never know what sort of entertainment your local pub has actually acquired. Sweet Caroline is a fun song, sure, but just cause that top 40 band wears green hats, it still isn't Celtic music.
You want, ACTUAL Celtic tunes, from bands who play this stuff year round, right?!?
Well, here's a Friday night on a Paddy's Weekend that you never get to see, but that we know you want to go to. Come and socialize with your friends and family, listening to great Celtic music all evening, where you can clap, sing, dance, stomp, and drink to your hearts content! This is about the socializing nature of Celtic music, brought to you from the people who know the music, and care about the bands you get to hear!

4 Celtic Bands / 4 hours of music
Come celebrate Paddy's with REAL celtic music!
---
FEATURING:
The Interpreters
Brought together by an interest in history, these folk players soon discovered a common love of traditional music. Together, piper Jared Ross, fiddler Victoria Ellam, and guitarist Nathan Smith form The Interpreters. Sharing their passion for music and history around Toronto, The Interpreters bring the music of the past (with all its energy, humour, and beauty) to the audiences of today.
The Flailing Shilaleighs
The Flailing Shilaleighs perform a perfect blend of Traditional Irish music along with East Coast tunes with a Celtic twist. They cover great Canadian artists such as The Rankins, Stan Rogers, Great Big Sea, Gordon Lightfoot, Leonard Cohen, The Irish Decendants, and many more.
Erin's Marlore
Who doesn't love a girl band? ... a Celtic girl band! Erin's Marlore is an energetic trio who take pride in singing the great songs of Ireland and beyond. Their style is something along the lines of 'garden fairy meets Conor McGregor'. You're always in for an entertaining evening with the girls of Erin's Marlore!
Old Man Flanagan's Ghost
Old Man Flanagan's Ghost have been bringing a taste of Celtic music to Ontario audiences for years. Their debut album "Sociable!" released in May 2015, and hit #4 on a weekly national chart for community/college radio stations, including #1 positions on the weekly Top 30 and folk charts. They have been featured on 67 Music's 'The Celtic Music Journal', and appeared on several episodes of The Irish and Celtic Music Podcast. In 2016, they were aired internationally for the first time in Limerick, Ireland. With their rendition of classic Celtic and east coast covers, and a variety of original tunes, OMFG often invite the audience to participate in a fun, energetic stage show, that can be enjoyed by all.