Description
IRISH UILLEANN PIPES AND FIDDLE -
MUSIC PERFORMACE
Sunday, March 18, 2018 | 2:00 – 3:00 p.m.
Let's celebrate Irish music in time for St. Patrick's Day! National bagpipes of Ireland are uilleann pipes, which are known to be one of the world's most complicated and difficult to play instruments! Experience the melodious sound of uilleann pipes played by world class teacher, Debbie Quigley and fiddle player, Patrick Ourceau, who has been performing and teaching Irish Music all over North America and Europe for over 20 years. FREE!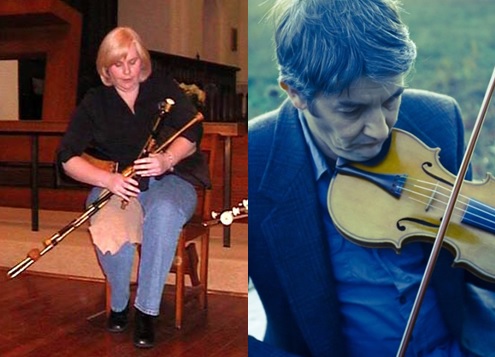 Deborah Quigley, Uilleann Pipes
Deborah was born in Newtownards, County Down and lived during the early 70's in the town of Bangor where she was first introduced to the native music of Ireland. Chris (Charlie Ferguson) R.I.P. whistle and flute player also from Bangor was a huge influence on her music during the formative years. During the late 80's she was once again inspired musically by the playing and teaching of the late Chris Langan Uillean piper, instrument maker, and music teacher originally from Rush, County Dublin who lived for many years in Toronto. Deb credits much of her music to the patient, and informative teaching style of her mentor and friend.
Patrick Ourceau, Fiddle
Patrick based in Toronto and for many years resident of New York City, has for over twenty years been performing and teaching Irish Music all over North America and Europe. He has released and been featured on a host recordings, most notably on Tracin' with concertina player Gearoid O hAllmhurain; Live at Mona's with Guitarist Eamon O'Leary; on the Chulrua release The Singing Kettle; on flute player Cathal McConnell's Long Expectant comes at Last; on accordion player John Whelan's Celtic Roots; and on theTG4 CD and DVD release Geantrai, a compilation celebrating the first ten years of the popular traditional Irish music television program. Patrick has been very active in the promotion of Irish music in Toronto, mainly though his private teaching but also through workshops, sessions and various performances. He taught for several years in the Irish music after school program at St. Paul school in Regent Park and for several years, was involved with other local musicians in organizing the Chris Langan Weekend.
Please join us at Richmond Hill Central Library!
Please select the date and joyfully register!
See you there!