Safely attend church for in-person worship this week!
About this Event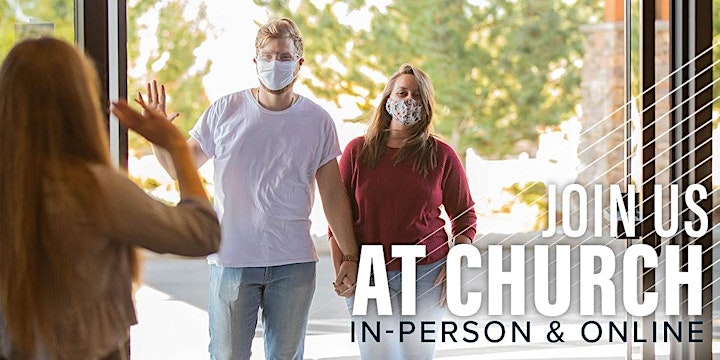 We are so excited to be welcoming you back into the church building for services this week. We want your experience to be the best one possible, and we've been working hard to develop the following guidelines to ensure your health and safety and to help make your worship experience the best it can be!
We appreciate you taking time to save your seat, as we are operating at limited capacity. When registering please indicate how many in your family are attending including children. Please register only if you're certain you will attend. Cancel your reservation if your plans change. If you (or someone you know) are unable to register via eventbrite please call the office at 519-773-7152 on the Tuesday morning before the service to register. Thank you in advance for your cooperation in following all the guideline set out by The Southwestern Health and the Ontario Ministry of Health.
Details to Consider:
Your attendance as with all public gatherings, could possibly expose you to COVID-19.
PLEASE REMEMBER OUR CHURCH FACILITIES ARE SCENT FREE! THANK YOU FOR YOUR UNDERSTANDING!
All attendees must register before attending the service.
One entrance (front west door) and exit (front east door) will be used and ushers will welcome you and seat each family unit before the service begins.
Masks are required for adults and children over age 2 and those medically able to wear a mask. Masks are also available free if you need.
Physical contact is discouraged. We ask each family unit to maintain a 6 feet distance from other family units.
No bulletin will be distributed. Offering plates will not be passed. Drop boxes for offerings are available.
Washrooms are available with limited occupancy and will be thoroughly sanitized by an attendant after each use.
Nursery and Sunday School are not yet provided; however all children are welcome in the services with their family, even if that means a little extra noise.
Please choose to join us virtually if you are sick or have been exposed to sick people or if you fall into a vulnerable category. Your health and safety is most important to us.
You will receive a confirmation email informing you that you are registered.If it is your first visit please print and sign a waiver for each family member attending and bring it to the service. The waiver is attached to the confirmation email as well as here. https://www.stpaulsunitedchurch.ca/hp_wordpress/wp-content/uploads/2020/09/Covid-Waiver.pdf. Alternately you can sign a paper copy we will have printed when you arrive on Sunday.
...................................................
If you have at least one of the following symptoms:
- fever and/or new onset of cough or difficulty breathing,
OR
Have traveled out of the country in the past 14 days
Please delay your visit, and worship with us virtually instead AND contact your Health Care Provider, or Telehealth Ontario (1-866-797-0000)
...............................
We understand church will look a little different but we truly can't wait to reconnect in person and praise and worship our Lord together!
We invite you to watch our Back to Church video below with details about what you can expect on Sunday!
See you soon St. Paul's!