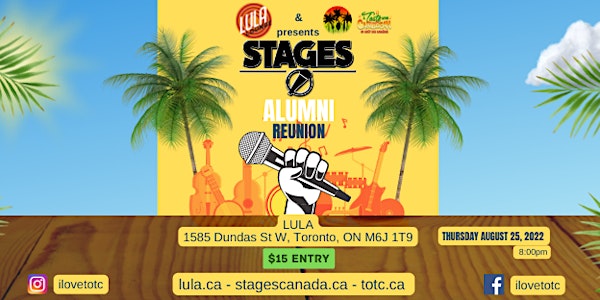 STAGES Alumni Reunion
Ages 19+
Taste of the Caribbean (TOTC) in collaboration with Lula Lounge
Taste of the Caribbean presents the 'STAGES' Alumni Reunion! A night of musical celebration hosted at Lula Lounge!
When and where
Location
Lula Lounge 1585 Dundas Street West Toronto, ON M6K 1T9 Canada
Performers
Kid Fareigna
FiyahMC
Bonnie Owen
Vanda Li
Elby Braithwaite
Swick Don
Onique
ZionOnMyMind
Planky & Leh Leh
Justice Kamar
Josemar
Kirk Diamond
About this event
Alumni of the STAGES series return Lula Lounge for a night celebrating the accomplishments of the talent that has been featured in the STAGES series over the years.
Featured performances will include Bonnie Owen, Vanda Li, Elby Braithwaite, Swick Don, Kid Fareigna, Onique, FiyahMC, ZionOnMyMind, Planky & Leh Leh, Justice Kamar, Josemar, Kirk Diamond and more.
Doors 7pm
Show 8pm
To book a reservation please go to Lula.ca or call 416-588-0307.
Our menu can be found at lula.ca/menu
Guaranteed seating is by reservation only.
About STAGES:
Stages Canada provides a live performance platform for both newly emerging and well-seasoned artists of Caribbean genres (reggae, soca, zouk, konpa, dancehall, Reggaetón, lovers rock, etc.) with the goal of assisting artists to gain knowledge, touring experience and exposure across Canada.
Founded in 2015 and presented at Lula Lounge on the last Tuesday of every month, Stages hosted almost 200 artists in ints first 2 years alone, and played an important role in showcasing artists such as Elaine Lil' Bit Shepherd, Kirk Diamond, Mikey Dangerous, Exco Levi, Ammoye, Tanya Mullings, Kafinal, Blessed, JRNYSTR, Lenn Hammond, Wade O Brown, Carlos Morgan, BLK Orchid, Natural Fyah, Razor B, and Chizzy Bashment, just to name a few.