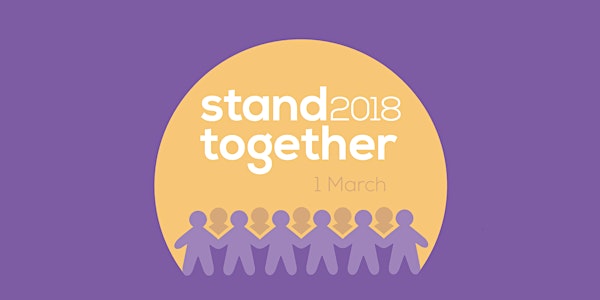 Stand Together 2018 Featuring Travis Lloyd with Samantha Moe
When and where
Location
Executive Plaza Hotel & Conference Centre Coquitlam 405 North Road Coquitlam, BC V3K 3V9 Canada
Refund Policy
Refunds up to 30 days before event
Description
SCHEDULE
8 - 9am
Registration, light breakfast and refreshments provided (see menu below)
9 - 9:15am
Opening Prayer
9:15 - 9:45am
Special Guest Performance (details coming soon!)
9:45 - Noon
Opening Keynote: Just 1 Person
From Mad2Glad with Samantha Moe
Noon - 1pm
Buffet lunch provided (see menu below)
1 - 4pm

Facilitated Workgroups- Crowdsourcing Trauma Informed Care Principles
Trauma Informed Action Plan
Strategic Sharing Youth Panel
4pm
Closing Prayer
SPEAKERS
Travis Lloyd is a Speaker, Author, Trainer, and Coach who works to inspire progressive systematic change while promoting, setting and achieving big goals, both personally and professionally. Lloyd followed his passion for teaching and inspiring after an extensive career in health care as a Trauma Nurse, Psychiatric Nurse, Life Coach, and Mental Health Crisis Worker. This professional journey didn't come easy as with many people, he faced a few challenges growing up. He now uses the stories of breaking through negative barriers to achieve more to connect to the hearts and minds of audience members. Such experiences lit a fire in Travis to remind those who work in public and private serving professions of their "Why". Travis advocates that "no matter where you come from or where you want to go, it is possible". He is the Vice President of the national non-profit Foster Care Alumni of America, Host of the Fostering Change Podcast, Author of Overcoming Emotional Trauma, and contributor to multiple national magazines.
Samantha Moe is a certified Parent and Life coach who grew up being told, "Everyone has a gift." Her gift led her to completing a Master's degree in Communication Disorders and embarking upon a journey for uncovering the gifts of children with intense behaviors. She quickly learned that in order to truly improve outcomes it was critical to explore outside-the-box strategies. Combining a strong passion for brain science, mindfulness, and transformation Samantha pioneered a new path for gaining children's cooperation and helping the toughest children develop self-control.
She coined this new path the Mad2Glad Blueprint and it is grounded in Samantha's strong background of direct services to families. Her work has evolved into coaching parents of all types of children to dramatically reduce defiance and disrespect and re-establish confidence and authority. Inspired by caring professionals who are devoted to children's well-being, Samantha Moe is the creator of the leading Parent Coach Certification program that equips industry professionals with the tools and resources they need to transform their clients lives and find joy in their work.
PRESENTATION DESCRIPTIONS
Keynote
In this presentation, Travis Lloyd shares his personal journey through a difficult childhood that led to foster care, group homes, and a stay in an inpatient mental health unit. The stories shared highlight specific moments when 'Just 1 Person' at a time empowered Travis to overcome negative circumstances. Mr. Lloyd's relationships spoken of include a foster parent, a teacher, and a kinship care-giver – all of whom demonstrated replicable trauma informed care principles through their actions.
The stories also share the reality of intergenerational cycles by describing the good and bad aspects of his family's journey over the span of 20+ years.
The keynote ends with stories about professional experiences from Mr. Lloyd's time as an inpatient psychiatric RN and as a Mental Health Mobile Crisis Worker. The examples provide practical approaches for connecting and understanding in a trauma informed manner. This keynote will remind those who work in serving professions of their "why" and inspire a renewed sense of purpose.
From Mad2Glad: Trauma Informed Parenting Skills to Calm Challenging Behavior
Are you frustrated and stressed out because children in your care are defiant and disrespectful? Have you tried everything you can think of to improve listening and teamwork yet still feeling stuck? Discover new trauma informed parenting skills that are rooted in neuroscience and essential to creating a positive relationship with children so they can succeed in life. Reconnect with reasons why you became a parent in the first place and learn effective strategies for impulsivity and big emotions at home. During this interactive workshop, you will uncover strategies from the Mad2Glad Blueprint that are key to having calmer, more positive interactions and restoring your sanity. Facilitated by Samantha Moe, founder of The Mad2Glad Blueprint.
Crowdsourcing Trauma Informed Approaches
Using inspiration from SESSION 1, audience members will gather in small groups to explore ways of implementing trauma informed principles utilizing the 5 core aspects of daily life with children who have been impacted by trauma. These 5 core areas include: Calming the Fire, Showing You Care, Promoting Emotional Regulation, Self-care, and Short Term vs. Long Term Strategies of caring for kids entering your home. Each group will share findings with the crowd. Facilitated by Travis Lloyd and Samantha Moe.
TIC Action Plan!
During this interactive workshop audience members will be guided through a self-reflective process to identify opportunities for applying trauma informed principles in their own lives. This process will facilitate identifying the trauma informed steps that can be taken to welcome a child in your home, how to implement trauma informed principles within your daily routines, and action steps for your own self-care. Facilitated by Travis Lloyd and Samantha Moe
Strategic Sharing Panel
One of the most important aspects of learning to implement Trauma Informed Care (TIC) principles in everyday practice is finding ways to understand the "why" behind actions, lack of action, and the systems we live and work in. The Strategic Sharing Panel provides a nonjudgmental platform for service recipients to share their journeys in front of parents, professionals, direct care providers, administrators, and executives.
MENU
Light Breakfast: Bakery fresh croissants, assorted muffins and danish; Greek yogurt with dried Okanagan fruit and nut granola; chocolate hazelnut, cranberry walnut and banana bread; sweet butter and assorted preserves; seasonal fruit; gourmet coffee and tea.
Buffet Lunch: Hearty and healthy vegetarian soup; Fraser Valley garden salad, caeser salad; chicken salad pockets; pasta salad; tuna salad kaiser roll; grilled vegetable flatbread; egg salad bites; olives, cocktail onions and pickled peppers; dessert squares, bars and assorted mousse; gourmet coffee and tea.
Afternoon: Selection of sweet treats, seasonal fruit, gourmet coffee and tea.
**Please notify us of any food allergies or dietary restrictions during registration
ACCOMMODATION INFORMATION
Executive Plaza Hotel & Conference Centre
405 North Road, Coquitlam, B.C.
Call: 604-936-9399 or 1-888-433-3932 (Toll Free)
Email: reservations@executivehotels.net
To get the best rate when booking, quote Booking ID: 22617
Deluxe Double or King: $125
Superior King: $140
One Bedroom Suite: $155
(13% additional tax will apply. Rates include parking, internet and local shuttle)
Please Note:
The Stand Together Committee is not responsible for accomodation or parking costs.
This is an ADULT ONLY event. Please speak to your Resource Worker in regards to childcare reimbursement.
Tickets for this event are limited. Should you need to cancel your registration please notify us or cancel your registration online ASAP to ensure your spot goes to the next person on the waitlist. We understand that sometimes things happen at the last minute that prevent you from being able to attend an event and we thank you for the courtesy of sending us an email notifying us of that. Registration lists, attendance lists, cancellation lists and "no show" lists are recorded and submitted to Resource Workers upon their request.
QUICK FAQs
Are children allowed at this event?
No. Absolutely no children are allowed at the event, regardless of their age. The content of the material and the learning environment are not conducive to children of any age being present.
What are my transportation/parking options for getting to and from the event?
Parking is available in the hotel parking garage for a small fee. The sky train is also within a very short walking distance and buses run frequently
How can I contact the organizer with any questions?
Please email us at fostersupport@hollyburn.ca
What's the refund policy?
"Free" tickets can be refunded at any time prior to the event. Tickets that have been paid for will be reimbursed up until one week prior to the event.
Do I have to bring my printed ticket to the event?
No. Registration lists will be present on the morning of the event and you will sign in using the name you registered with.
Can I update my registration information?
Yes, you can update your registration information.
Is my registration fee or ticket transferrable?
Yes. Please contact fostersupport@hollyburn.ca should you need assistance
Is it ok if the name on my ticket or registration doesn't match the person who attends?
Yes, but it is best if you make the changes to your registration information ahead of time. If not, please notify us at the registration desk so we can make the appropriate changes to our records.
Will lunch be provided?

Yes! A buffet lunch is being provided. Please see the "Menu" above for a list of what is being served.
Why don't I see any "breaks" being listed in the timeline for the day?
We feel that scheduled breaks often interupt the natural flow and momentum of the learning environment. Instead, we encourage everyone to take small breaks as they are needed throughout the day at their own pace and prefered time.