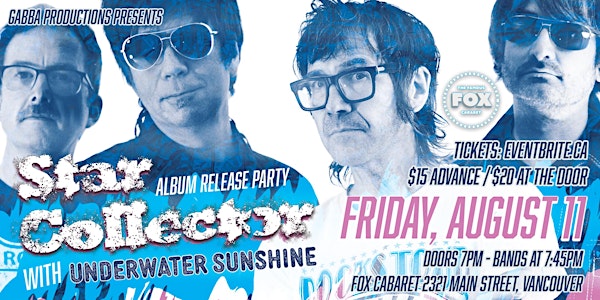 Star Collector Release Party with guests Underwater Sunshine
Star Collector's Album Release Party with special guests Underwater Sunshine. It's a high-spirited rock show with power-pop fun in the mix.
Date and time
Fri, Aug 11, 2023 7:00 PM - 10:00 PM PDT
Location
Fox Cabaret 2321 Main Street Vancouver, BC V5T 3C9 Canada
About this event
Star Collector introduce their sixth album, Attack, Sustain, Decay...Repeat (ASDR).
The band features Vic Wayne (guitar, vocals), Steve Monteith (guitar, vocals), Tony Kerr (bass), and Adrian Buckley (drums, vocals).
ASDR is climbing indie music charts in the US and Canada, adding to the band's critical acclaim. Centered around the mod-influenced rock the band is known for, there are also many tangents this time 'round, from The Bunnymen/Julian Cope to stompin' 70's rock to Nick Drake to psych-rock with introspective lyrical themes a la Weller/Townsend/McCulloch.
The album includes guest performances by Ian Person (The Soundtrack Of Our Lives), Kevin Kane (Grapes of Wrath, Northern Pikes), Paul Myers (The Paul & John), Derek MacDonald (Bad Beats), Kate O'Brien & Wayne Lundqvist-Ford (The Ice Cream Man).
https://starcollectorcanada.bandcamp.com/
https://open.spotify.com/artist/7kbfINxFpyydMkZprhLtRa
https://music.apple.com/ca/artist/star-collector/150818496
https://www.youtube.com/channel/UC8oPv_V-xetDlnKiHGQXymw
Underwater Sunshine is a guitar-driven pop quartet consisting of John Nikolic (guitar, vocals), Tim Bonikowsky ( guitar, vocals), Enzo Figliuzzi (bass), and Blair Mitchell (drums). Their album SuckerTree is a compilation of original recordings that allows fans to revisit the band's sound circa 1996. Join the power-pop fun and celebrate the fighting spirit of the Delta BC band that just won't quit.
https://futuremanrecords.bandcamp.com/album/suckertree
https://www.peacearchnews.com/entertainment/90s-rock-band-from-delta-resurfaces-with-songs-never-properly-recorded-or-released/
https://www.instagram.com/suckertree/
DOORS 7pm Bands 7:45
About the organizer
Vancouver is bursting with talent and we are proud to present it. Gabba Productions is eclectic and has been known to program artists of different genres on the same bill. Come to a show, see friends you know and support the music scene right in your own community.