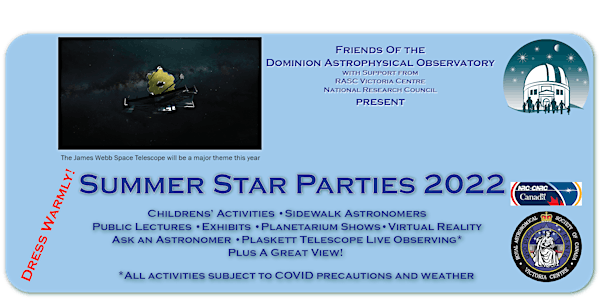 Star Party - Apollo in the Age of Aquarius
Join us * on Observatory Hill for an evening of observing (weather permitting), exhibits, children's tours, planetarium shows, and speakers
When and where
Location
Dominion Astrophysical Observatory 5071 West Saanich Road Victoria, BC V9E 2E7 Canada
Refund Policy
Contact the organizer to request a refund.
Eventbrite's fee is nonrefundable.
About this event
General Admission available Monday August 15, 2022 at 5pm.
Timed Activities:
Children's Program: 7:30 to 7:50 pm Auditorium
Adult Short Dome Tour: 7:30 to 7:50 pm Plaskett Dome
Children's Dome Tour: 8:00 to 8:30 pm Plaskett Dome
Guest Presentation # 1: 8:00 to 8:40 pm Auditorium
Guest Presentation # 2: 9:00 to 9:40 pm Auditorium
Adult Full Dome Tour: 9:00 to 9:40 pm Plaskett Dome
Adult Dome Tour / Plaskett Photography: 10:00 to 10:50 pm Plaskett Dome (Telescope open, weather permitting)
Ongoing Activities: (7:30 to 10:40 pm) The Hill closes at 11pm.
RASC Telescopes in the Parking Lot and on the Deck (weather permitting)
The 16" Telescope beside the CU (weather permitting)
Ask an Astronomer - (Lobby/Deck)
RASC Welcome Table -(Lobby)
Children's Craft Table- (Lobby 7:30 to 9:30 pm)
Display Gallery - Demonstrations and Hosted Q&A
Gift Shop
Hot and Cold Drinks available for purchase
Planetarium - Unhosted Films - Seating limited to 8 people at any one time
The 1960s were a dynamic, creative, tumultuous decade that saw the rise of women's rights, environmental activism, increasing civil rights, psychedelic music, and, of course, the first man walking on the Moon. The resources and publicity of the US space program captured the public's imagination. Space was used as a marketing tool and also featured in popular music.
The US space program which culminated with the Apollo program and the manned Moon landings was very expensive. The US was caught up with the Soviet Union in the 'space race. Many, especially those in the civil rights movement, questioned the cost of the space program when there were many pressing societal problems.
In this talk, I will introduce the space race, how 'space' was portrayed in popular music and advertising, and some of the opposition to the massive spending on space. ( p.s. Bring your dancing shoes)
Dennis Crabtree is a former Director of the DAO and has worked for NRC-HAA since 1986. He has twice worked at the Canada-France-Hawaii Telescope in Hawaii, the Space Telescope Science Institute in Baltimore and the Gemini Observatory in Chile. He was also the first external hire for the Canadian Astronomy Data Centre of the DAO which is one of the leading astronomical data centres in the world. He is the 'unofficial' historian of the DAO and is exploring the use of virtual reality and 3D printing for astronomy outreach. He is a member of the International Astronomical Union, the Canadian Astronomical Society and the Royal Astronomical Society of Canada.
Amuse bouche: He voted to reclassify Pluto as a dwarf planet.
Note: All our activities this summer will still be affected by precautions against spreading COVID-19.
If you are sick or have been in contact with anyone who has COVID, please release your tickets
N.B. Due to regulations governing Federal property, visitors are required to wear masks inside the Centre of the Universe and the Plaskett Dome
Activities indicated ** may be cancelled due to COVID precautions
Masks are required when approaching Sidewalk Telescopes