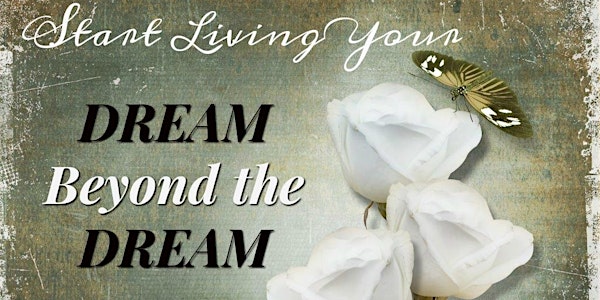 Start Living Your 'Dream Beyond the Dream'! 3 Live Classes
Event Information
Location
Winnipeg
Private Venue To be advised
Winnipeg, MB R2G
Canada
Description
Dates for this event have changed along with a change in format to incorporate the Art of Feminine Presence classes with 'Start Living Your 'Dream Beyond the Dream'

NEW DATES - May 18, June 1 & 15, 2017
NEW TIMES - 6:30pm-9:30pm
Early booking extended to May 12, 2017

Are you living someone else's dream? In the pursuit of a career, or having to take care of so many people around them, many women have disconnected from their personal power, presence and purpose without realizing it. This affects everything. From being able to attract and keep a passionate lasting love, the state of our health, fulfillment in our work, and to the unfortunate situation of women competing against women everywhere.

Whether it's in their personal life or career many women are living someone else's dream!

Does this resonate? Do you fill your days working and helping others make their dreams come true. Are you in a job where you are not using your natural talents and skills? Do you feel you're not heard and not valued for your contributions?

You're not alone. The good news is – women everywhere are waking up! Women are starting to take action to discover who they are, and what they want. Women are learning how to tap into their deepest desires so they can live a life that fulfils their dreams.

Every woman is on a unique journey. Some women have made their dreams happen and some are just beginning. And for some of you, you're ready to take your dream to the next level, living your Dream Beyond the Dream. Where your dream is bigger than you and you're making a positive impact with your family, your community, your country - and the world!

Wherever you are on your journey, this intensive workshop will work for you. Whether you're just beginning, or you're ready to take it to the next level, this workshop will give you tangible practices and tools to help you create your dream life on multiple levels.

In this one day intensive workshop you will learn skills that will support you in both your business and your personal life:

• Clarify your dream so you can feel more aligned, assured and authentic and start taking action.
• Learn a practice to anchor a powerful emotional and physical state so you can stay balanced and focused moving forward in creating your dream
• Start living a more purposeful life in sync with your highest intentions.

Most of all....
* STOP WASTING TIME doing things that won't give you the happiness, satisfaction and sense of purpose you're dreaming of.

Learn practical tools you can use every day to start making your Dream Beyond the Dream come true!

Register NOW to secure your space.


WHEN THURSDAYS, May 18, June 1 & 15, 2017
WHERE: Private Venue to be advised
Early booking extended to May 12, 2017 $157+booking fee+GST
Full Freedom cost $237.00+GST

Empower and motivate yourself to get more of what you want in your life and business and start taking action. Secure your seat. Limited spaces are available – register now!


Presenter: Jacquie Nagy is a Professional Speaker, Certified Neuro Linguistic Programming (NLP) International New Code NLP TRAINER & Coach, Certified Adult Educator (CAE), Art of Feminine Presence™ Teacher, founder Holistic Directions Inc. (2008) and creator Holistic Self-Coaching™. Jacquie offers personal and professional development workshops, NLP Certification courses and classes and 1:1 private coaching and mentoring for individuals and entrepreneurs in Winnipeg, Manitoba.
Date and time
Location
Winnipeg
Private Venue To be advised
Winnipeg, MB R2G
Canada