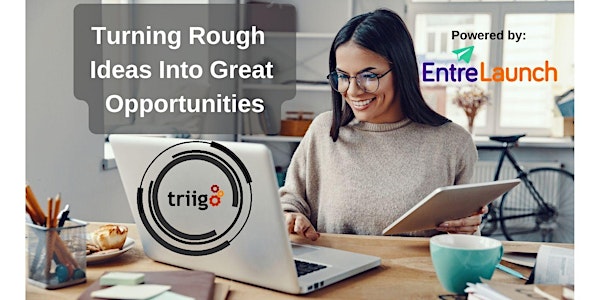 Start Your Business with Triigo - 1 day Business Intensive Workshop
Learn the basics of entrepreneurship and business planning with Triigo where we turn rough ideas into great opportunities. 1 day intensive.
Refund Policy
Contact the organizer to request a refund.
Eventbrite's fee is nonrefundable.
About this event
Course Overview
Triigo by EntreLaunch is a1-day Intensive entrepreneurship workshop is to assist participants to develop first-hand knowledge of the business creation process with a focus on small business and social enterprise projects.
The goal for this course is for participants to learn the basics of business building, develop financial literacy skills, understand how to conduct customer discovery and research, and complete a Lean Model Business Canvas in preparation for writing a detailed business plan.
Target Audience:
Early stage business, career transition to entrepreneurship, interested in entrepreneurship.
Learning Objectives
The Program will:
Identify initial problem-based ideas and map potential solutions
Identify needs, problems or pain points
Apply real-world business concepts to develop a business idea using the Lean Model Canvas
Create a Financial Forecast for your business
Develop an understanding of costing and pricing, revenue generation and apply the same to a business model
Learn to conduct customer interviews and apply the same using UX Design
Develop a story and create an elevator pitch for your business
Develop employment and life skills including critical thinking, time management, collaboration, and communication while becoming more self-confident
Course Materials:
Live virtual classSupplemental free online course content EntreLaunch.org/course/entrelaunch-accelerator/
Technical Requirements:
Internet enabled computer/laptop/tablet, internet connection, Computers with internet access Stationary including paper, pens, markers, post-itsAccess to video conferencing via webcam and microphoneAccess to email and Google Drive
Course Structure:
Module 1: What's Your Story - Vision and Validation
What's Your Why and Ideation
Storytelling and Why Stories Matter
Social Enterprise Versus Social Impact
Learning Objectives
Identify a Customer Problem
Identify why you qualified to work on this problem
Evaluate social enterprise, social impact, NGOs and traditional for-profit business styles
Module 2: Lean Model Canvas
Lean Model Canvas Components
A Review of Ideas
Identify Stakeholders
The Human Centric Approach
Learning Objectives
Evaluate each section of the Lean Model Canvas (Problem, Solution, Unique Value Proposition, Customer Segments, Cost Structure, Revenue)
Learn how to validate ideas and pivot
Identify all stakeholders in the project
Module 3: Know Your Customer
Customer Centric Design and User Experience (UX Design)
Why Customer Discovery is Vital For Your Business
Conducting Customer Discovery Interviews
Market Segmentation - TAM SAM SOM
Segmentation Tables
Learning Objectives
Understand the Customer Discovery Process
Identify the Ideal Customer
Learn to conduct customer interviews and apply knowledge
Identify your addressable market
Module 4: Finance and Product Development
Creating a Financial Forecast
Supply chain - making product and sourcing supplies
Costs Table - calculating costs
Prototyping Your Product
Learning Objectives
Create Financial Forecast
Calculate costs of doing business
Identify supply chain, delivery models and sourcing of supplies
Develop a product prototype
Module 5: Getting Started with Your Business Plan
Drafting Your Business Plan
Creating an Executive Summary
Learning Objectives
Identify components of a Business Plan.
Start a draft Business Plan
Complete an Action Plan