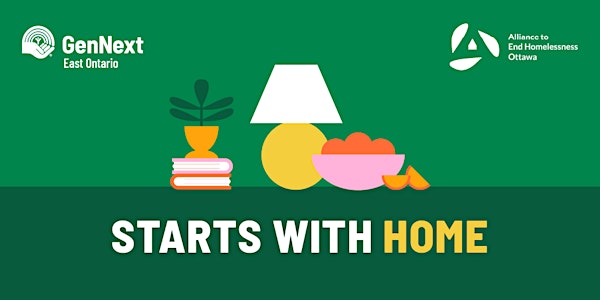 Starts with home: GenNext x Alliance to End Homelessness
Join our Q&A about affordable housing, advocating for change, and how you can get involved on the issue.
About this event
A roof over your head. A bed to call your own. A feeling of safety and security. Many of us don't have to think twice about these things, but for some of the most vulnerable people in our communities, it's a constant worry.
Everyone deserves to find a place to call home.
But there are many factors that leave young people struggling to find safe, affordable, and stable housing.
What are these factors? What should you watch for after the recent municipal election? What unique challenges are facing our region? How can you get more involved? We'll dive into these questions with Alliance to End Homelessness Ottawa at this special GenNext Connect.
Join us to learn more about the Alliance to End Homelessness' advocacy campaign, Starts with Home, and how you can make a difference on this pressing local issue. Plus, we'll save time at the end for an audience Q&A.
We all have a part to play in the local housing affordability crisis. Take the first step by registering for our event today!
Meet the speaker

Meg McCallum (she/her)
Interim Executive Director for the Alliance to End Homelessness Ottawa
Meg is a non-profit leader with decades of experience developing inclusive communities, and a focus on community mobilization, engagement and advocacy.
Most recently, after moving to a village in eastern Ontario, Meg worked at the Township of Rideau Lakes as a planning assistant, economic development coordinator and emergency management coordinator (one job with many hats!). She volunteers as the President of the South Crosby Non-Profit Housing Corporation and acts as a convener for a new group focused on local food sovereignty called Feeding Ourselves.
Schedule
Here's a brief outline of what we're planning:
12:00 PM – Join in. We'll start off with some introductions.
12:10 PM – Meet the speaker
12:15 PM – Speaker Q&A
12:45 PM – Open the floor to audience questions
12:55 PM – Wrap up and thank you
We hope to see you there!
Your ticket supports your community
We want this event to be accessible regardless of your financial situation, so tickets are pay what you can.
All proceeds from ticket sales will ensure young people facing homelessness get the support they need. GenNext provides opportunities for youth in our communities to build a more stable life.
Learn more about how you can support this cause.
About GenNext Connect
GenNext Connect started out as a way to stay in touch virtually during the pandemic. Even though we're back to hosting in-person events, we want to keep conversations going online with local change-makers and advocates. What a great way to learn about local issues and still wear your pajamas, right?
Please note: We will be recording the event and the content will be used for future promotional purposes. For those who wish to not appear in the recording, please feel free to turn your video off. This event will be presented primarily in English. We do our best to incorporate French whenever possible, based on the language abilities and preferences of our hosts and speakers.