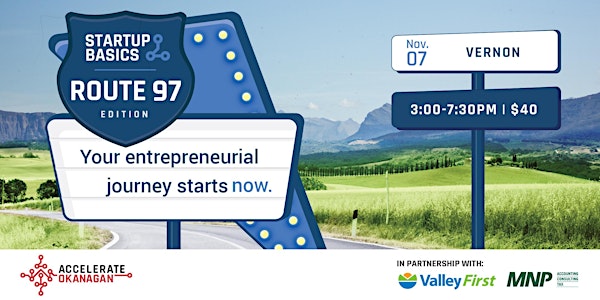 Startup Basics | Route 97 Edition | Vernon
Location
Community Futures
3105 33 St
Vernon, BC V1T 9P7
Canada
Description
This fall, Accelerate Okanagan is joining forces with Valley First and MNP to launch Startup Basics | Route 97 Edition. Our team will be visiting four different cities throughout the Okanagan; Penticton, Kelowna, Vernon and Salmon Arm.
In each of the four cities, there will be two back-to-back workshop-style sessions presented by Accelerate Okanagan mentors, a panel discussion featuring local entrepreneurs and innovators, and a networking event designed to build community and inspire connection.
Learn more about Vernon's session below.
Workshop Sessions ($40 to attend both from 3:00-5:30pm)
Laws of Attraction (3:00pm - 4:15pm)
This session is all about finding your customer. Entrepreneurs will walk through the Customer Discovery process and learn how to ask the right questions and formulate hypotheses to validate their product and market.
Business Building (4:15pm - 5:30pm)
This session will have entrepreneurs planning the next step for their business ideas by using the nine elements of a business model canvas. This canvas is designed to get each entrepreneur thinking about every aspect of their business and can be a powerful tool to help ignite their idea.
Free Panel and Networking Sessions (5:30-7:30pm)
Lessons Learned (5:30pm - 7:00pm)
Building a business can be scary, but it's important for an entrepreneur to realize that they are not alone. There are entrepreneurs and experts in their community that are ready and willing to help support. This panel consists of community members local to each region who will share their journey, insights, challenges, and successes with attendees.
Beer & Bytes (7:00pm -7:30pm)
This is your chance to build meaningful connections with the entrepreneurial community and network with the panellists and speakers. There will be beer, wine, snacks, activities and thank you's. Who doesn't love a good social, am I right!?
We can't wait to hit the road and connect with entrepreneurs from across the Okanagan. Stay tuned for more information on featured guests!
Thanks to our amazing community supporters!

Not from Vernon? There are also sessions in Penticton, Kelowna and Salmon Arm!
Penticton's Session