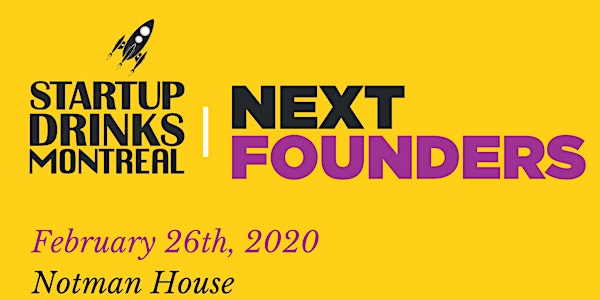 Startup Drinks Montreal in Collaboration with Next Founders
When and where
Location
Maison Notman House 51 Sherbrooke St W Montreal, QC H2X 1X2 Canada
Description
Startup Drinks Montreal will be partnering with Next Founders for the February Edition!
Next Founders accelerates the growth of Canada's most promising entrepreneurs and their ventures by providing mentorship, access to capital, and unparalleled entrepreneurial education taught by world-class faculty. Apply at nextfounders.ca
Next Founders is for Canadian founders of scalable, high growth ventures. The ideal applicant is building one of their first ventures and often has a STEM background with little formal business education. They may be a founder from another top-tier accelerators, looking to complement their experience. We are industry-agnostic and often the venture will be between pre-seed and seed stage and interested in raising funding to fuel growth.

Ventures should have traction in the form of:
- Funding
- Significant revenue
- Full-time employees
- Other milestones that put you in a prime position to scale

100% of the ticket proceeds from this event go to the not-for-profit MontrealFounders which manages the blog MTLinTECH. The mission of both of these organizations is to support and promote the Montreal startup & technology ecosystem locally and abroad.
Come join the startup community on Wednesday February 26th! No speakers, no agenda, just great people, and some good drinks :)
Thanks to Gsquad and BDO for their continued support of the Startup community.

Cheers,
Allen, Hassan, Matt, and Gabriel