Description
MTL Newtech, Défi Montréal, District 3 Innovation Center, PlusMTL et RETS (Regroupement Entrepreneuriat Technique et Stratégique de l'ÉTS), are coming together on Sunday July 3rd to help you make your pitch rock!
Cette journée de formation suivie d'un concours de Elevator pitches sera bilingue, soutenue par plusieurs des meilleurs coaches et entrepreneurs en série des accélérateurs de Montréal. Le concours de pitchs vous permettra de vous faire connaître et de tester votre projet devant vos pairs, dans un ambiance festive. Qui sait si vous ne serez pas choisis parmi les 10 meilleurs pitchs de la journée ?!

MTL Newtech, Défi Montréal, District 3, RETS and PlusMTL are pleased to offer this opportunity for startups to get the perfect pitch with some of Montreal's best coaches and serial entrepreneurs. And just in time for Startup Festival! :) If you don't have a your Startupfest ticket yet, we have a very sweet deal for you by the way: http://mtlnewtech.com/startupfest
This day of workshops (French and English) is aimed at early stage startups with the support from accelerators and we hope to share the tools that teams need to see their business take shape and succeed. And this time in collaboration with DefiMTL, we are adding a Startup Pitch Contest for the startups, so you can show what you have learned and shine among the best !
Que vous soyez déjà en démarrage ou simplement à l'étape de l'idée, vous êtes les bienvenus !
Voici l'horaire de la journée / The schedule and workshops are as follows:
**
09:00 @ 09:30 Accueil
09:30 @ 11:00 Atelier 1: how to frame and sell best your value proposition with PlusMTL
11:00 @ 13:00 Atelier 2: how to craft your 5min pitch and presentation with District 3 (English)
13:00 @ 14:00 Dîner

14:00 @ 16:00 Atelier 3 : stuck in an elevator? Nail your 60seconds pitch with DefiMTL
16:00 @ 16:30 Pause
16:30 @ 18:00 Startup Pitch Challenge : 1 min pitch to get to Startupfest! Thanks to Startup Festival
18:00 @ 20:00-ish Cocktail BBQ presented by YULEX
NB: The competition is optional. Participants can participate at the workshops, have lunch and enjoy the cocktail/BBQ with us after the competition :)
N.B. La compétition est optionnelle, les participants peuvent choisir de participer seulement aux ateliers, au diner et le cocktail/BBQ après la compétition.
/ / Workshop partners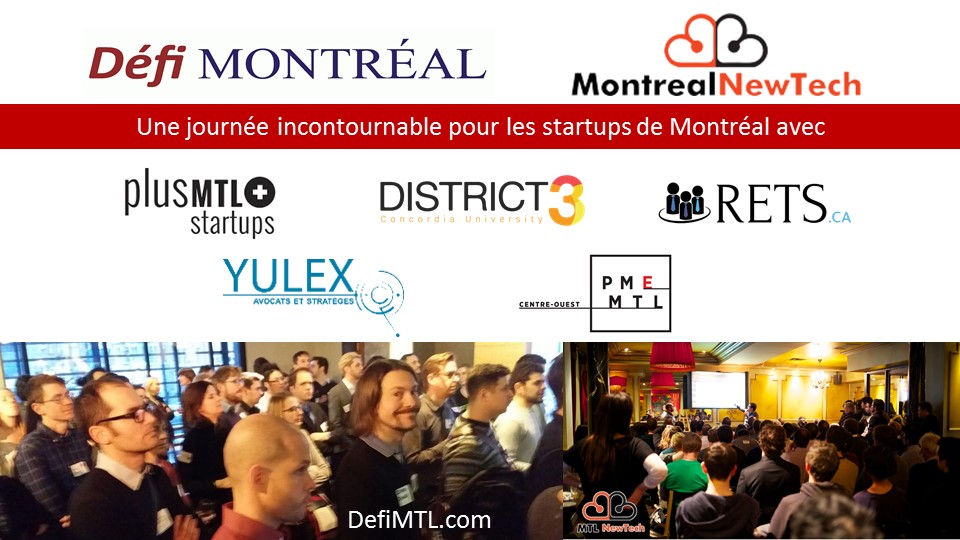 / / Coaches à l'atelier Elevator Pitch DefiMTL.com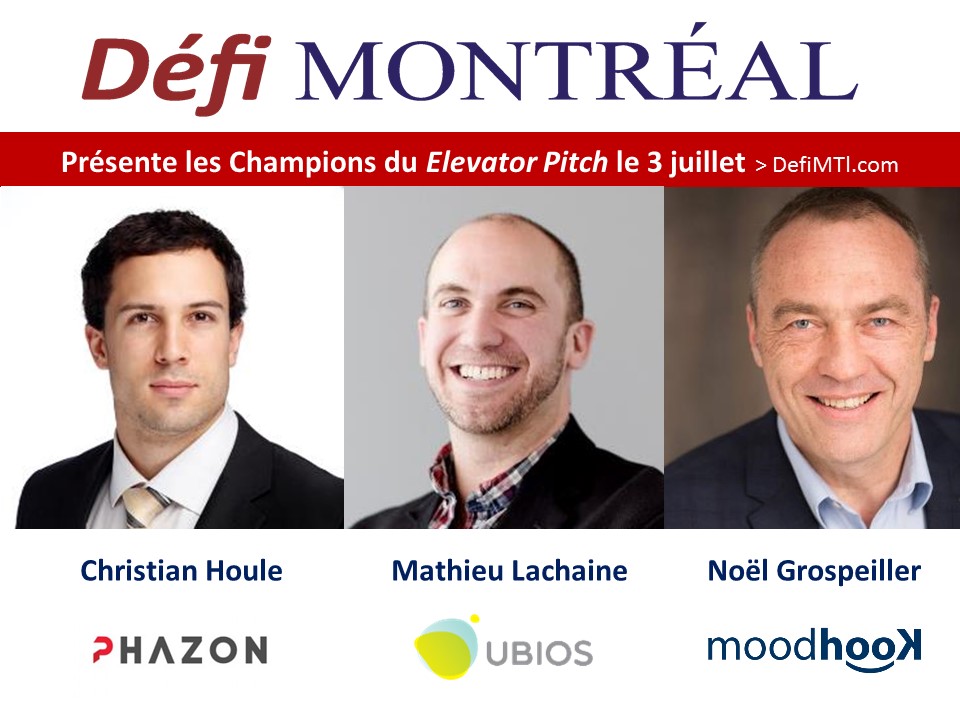 / / Cocktail réseautage et BBQ présenté par YULEX.ca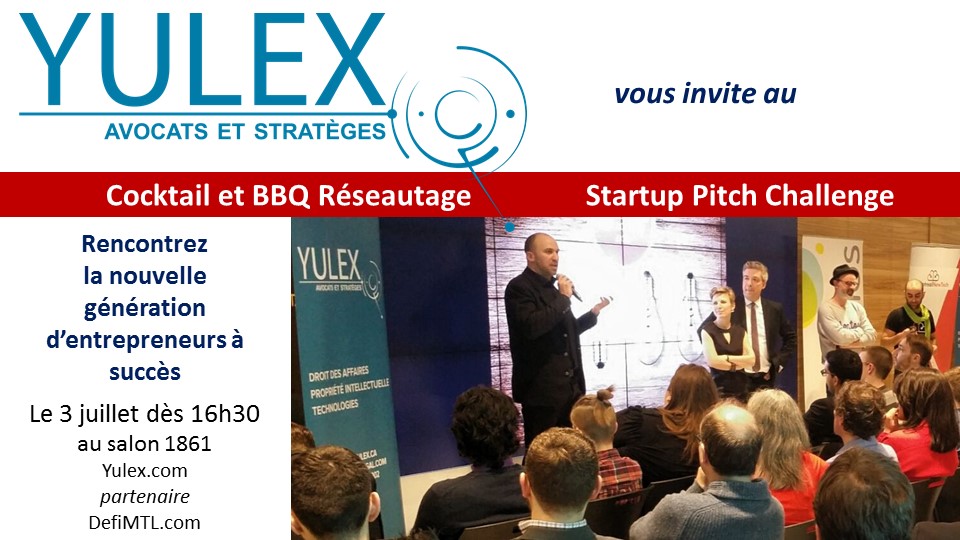 / / Community Partners
We would like to also thank our community partners that are supporting us and who are helping build our vibrant Montreal community every single day!!
- District 3 Innovation Center
- Centech.ETS.ca
- RETS.ca
- IEBN.hec.ca
- Pitonneux.com
- HackerNest.com
- McGill Dobson Centre for Entrepreneurship