« Startup Pitch » – Édition Fintech au Desjardins Lab

Thursday, 2 June 2016 from 5:30 PM to 8:30 PM (EDT)
Event Details
/ / English version below 

Les fintech sont sur toutes les lèvres, et à juste titre! 
Le Mouvement Desjardins organise le 2 juin en journée une rencontre privée avec des startups du domaine (chuut!). On ne pouvait pas laisser passer cette opportunité de les présenter à la communauté! ;)

Le Mouvement Desjardins , #DesjardinsLab, et MTL Newtech sont fiers de vous inviter à un évènement unique où nous allons accueillir des start-ups en fintech venant des quatre coins du pays!

/ / Venez à la rencontre d'entrepreneurs et de nombreux talents

La soirée débutera par une séance de réseautage. Cela sera une belle occasion de rencontrer de potentiels partenaires d'affaires et des entrepreneurs allumés.

/ / 5 start-ups canadiennes inspirantes en fintech seront présentes

5 startups présenteront devant une foule de plus de 120 personnes. Nous avons sélectionné des start-ups innovantes dans leurs idées, leurs technologies, et leur façon de faire. Chaque présentation durera 5 minutes, suivie par une période de questions. Notre objectif est d'inspirer, de partager et d'en faire profiter la communauté.

/ / Calendrier

17h30 Ouverture des portes . Rencontrez les entrepreneurs et de nombreux talents
18h30 Début des présentations
19h30 Réseautage
=====
Fintech is all the rage and we've heard that Desjardins is hosting a private special day on June 2nd (shuutt), and we couldn't not notice that there was something to be done with and for the whole community tant qu'à faire. After some discussions, they are willing to open the doors and co-organize an event together that would be open to everyone on the same day! After their private meetings of course ;) (duh!)
At MTL Newtech, we are always trying to build bridges with others communities and this time it will be with the fintech one accross Canada! We are very pleased to co-organize this fintech edition with Mouvement Desjardins, propulsed by #DesjardinsLab on June 2nd. We will have the priviledge of hosting out of town fintech companies (list coming soon).Don't miss it!
// Meet Startups & Talent
The evening will both start and finish with a networking time to meet co-founders for new startups projects: programmers, mobile & web entrepreneurs as well as Tech professionals are part of the attendees. If you're looking for engineers, journlalists or investors to take your startup to the next level, this is your chance!
/ / 5 inspiring startups on stage
Startups will then pitch to the crowd. Presentations will be exactly 5 minutes each including the demo, followed by a Q&A. We will select 5 startups that are in one way or another innovating in their use of finance and technology. We aim to benefit, challenge and inspire the community by featuring these startups.
// Schedule
5:30pm Doors open. Meet fellow entrepreneurs, cofounders and talents
6.30pm Startup demos + Q&A
7.30pm Stay for networking!
// Partners
- Ministère de l'Économie, de la Science et de l'Innovation du Québec
- Mouvement Desjardins - Desjardins Lab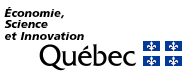 The EY Startup Initiative is a program set for entrepreneurs, especially tech entrepreneurs. If you develop hardware or software, you are probably eligible for many government programs (who said SR&ED :) You should probably reach out to nassim.bennacer@ca.ey.com for more info


Lighthouse Labs is a modern, immersive teaching facility for web and mobile software development. They run bootcamps that entail 60+ hour weeks, in a mixture of lecture and lab environments to teach eager new developers how to build incredible web and mobile apps using Ruby on Rails, JavaScript, Node, Objective-C and Swift.
// Community Collective
We would like to thank the members of our Community Collective that are helping make every event a success, and supporting all those who are helping build a thriving ecosystem of startup entrepreneurs in Montréal and beyond! We have some beautiful projects coming up together, stay in touch :)
Don't miss MTLData event on June 2nd: Time Series Analysis: An R and Python Perspective. http://www.meetup.com/mtldata/events/231175986/ 

Don't miss their cool 30th edition anniversary on June 16th at Fabrik8: mtlecommerce.com
And of course what better way to start the week than to go enjoy good company and free drinks at our awesome MTL Hackernest Monday May 13th at Richter, see you there! http://www.meetup.com/HackerNestMTL/events/227914913/

If you want to learn iOS, definitely don't miss this amazing opportunity to do so in a great p2p environment with great mentors, all for under 100$/m, yep! Go check Pitonneux.com!

If you're into data, and wanna follow-up on the HackCité hackathon challenge to help plant 300 000 trees in Montreal, don't forget the design sprint organized with Verdi, Soverdi and Printemps Numérique: http://osmosacademy.com/data-science
/ / Community Partners 
We would like to also thank our community partners that are supporting us and who are helping build our vibrant Montreal community every single day!!
- MTL + Ecommerce
- Hacking Health
- Startup Drinks Montreal
- Maison Notman House
- District 3 Innovation Center
- NeurotechX
- WearHacks
- Montreal Girl Geeks
- Défi Technovation / Technovation Challenge Montréal
- McGill Entrepreneurs Society
When & Where

Desjardins Lab
175 René Levesque
On your left at the entrance from René Lévesque
Montréal, Quebec
Canada

Thursday, 2 June 2016 from 5:30 PM to 8:30 PM (EDT)
Add to my calendar
Organizer
MTL NewTech is a non-profit organization dedicated to the success of Montréal startup entrepreneurs. Every month 4-6 startups present in front of an audience of programmers, engineers, entrepreneurs, investors, students etc. Our community is enthusiastic about technological innovation and eager to discuss new trends, see new products and services and connect with global startup ecosystems. These monthly meetups feature demos which are recorded and the videos also showcased via social media and press coverage after the event.
In addition to the startup demos, we also aim to educate and bring successful entrepreneurs to the community through keynotes or panels. Of course, the event is an incredible opportunity to meet potential co-founders for your next startup, or find valuable talent.
Thanks to key partners such as SDEVM, or EY, we are able to offer working sessions and mentorship to startups to ensure they benefit from preparation for demonstrations and pitches, making NewTech a key event in a startup launch. 
We prioritize working with groups within the Montreal Startup community, including MTL + eCommerce, MTLGirlGeeks, HackingHealth, Notman House, Startup Grind Montréal, Francogénie, Montreal Tech Watch, International Startup Festival with a focus on facilitating greater integration between groups and within the rest of Montréal. MTL NewTech is inclusive and community oriented, creating or supporting many well-known initiatives such as the #hackmtl hackathons, the MTLStartupTalent job fairs, the Montreal Startup Guide, WeAreMTLTech, the Montreal + Startups facebook group and many other leading initiatives.
- See more at: http://mtlnewtech.com/about
« Startup Pitch » – Édition Fintech au Desjardins Lab