Startup Salad MTL: Meet renowned mentors, building a company in 52 hours an...
Description
What is Startup Salad?
Startup Salad brings together interesting, powerful and genuine people who want to make a difference, to connect, learn and collaborate in an offline manner, creating an innovative project that actively promotes social development globally. Startup Salad, with brands including '52-hour Startup Salad', 'Big Salad' and 'Salad Pro', now cover more than 50 cities around the world such as Shenzhen, San Francisco, Shanghai, Montreal, Beijing, Hong Kong, Bangkok, and Guangzhou. At the same time, Startup Salad is connecting hundreds of thousands of like-minded entrepreneurs globally.


Startup Salad Values
Act now, make the future.
Help each other.
Enjoy creating.


Judges (MORE TO COME)
Nicholas Jacques-Bouchard Associate, 500 Startups Canada

Jean-Sebastien Cournoyer Co-Founder and Partner, Real Ventures

Marc Chriqui Mentor, Tech Entrepreneur, Angel Investor

Jason Della Rocca Co-Founder, Execution Labs

Sergio A. Escobar Managing Director, Founder Institute Montreal

Richard Lan Partner, Amalan Capital

Laviva Mazhar Analyst, Ferst Capital Partners
Mentors (MORE TO COME)
Sam Kawtharani Co-Founder and CEO, Seedlify

Xavier Peich Co-Founder, SmartHalo

David Fugère-Lamarre Co-Founder and CEO, iLLOGIKA

Rami Sayar Senior Technical Evangelist, Microsoft Canada

Charles Richer La Flèche Associate, The Boston Consulting Group

Chia-Yi Tung Happiness Entrepreneur & Success Coach, Orchimedia & Smile with Chia

Bassam Rhou Co-Founder & CEO, Flystro

Antoine Landriault Arbour Investment Banking Analyst, RBC Capital Markets

Harold Dumur Co-Founder and CEO, OVA Inc.

Amira Boutouchent Co-Founder and CEO, Bridgr.Co

Geoffrey Vande Weerdt Partner and Investor, Le Coffret de Rachel

Nathon Kong Founder, Nathon Kong

Quentin Gay Co-Founder, Doctr

Frédérique Lissoir Partner, Propulsio 360° Business Consultants L.L.P.
Participant Instructions:
Check-in time: Friday Afternoon (May 05) 17:00-18:30
The fee includes: Breakfast x2, Lunch x2, Dinner x3, T-shirt x1, Paper and Pen, Internet access.
If you have an Idea to Pitch on Friday night:
Please submit your Idea PPT before May 1st to support@apyef.org
You MUST use our template, and you can only make one slide to show your ideas. Remember that you ONLY HAVE 1 MINUTE for your initial pitch on Friday evening.
The download link of our template:
https://drive.google.com/file/d/0B7F4x3FmmF0JU1ZkX3h5REdVQnc/view?usp=sharing
If you don't have an idea:
You can choose your favorite idea after the 1-minute idea pitches on Friday night and join one of the teams.
If you are a Sunday evening audience member:
Check-in time: Sunday Evening (May 07) 18:00-19:00.
All the teams will present their product demos or prototypes, which have been completed over the previous 48 hours, to a panel of judges and the audience.


Prizes
This event is more about the progress than the results, that being said, we still have some awesome prizes prepared for the winning teams:
One round trip flight ticket to China.

Admission to one of China's renowned innovation forums with world-class entrepreneurs, investors, and industry members.

Three (3)-night accommodations in China

Startup Package Lavery Go Inc. legal service to top winning team from Lavery Lawyers. (valued at $2,500 CAD)

One-year free .Tech domain for all participants
Reasons/Benefits for you to join Startup Salad MTL, a 52-hour ride to build your startups from fresh ideas:
Meet new friends, potential business partners and other folks who you'll like to share same startup values and positive energy with.

Communicate with some of the best investors in MTL

Meet the Salad mentors! They are industry leaders, startup entrepreneurs who have made impressive success and know how to dodge the bullets on the startup road.

Enjoy a weekend filled with excitement, actions, and get-shit-done spirit.

Startup Salad has startups now worth tens of millions of dollars formed in the past events, you might just be building the next one!!!
What goes on at a Startup Salad Event?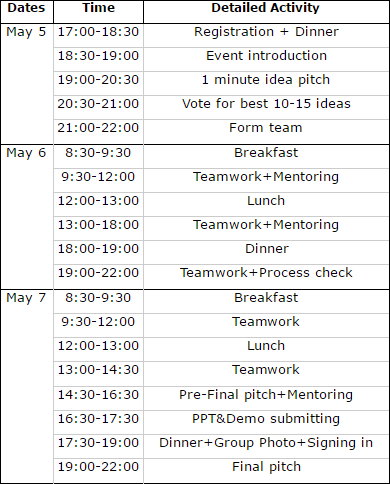 For more event information, check out our
Webpage: https://www.apyef.org/startupsalad
Facebook: https://www.facebook.com/events/1886498274902004/
Contact:
If you have any questions or want to help with this event, feel free to contact us at info@apyef.org
The Asia-Pacific Youth Entrepreneurship Foundation (APYEF) is committed to promote youth entrepreneurship and greater commercial engagement with the fast-growing Asia-Pacific region. Our vision is to establish an international platform for the next generation of entrepreneurs to connect, communicate and collaborate across the Asia-Pacific region.