Description
We created Startup Slam to showcase Victoria's tech sector and provide interactive workshops for students and professionals. In 2014, 60 attendees joined us for the first Startup Slam. Last year, over 400 students, developers, and entrepreneurs came together to share ideas, knowledge, and expertise!
Workshops will be offered on product validation, design, technical topics, and entrepreneurship. Find the full list of speakers at startupslam.io. On the day of the event, you can also book a session to Talk with an Expert, a chance to have a one-on-one conversation with technical leaders, startup founders, legal experts, and angel investors.
Because we want everyone to be able to attend Startup Slam, tickets remain free! Registration includes lunch.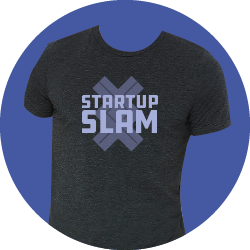 We are also offering limited edition Startup Slam 2019 t-shirts at a subsidized rate of $10. Check out our fresh logo design for 2019! They're comfy tri-blend cotton. Snag one with your registration because quantities are limited!
***T-shirts must be claimed by 2:00 pm on Sept 28 in person at the Victoria Conference Center. Unclaimed t-shirts will be sold or donated. The purchase of a t-shirt is non-refundable.***