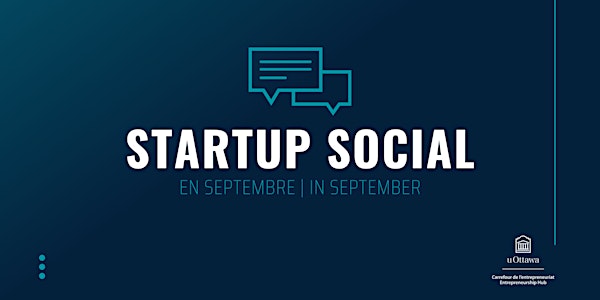 Startup Social: en septembre| in September
Parlons entrepreneuriat! | Let's talk entrepreneurship
When and where
Location
eHub - STEM 122 150 Louis Pasteur Private STEM 122 Ottawa, ON K1N 6N5 Canada
About this event
An english message will follow.
PORTES OUVERTES: L'esprit entrepreneurial rayonne à l'uOttawa
Rêvez-vous de démarrer une entreprise? Souhaitez-vous développer des compétences convoitées par des employeurs?
Le Carrefour de l'entrepreneuriat de l'Université d'Ottawa présentera une soirée portes ouvertes et mini-causerie le jeudi 8 septembre. Passez nous voir pour en savoir plus sur notre ensemble de programmes et d'activités liées à l'entrepreneuriat. Bonus ! Vous aurez la chance de rencontrer des étudiants-entrepreneurs qui ont su cultiver et affiner leur esprit critique, maîtriser leur capacité à résoudre des problèmes et tirer le meilleur parti de leur expérience universitaire.
Cet événement est idéal pour les étudiants et les étudiantes de toutes facultés et de tous niveaux d'expérience entrepreneuriale qui souhaitent rencontrer des personnes aux intérêts similaires et découvrir la multitude d'occasions entrepreneuriales offertes sur notre campus.
Jeudi 8 septembre 2022
16 h et 18 h
Carrefour de l'entrepreneuriat, édifice STEM, salle 122
*****
OPEN HOUSE: uOttawa Is Buzzing With Entrepreneurial Spirit
Dreaming of starting a business? Looking to develop skills coveted by employers?
The University of Ottawa's Entrepreneurship Hub will be hosting an Open House & Social on Thursday, September 8. Drop by to learn more about our range of entrepreneurial programs and activities. Bonus! Get a chance to meet student entrepreneurs who were able to cultivate and fine-tune their critical thinking abilities, master their problem-solving skills and truly make the most of their university experience.
This event is ideal for students from all faculties and all entrepreneurial experience levels looking to meet like-minded people and discover the multitude of entrepreneurial opportunities available on our campus.
Thursday, September 8, 2022
4 PM – 6 PM
Entrepreneurship Hub, STEM Building, room 122