Startup Success Weekend - Muskoka

Thursday, 17 January 2013 at 8:00 PM

-

Sunday, 20 January 2013 at 6:00 PM (EST)
Event Details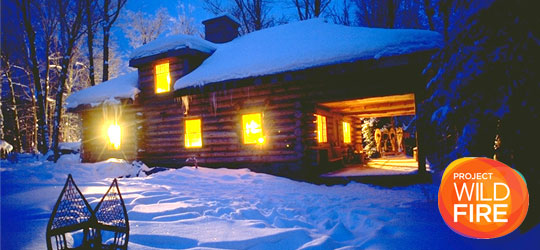 A 3-day business intensive on beautiful Lake Joseph in the Muskoka region of Ontario, led by Project Wildfire, Toronto's leading social enterprise startup incubator!
Featuring 3 of Toronto's leading social enterprise and small business consultants, 6 interactive workshop sessions on a variety of small business topics, 90-minute one-on-one sessions, and numerous outdoor activities such as snowshoeing, cross-country skiing and more! 
Designed to get you out of the workplace and into the wilderness and your most creative and insightful space, the goal of Project Wildfire Muskoka is to get you to take an in-depth and innovative look at all aspects of your business, gain insights from facilitators and other participants, provide you with the tools for ongoing success, and have a ton of fun doing it! 
WHO IS THIS FOR?
This weekend is for:
Social entrepreneurs in the startup phase, either still in planning or recently launched
Established social entrepreneurs that are struggling to gain traction for their idea
Entrepreneurs that are looking to change the world for the better
Entrepreneurs that are passionate about both social mission and profit
Please note that because space is limited, a maximum of 2 entrepreneurs per business are allowed (if you want to book 2 spots for each founder in your business, each entrepreneur has to pay the fee)
WHY SHOULD I ATTEND?
If you are:
Looking to create a worldchanging business
Struggling to get a foothold for your idea/business
Unsure of how to proceed or choose between a million different priorities demanding your time
Looking for rock-solid advice from people who've been there before
...then this weekend is for you. Nowhere else will you get such in-depth training and feedback in such a short period of time. But you have to be prepared to work your ass off.
WHAT WILL I GET?
At the end of the weekend you'll come away with a totally new look at your business, valuable insights, and completed worksheets on topics such as:
Your Business Model
Your Mission, Vision and Values
Your Positioning Strategy and Unique Selling Proposition
Your Unique Marketing and Sales Approach
Your Financial Models
Your Financing Plan
Each of the 6 workshop sessions is designed to be interactive, accessible, and immediately applicable to your business. You won't listen to long, boring presentations, furiously scribbling notes: these 3-hour sessions feature no more than 1 hour of presentation (with all the material included in the handout for future reference), followed by group discussion and intensive work on your business, guided by our handouts and worksheets. 
You'll also get a 90-minute one-on-one session with one of our consultants, to help you work through the biggest challenge(s) facing your business.
You'll also get several 'quick-hit' sessions on topic such as time management, handling the stress of working for yourself, and more!
You'll also get accommodation in a beautiful private cottage and 3 delicious, healthy meals daily
And you'll also take part in several fun - and transformative activities such as snowshoeing, cross-country skiing, yoga, and more!
Finally, 1 month after the weekend you'll also get a 3-hour follow-up session with your fellow entrepreneurs.  At this session we'll check in, review your progress, and give feedback on your efforts.
ACCOMMODATION AND MEALS
Accommodation is in a beautiful private cottage on Lake Joseph. There are 3 private bedrooms with a queen bed in each, and a bunk room with double and single beds. Single/private room accommodation is available on a first-come, first-served basis with a $145 upgrade fee.
Meals are catered by a local caterer, and are healthy, plentiful and delicious. All meals are included from breakfast on Friday morning to dinner on Sunday night.
TRANSPORTATION
For those without access to a car, we will do our best to arrange carpool rides, and if that doesn't work, there will also be space available in the facilitators' vehicles (in exchange for a share of gas).
FACILITATORS
Mike Brcic
Director, Project Wildfire
Founder/CEO, Sacred Rides
Founder/board chair, Bikes Without Borders
With over 16 years of entrepreneurial experience as the founder/CEO of Sacred Rides, the "#1 Mountain Bike Tour Company on Earth" (National Geographic Adventure magazine), and founder of numerous other projects, including Toronto's leading social enterprise incubator, Mike brings a wealth of real-world experience to his workshops. In addition, he founded and currently chairs Bikes Without Borders, a Toronto-based nonprofit orgnization that uses bicycles and bike-related technology as a tool for development in marginalized communities, with a focus on Toronto and Malawi, Africa.
Norm Tasevski 
Founder/Partner, Venture Deli
Professor of social entrepreneurship, Schulich School of Business
Norm Tasevski is a co-founder and partner with Venture Deli. Prior to Venture Deli, Norm was a Social Entrepreneur-in-Residence with the Social Innovation Generation (SiG) program at MaRS, where he advised innovation-minded social organizations in topics ranging from revenue diversification to business model development. Prior to MaRS, Norm was a Management Consultant with Aperio, where he helped social entrepreneurs and established organizations to crystallize and implement socially and environmentally responsible businesses. He teaches social entrepreneurship at the University of Toronto, Schulich School of Business, and the University of Waterloo, and as Vice Chair of the Board of the Schizophrenia Society of Ontario, chairs a social enterprise development committee.
Assf Weisz
Founder, Venture Deli
Assaf Weisz is a co-founder and partner with Venture Deli. Prior to Venture Deli, he founded and was the Executive Director of the Young Social Entrepreneurs of Canada (YSEC), where he grew the organization to become one of the nation's largest networks of social entrepreneurs. Assaf serves on the Laidlaw Foundation's PRI committee, and as a founding board member of Operation Groundswell – a conscious backpacking social enterprise that has run trips in over 20 countries. Assaf is also an Ariane de Rothschild Foundation Fellow for social entrepreneurs.
WHAT DOES A TYPICAL DAY LOOK LIKE?
If you're looking for a fun vacation with a bit of learning thrown in, you've come to the wrong place.
This retreat is designed to make you work, make you think, and make you reflect, and ultimately, make you succeed. It will be hard work, but it will be very rewarding work. 
Although each day is a little bit different, a rough schedule looks something like this:
7:00 am: morning yoga/meditation (relax)
7:30 am: breakfast
8:30 am: outdoor activity (e.g. snowshoeing)
9:30 am: morning workshop (get to work)
12:30 pm: lunch 
1:30 pm: outdoor activity (fun time)
2:00 pm: afternoon workshop (back to work)
5:00 pm: one-on-one sessions, snack time
6:30 pm: quick hit (tips and tricks)
7:00 pm: dinner
8:00 pm: evening discussion group
9:00 pm: campfire! 
TESTIMONIALS
Don't just take our word from it. Many entrepreneurs have taken our workshops and have achieved transformational results. Here are a few selected reviews:
"Being part of the Project Wildfire process has been life changing for me, my business, and my dreams."
- Theresa Laurico, SociaLIGHT
"Project Wildfire is responsible for converting my basement project, Carbon Savings, to its current direction as a social enterprise. The organization has helped to develop the business model and accelerate its launch and has opened doors by provided valuable connections and lent credibility to the idea."
 - Howard Swartz, Carbon Savings
"The handouts were fantastic. The depth and detail of the info and the way it was structured was fabulous."
-Erin Elliot
"Mike was great and so approachable. Wonderful! The information was very helpful!"
 -Joseph Tremaine
"I love the notes you handed out. I can concentrate on listening instead of taking notes!"
-Ariel Estulin
"There have been times that I have been in tears, uncertain of my path, and through Mike's guidance and generosity, he has been a constant source of wisdom for me as I grow, create, innovate, and fulfill on my life's passion and purpose. 
I am forever grateful to Mike and Project Wildfire and will continue to be an advocate and example of what is possible out of this extraordinary initiative and project."
 -Theresa Laurico, SociaLIGHT
OUR GUARANTEE
We're so sure you'll have an incredible, transformative experience at Project Wildfire Muskoka that we're offering a guarantee: if you don't feel you received value for your dollars, we'll refund 100% of your fee, no questions asked!
DON'T MISS YOUR OPPORTUNITY - SIGN UP TODAY!
"Opportunity comes once in a lifetime. Do not miss your chance..." - Eminem
When & Where

Private Cottage
280 Clear Lake Road
Parry Sound, Ontario P2A 2W8
Canada

Thursday, 17 January 2013 at 8:00 PM

-

Sunday, 20 January 2013 at 6:00 PM (EST)
Add to my calendar
Organizer
Project Wildfire is a Toronto-based incubator that finds, sparks and supports businesses and business ideas that serve the greater good. For more information visit http://projectwildfire.ca