Event Information
Location
Ted Rogers School of Management
55 Dundas Street West
TRS1-067 - 7th floor
Toronto, ON M5G 2C3
Canada
Description
STARTUP TALK : MASTERMINDS SERIES
on Oct 18 TorontoStarts kicks off it's MASTERMINDS SERIES A TedX style event with some of the greatest speakers and entrepreneurs talking about innovation, vision, passion, and insights related to starting up in Canada and the world.
Register Early this is a can't miss event that will change the way you look at the world!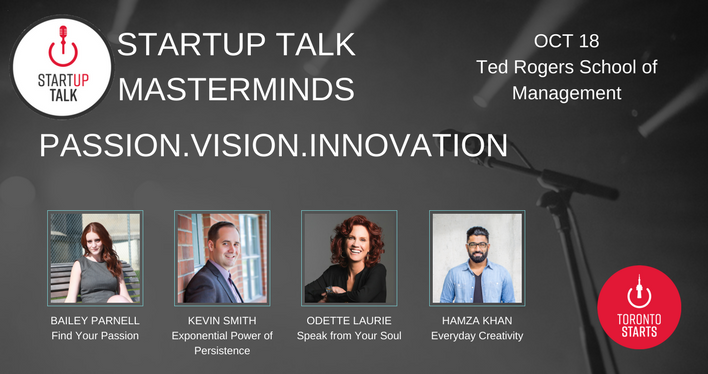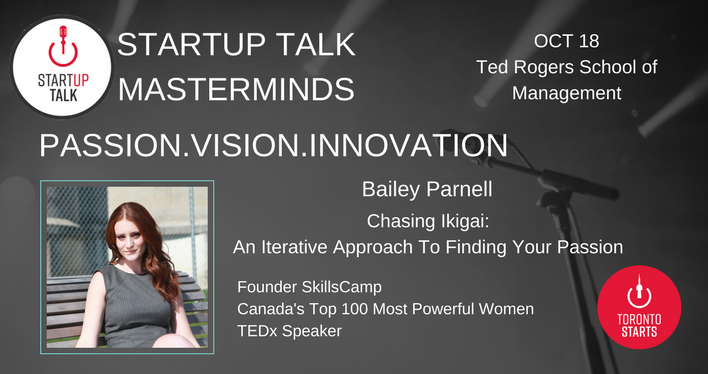 You're told to "find your passion", but where do you even begin? By taking an iterative approach to ourselves and using the concept of Ikigai as a starting point, we may find that our passion is not what we thought it was.
Bailey Parnell was named one of Canada's Top 100 Most Powerful Women by the Women's Executive Network. She is an award-winning digital marketer, TEDx speaker, and businesswoman with a talent for helping people and brands tell better stories. Her work and expertise have been featured on CBC, CTV, FLARE, & in other local Toronto media. Bailey recently founded SkillsCamp, a soft skills training company where they help businesses develop the essential skills needed for success - skills like personal branding, productivity, emotional intelligence, and more.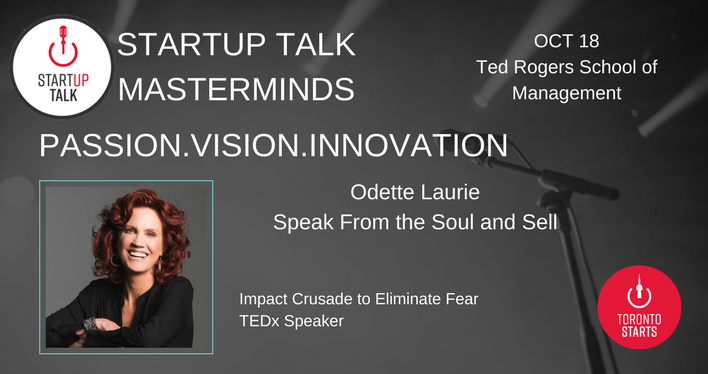 Speak From Your Soul and Sell: Learn the Steps of Impact to Connect, Engage, and Influence
Your "why" is the Key to global impact. Use the power of your personal story to cultivate a high impact, lucrative business and a life filled with meaning and purpose

"Impact happens when purpose and action intersect." Odette grew a seven-figure business by speaking. She now works with Unlikely Leaders and Game Changers with a burning desire to change the world but lack clarity and a strategy. Using her proprietary seven-step proven process she helps them craft a strong, unique message and amplify it to create a successful and impactful business that will change the world. She began her Impact Crusade to eliminate fear from one million people across the globe by 2020, so they can live their life with power, purpose, and without apology. Odette is a TEDx alumnus, a Bronze Winner of the Stevies Award, as well as a multiple nominee for the RBC Canadian Women Entrepreneur award.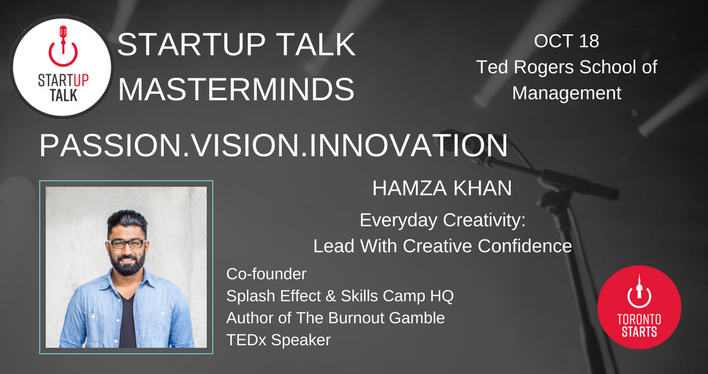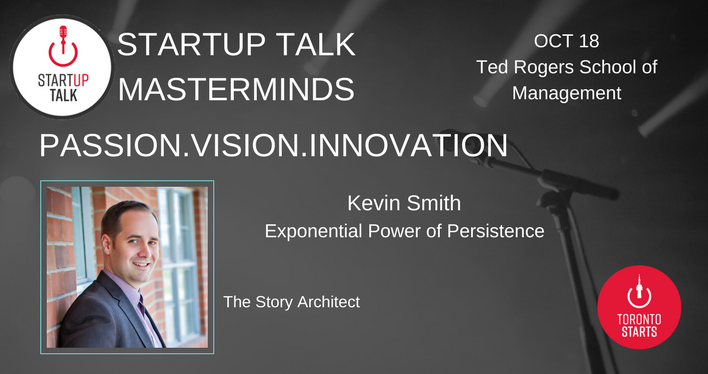 For more information on Toronto's most active Startup Community visit TorontoStarts.com
For more information on Startup Coaching visit The Startup Coach
Book A Startup Coaching Session Now!
Startup Launch is an 8 week accelerator program design for high growth potential startups. Find out more and apply for the Oct 23 Cohort
Disclaimer: By signing up for a Startup Toronto meetup event, you agree that Startup Toronto may record or photograph the event, (including you, your likeness, voice and any guest you bring), and use it publicly or privately in any form of media, including for commercial purposes. By attending, You consent to the recording and photographing and grant Startup Toronto an unrestricted, perpetual, non-exclusive and sublicensable license, to take, use, display, perform, distribute or exploit for any lawful and commercial purpose any recordings or photographs.
Date and Time
Location
Ted Rogers School of Management
55 Dundas Street West
TRS1-067 - 7th floor
Toronto, ON M5G 2C3
Canada
Refund Policy