Description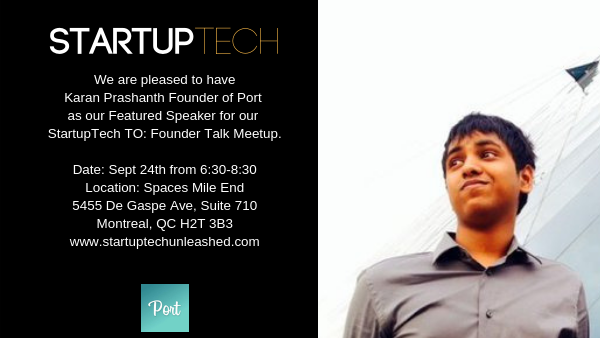 Event cost: $10 on Eventbrite and $15 at the door
---
Featured Speaker: Karan Prashanth Founder of Port Inc.

He will be talking about how he launched Start-up while still being in University. Learn how he managed to get early funding and how managed to get early traction with his young start-up.

What is port all about:
It doesn't have to be so hard to commute between cities. No more detours. No more wasting hours waiting for the next bus. And no more fixed schedules. Travel between cities and events in half the time and half the price of public transit with Port. For Passengers, It's finally super easy and cheap to travel between cities and events. At half the time and half the price of public transit.

*********Special **********
If you're driving to the meetup, offer your ride on Port and fill your empty seats. Make $$$. Need a ride from your city to the meetup? Get there starting at $10 from your city.

Download at www.portapp.co

---
The structure of the event is below:
5:30: Doors open, registration start's and open networking till 7 pm
6:01 pm-6:15 pm: Introductions to StartupTech Unleashed & 40 sec intro of our attendies

6:16 pm-7 pm: Interview & Q&A session with our featured speaker.
7 pm- 7:30 pm: Open networking.
7:30 pm: Closing remarks.
---
What we are all about:
This is a perfect event to network with fellow entrepreneurs, startup founders, tech enthusiasts or to just meet new people.
Who are our members:
Our events are great for Startups and businesses of all stages of growth our members range from the following tech circles:
• RealTech • MarTech • CleanTech • FinTech • MedTech • EdTech
• Wearables • AR/VR • IOT • Big Data ....and so much more.
Our structure, we host an informal fireside chat with a featured speaker with a Q & A session and open networking. We will have more information coming in the next few weeks on who the speakers will be and the venue.
---
Sponsors:

Port: It doesn't have to be so hard to commute between cities. No more detours. No more wasting hours waiting for the next bus. And no more fixed schedules. Travel between cities and events in half the time and half the price of public transit with Port.

Techfindz: What is TechFindz? It's like "Groupon®" but for technology products. We provide a digital marketplace to match buyers and sellers of tech-related products together.
Spaces: They offers an inspiring work environment for professionals and growing businesses. In addition to office space, there are memberships and meeting rooms to help you think, create and cooperate with like-minded people. Spaces' goal is to offer inspirational surroundings with an entrepreneurial spirit where ideas are born, a company can evolve and valuable relationships are built.

Start-Up Recruit: We are a team of technology recruiters that love recruiting! Since 1998 we've been connecting amazing candidates with awesome customers. Hiring candidates are expensive and time-consuming. That's why we created a cost-effective recruitment solution that offers you so much more. Partner with us and create a hiring plan that makes sense for your business. Trust our experience with your most valuable asset.

Skyphone: SkyPhone is a smartphone number in the cloud that manages all incoming calls into your business and directs them to the right person on your team regardless of their location or what type of phone they're using
--------------------------------------------------------------------------------------------------------------------------------
Disclaimer: By signing up for Any STU meetup event, you agree that StartupTech Unleashed may record or photograph the Event, (including You, your likeness, voice and any guest you bring), and use it publicly or privately in any form of media, including for commercial purposes. By attending, You consent to the recording and photographing and grant StartupTech an unrestricted, perpetual, non-exclusive and sub-licensable license, to take, use, display, perform, distribute or exploit for any lawful and commercial purpose any recordings or photographs.