Description
Boston & Blockchain
Boston has long been seen as the hub of Blockchain. Being world leaders in research in cryptography, cyber security, distributed computing, and finance, Boston plays an important role in growing Blockchain to its full potential.
Now, this event primarily focuses on the thought that people around the world have started noticing and talking about the Blockchain thanks to the meteoric rise in the value of cryptocurrencies. Now, 2018 will be the year when Blockchain technologies will be on the rise and will finally have universal applications.
Follow us on twitter for Updates
Panel Speakers: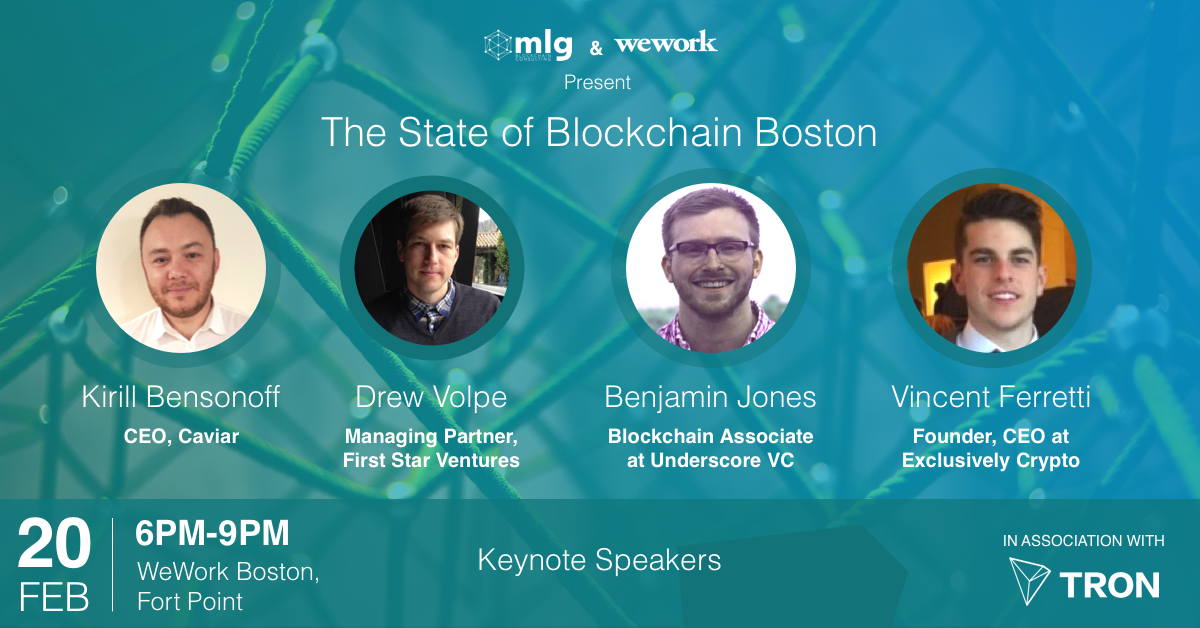 Kirill Bensonoff - CEO, Caviar - Linkedin
Kirill has served as both an advisor and angel investor in over 20 different companies. A member of the Young Entrepreneur's Council and co-host of the Boston Crypto Meetup series, he has been published or quoted in national business, blockchain and technology media, including Forbes, Inc., Huffington Post, Bitcoin Magazine and CoinTelegraph, among many others.
Drew Volpe - Managing Partner, First Star Ventures - Linkedin
Drew Volpe is a WeWork Member here in Boston and has spoken at numbers local blockchain events & meetups. He is the Managing Partner at First Star Ventures investing in entrepreneurs solving real-world problems with data and machine learning technology. His investments include: Sia (Nebulous), Plex Research, Seven Bridges Genomics, Upskill, Smarking, Oculii, Infinite Analytics, Talla, Resilinc. Also an advisor at Nebula Genomics.
Benjamin Jones - Blockchain Associate at Underscore VC - Linkedin
Ben is primarily focused on supporting the team at Underscore VC in the Investment process with a particular focus on Blockchain and related technologies. He has a passion for problem-solving, evaluating and bringing concepts from ideation to evaluation and haS an innovative outlet to apply his deep understanding of math and physics.
Vincent Ferretti - Founder, CEO at Exclusively Crypto - Linkedin
Vincent runs a peer to peer networking group that connects upward of 4000 highly motivated cryptocurrency enthusiasts to future assist each other with their exploration through the field. Also an author for publications like cryptohearsay and a Youtube with over 5000 subscribers.
Moderator:
Sean Stapley - Director Of Business Development, MLG Blockchain - Linkedin
Bermuda-born, living in Montréal. Fascinated by FinTech, Blockchain, Cryptocurrencies, AI, VR and so much more. A regular at Blockchain events across America.
Discussion Topics:
1. The New Internet: What is blockchain and how will it affect me in the next 5 years?
2. Breaking into the Blockchain Industry: Making a career in Blockchain.
3. Global Passport: Blockchain technologies that will enable personal identity management and compliance globally.
4. The Shift in Power: How are blockchain technologies empowering people and reducing the significance of traditional banks (middlemen)?
5. Taxation of cryptocurrency investments: How will nations go about regulating and taxing cryptocurrency investments?
---
Light food and refreshments will be provided
Seating is limited to 100 guests. Please RSVP through Eventbrite and include your name, email, company, and background/interest in blockchain in order to successfully register for the event. Without this information, we won't be able to guarantee a seat. Due to limited space, this event is open to professionals who are actively engaged in the blockchain space and registration is subject to review.