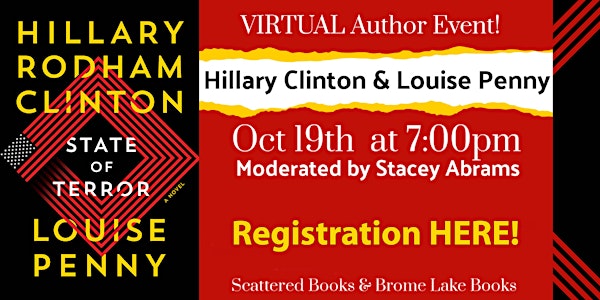 "State of Terror" conversation with Hillary Rodham Clinton & Louise Penny
"State of Terror" conversation event with Hillary Rodham Clinton and Louise Penny, moderated by Stacey Abrams.
Refund Policy
Contact the organizer to request a refund.
Eventbrite's fee is nonrefundable.
About this event
About this event
We are thrilled to bring you this virtual book event with bestselling authors Hillary Rodham Clinton and Louise Penny as they present their new international thriller, "State of Terror," moderated by Stacey Abrams!
About the event:
Tickets are available as a book bundle with double-signed books. The signatures will be on a bookplate.
The zoom link will be provided to registered attendees ON THE MORNING OF THE EVENT. The link MAY NOT be distributed, shared, given, or used by anyone other than the ticket holder. Ticker holders agree to this condition by registering for the event.
Please note that in the unlikely event that capacity of the webinar is reached at the start of the event, a convenient video on demand option will be available. We will do our best to allow everyone to view the event live.
Scattered Books and Brome Lake Books in Quebec Canada are teaming up to make the event available across borders. Simon & Schuster and St. Martin's Press are working with Scattered Books and Brome Lake Books to facilitate book sales by the hometown store of each author.
About the Book:
After a tumultuous period in American politics, a new administration has just been sworn in, and to everyone's surprise the president chooses a political enemy, Ellen Adams, for the vital position of secretary of state. With this appointment, he silences one of his harshest critics, since taking the job means Adams must step down as head of her multinational media conglomerate.
As the new president addresses Congress for the first time, with Secretary Adams in attendance, Anahita Dahir, a young foreign service officer (FSO) on the Pakistan desk at the State Department, receives a baffling text from an anonymous source. Too late, she realizes the message was a hastily coded warning. What begins as a series of apparent terrorist attacks soon unveils itself as the beginning of an international chess game involving the volatile and Byzantine politics of Pakistan, Afghanistan, and Iran; the race to develop nuclear weapons in the region; the Russian mob; a burgeoning rogue terrorist organization; and an American government set back on its heels in the international arena. As the horrifying scale of the threat becomes clear, Secretary Adams and her team realize it has been carefully planned to take advantage of four years of an American government out of touch with international affairs, out of practice with diplomacy, and out of power in the places where it counts the most.
To defeat such an intricate, carefully constructed conspiracy, it will take the skills of a unique team: a passionate young FSO; a dedicated journalist; and a smart, determined, but yet untested new secretary of state.