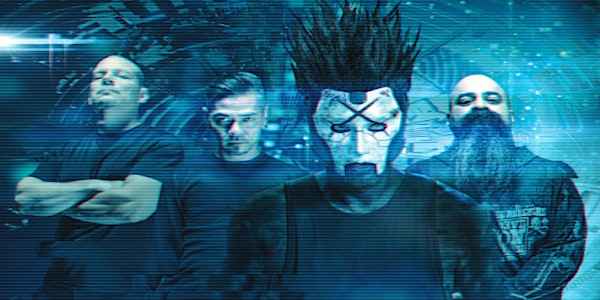 Static X 'Rise Of The Machine 2022 Tour' w/ Fear Factory, Dope & Society1
The Rickshaw presents American metal crew Static-X as they return to Vancouver with special guests Fear Factory, Dope, and Society One.
When and where
Location
Rickshaw Theatre 254 E. Hastings Street Vancouver, BC V6A 1P1 Canada
Performers
Headliners
More Performers
Fear Factory
Dope
Society 1
About this event
The Rickshaw presents Static-X / Rise of the Machine 2022
With special guests Fear Factory, Dope, and Society One
Wednesday, March 1st, 2023
The Rickshaw Theatre
19+
Doors: 5:30pm
UPDATE: Unfortunately, Static-X has been forced to postpone it's 2022 North American Tour to 2023. The Rickshaw show originally scheduled for February 23rd, 2022 has now been moved to March 1st, 2023. Tickets will rollover to the new date. Ticket holders will be sent more information via email.
Static-X
American metal crew Static-X emerged at the tail end of the '90s, pushing an aggressive thrash metal blend with industrial overtones and a techno pulse. Their breakthrough debut, 1998's cult classic Wisconsin Death Trip, rocketed them to stardom in the heavy music world, their image boosted by frontman Wayne Static's distinctive hair and vocal delivery. While maintaining momentum into the 2000s with additional efforts like Machine and Shadow Zone, Static's passing in 2014 effectively halted the group in their tracks. However, at the close of the decade, the original lineup made a comeback with the help of previously recorded Static vocals, issuing Project Regeneration in 2020.
Static-X has been described as industrial metal, nu metal,and alternative metal. Self-described as "evil disco", Static-X's style, according to The Washington Post, "combines electronic elements influenced by industrial artists such as Ministry and Skinny Puppy with the harshness of bands like Pantera".
Static-X Online
Website // Facebook // Instagram // Twitter // YouTube // Spotify
Fear Factory
One can't overstate the size of the Fear Factory boot print on the neck of heavy metal. Unleashing influential albums with devastating anthems for over 30 years, Fear Factory is widely recognized as both crucial and innovative in extreme metal circles. Fear Factory manufactured, demanufactured, and remanufactured a sound that reverberates across several subgenres. They perfected an explosive blend of staccato paint-stripping riffs, industrial-tinged drums, electronic flourishes, and a scream/sing dichotomy, all of which became staples in heavy music, ever since the group first emerged in L.A.
Fear Factory Online
Website // Facebook // Instagram // Twitter // YouTube // Spotify
Dope
An uncompromising New York City-based outfit that draws from both heavy metal and industrial music, Dope's confrontational emissions evoke Ministry, Skinny Puppy, and White Zombie. Emerging in 1999 with the hard-hitting Felons and Revolutionaries, the group continued to beat the post-industrial drum on 2005's American Apathy and 2018's Blood Money, Part 1, while managing to weave in elements of speed, alternative, rap, and nu-metal.
Dope Online
Website // Facebook // Instagram // Twitter // YouTube // Spotify
Society One
Society One is an American industrial metal band formed in the 1990s in Los Angeles by lead singer Matt Zane. They have released four studio albums, a live album, a compilation album, and a spoken word poetry album by vocalist Zane. The band has also performed at several major festivals, including Download, where Zane broke several records by performing the entire set suspended from four meat hooks through his back.
Society One Online
Website // Facebook // Instagram // Twitter // YouTube // Spotify
Refund Policy
No refunds, unless event is cancelled.