About this Event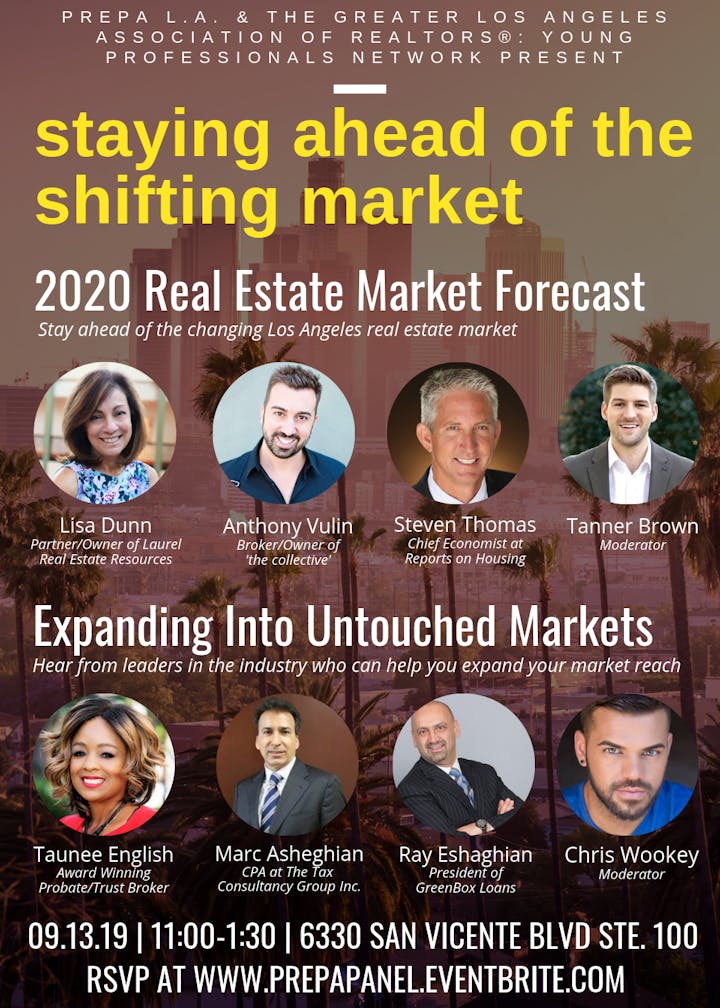 PREPA L.A. & Beverly Hills/Greater Los Angeles Association of Realtors: Young Professionals Network present 'Staying Ahead Of The Shifting Market'.
Stay ahead of the changing Los Angeles real estate market and hear from leaders in the industry who can help you expand your market reach!
11:00-11:30 | Networking + Lunch (provided by Josh Wolfson & Carly Saltzman of PNC Mortgage)
11:30-12:20 | 2020 Real Estate Market Forecast featuring
Lisa Dunn | Partner & Owner of Laurel Real Estate Resources
Anthony Vulin | Broker & Owner of 'the collective'
Steven Thomas | Chief Economist at Reports on Housing
12:30-1:30 | Expanding Into Untouched Markets featuring
Taunee English | Award Winning Probate/Trust Broker
Marc Asheghian | CPA at The Tax Consultancy Group Inc.
Ray Eshaghian | President of GreenBox Loans
FREE for PREPA L.A. members, $20 for non-members!