Description
Join us for a fantastic evening celebrating Steampunk art.

This is a free event presented The Meicholas Art Foundation but would appreciate any donations.
We like to thank Liam Construction for helping us make art accessible to the community in many ways.
Three costume prizes will be awarded so dust off your hat and join us in Steampunk attire.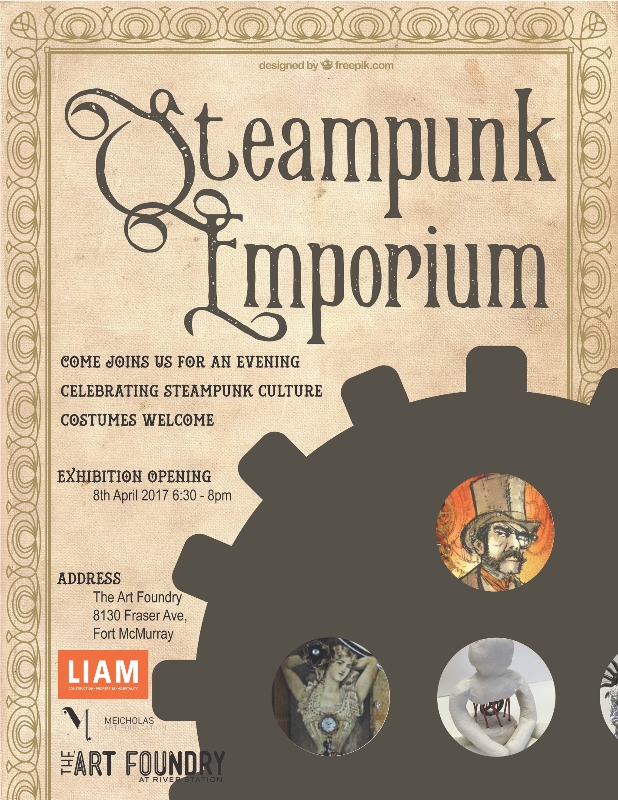 ---
What is Steampunk ?

Steampunk is a retro-futuristic creative ideology and design aesthetic. It began as a sub-genre of speculative fiction, the term being coined in the 1980's by sci-fi writer K.W. Jeter, and expanded from there into the realms of art, fashion, and media. It's a kind of retro-futurism, envisioning advanced technologies as they might have existed in a 19th Century setting: powered by steam, spring, or clockwork; often, there is an additional element of the fantastic. All of this takes place against a neo-Victorian backdrop of brass and gears, airships and submarines, and of course, top hats, tailcoats, and corsets.
For more information please visit:http://www.meicholasartfoundation.com/steampunk-emporium/
The Meicholas Art Foundation is a not-for-profit organization that believes the arts should be accessible for everyone in order for the community to prosper and for individuals to explore and grow in the arts. We connect arts to the community and the community to artists with the hopes of further developing an appreciation for the arts, and we offer direct support to artists in establishing their professional careers.
The Meicho Art Gallery is housed in The Art Foundry at River Station, 8130 Fraser Avenue, Fort McMurray.
---