StemCellTalks is an annual symposium series for Grade 11-12 students to learn about stem cell research, therapies and ethics.
About this Event

StemCellTalks is an annual symposium series organized by graduate student volunteers and co-founded & sponsored by Stem Cell Network and Let's Talk Science to bring exciting discoveries in stem cell biology to Grade 11-12 students. Through this free symposium, students will learn scientific knowledge, technologies and ethics about human tissue regeneration through lectures delivered by the leading scientists all over Canada. Students can also interact with graduate students and specialists during career panel discussion and other activities.
Each year, our events on UBC campus attract more than 200 students and are highly appreciated by past attendees. Due to the pandemic, we are hosting an online event this year together with StemCellTalks Calgary team on May 13th (Thu) 2021.
The theme of this year is "Stem Cells and the Respiratory System". Living through Covid-19 pandemic, we would like to take the opportunity to talk about interesting science about lung stem cells and how scientists fight against lung damage caused by viral infection or congenital diseases.
**********************************************************************
As a tradition of our event, we will issue virtual Workbooks with background knowledge and detailed information about each lecture and activity.
What to expect: during the event, students can audit lectures, ask scientists questions at Q&A sessions, watch Demo videos about cool lab techniques, participate in interactive quiz, and play StemCellTalks Bingo to win prizes.
We have limited spots so register soon!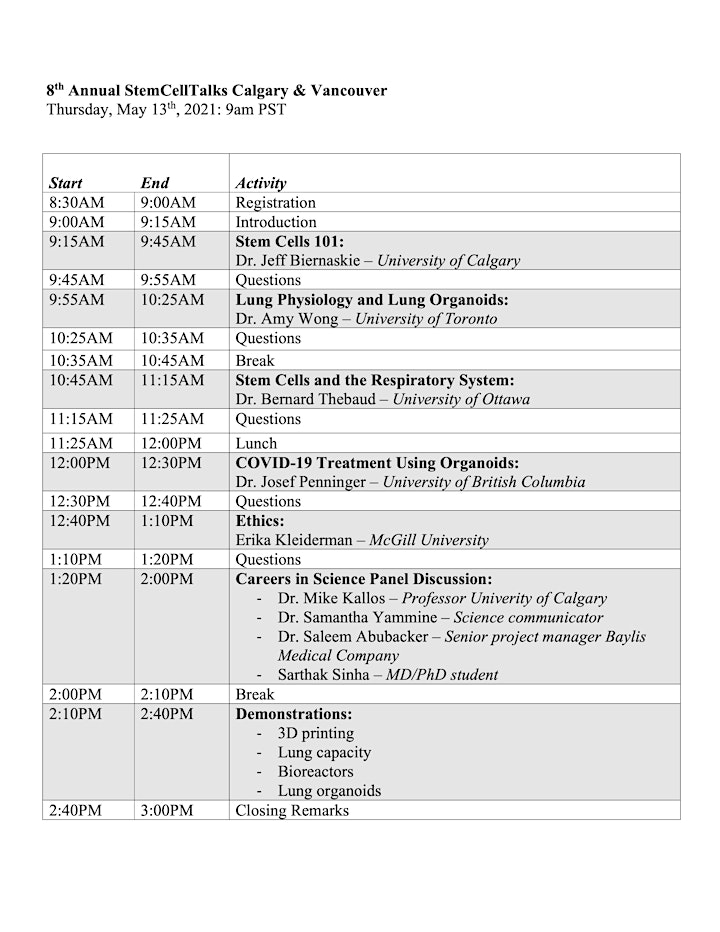 How to participate:
We hope you have a safe and comfortable environment to join our virtual event while practicing social distancing and sanitation rules. There are multiple ways to join our event whichever suits you the best:
Classroom sharing (equipment: 1 computer, 1 projector+speaker)
Classroom solo (equipment: PC/laptop/cell phone for each student)
Join from home
Please ensure the Zoom app is installed on your device before joining the event. You will receive a link to sign in to the webinar when you register.
Registration instructions:
Step 1: Get your ticket
If you are a student and want to register yourself, choose "Student" ticket option; if you are a teacher and want to register for your class, choose "Teacher" ticket option.
Please fill in your name, school, email address at checkout. We will reach to you with event updates using your email address provided.
Step 2: We will email you the direct link to Zoom webinar
Please use the link we send you through email to access the event on May 13th 8:45AM.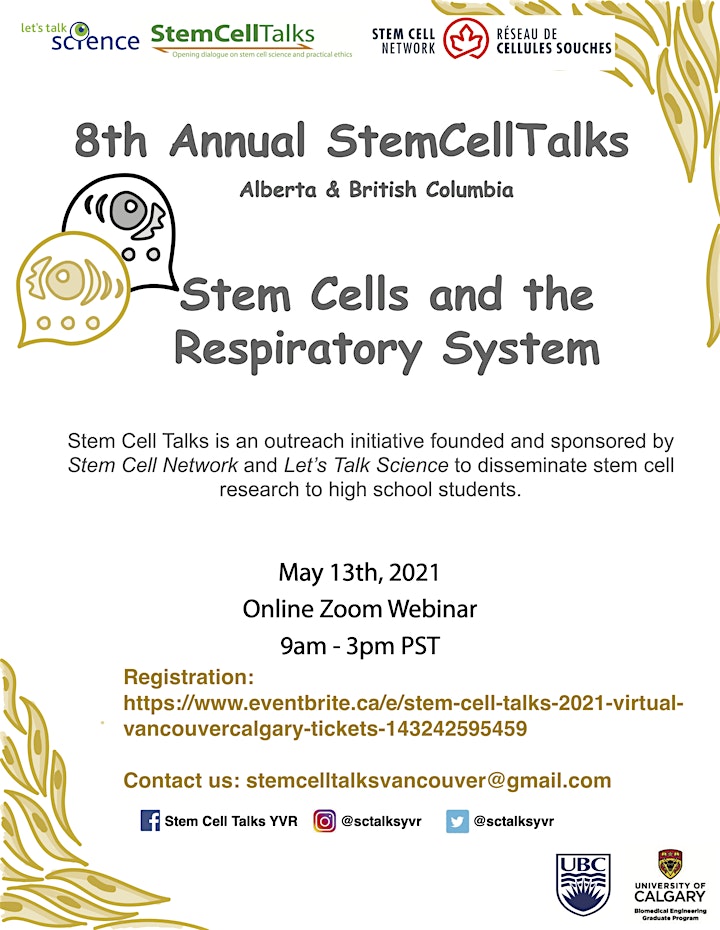 Contact Us
Send us an email if you have any questions: stemcelltalksvancouver@gmail.com
Social Network
Share our event with your friends and colleagues: