Stem Cells 101: The Promise and Potential - Hamilton

Thursday, 21 April 2016 from 6:00 PM to 9:00 PM (EDT)
Event Details
What is a stem cell?
What's new in stem cell research?
What kinds of treatments are using stem cells today?
What is stem cell tourism?

If you are interested in these questions, OIRM has the answers. Join us in Hamilton for a free public event on Thursday, April 21st from 6:00-9:00 pm at the Art Gallery of Hamilton. You will hear from experts in the stem cell and regenerative medicine field: Dr. Jon Draper (Scientist, Stem Cell and Cancer Research Institute), Dr. Sheila Singh (Pediatric Neurosurgeon, McMaster Children's Hospital and Scientist, Stem Cell and Cancer Research Institute) and Dr. Mick Bhatia (Director and Senior Scientist, Stem Cell and Cancer Research Institute). Speaker bios and their talk titles can be found below.
For parking information please click here.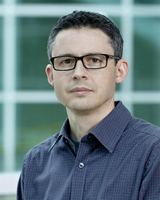 Stem cells: Where they live and how they work

Dr Jonathan Draper is an associate professor in McMaster University's Department of Pathology and Molecular Medicine, a scientist of the Stem Cell and Cancer Research Institute (SCC-RI), and holds the Tier 2 Canada Research Chair in Human Stem Cell Lineage Commitment. Dr Draper has over 17 years experience working with human pluripotent stem cells, and his research currently focuses on identifying the cell fate mechanisms that control the switch between self-renewal and differentiation in both normal and cancerous human stem cell populations.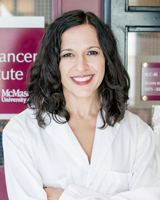 Being patient: How stem cells are impacting treatment options

Dr. Sheila Singh is an associate professor of surgery and biochemistry, a pediatric neurosurgeon at McMaster Children's Hospital, and scientist appointed to the Stem Cell and Cancer Research Institute at McMaster University.  She holds a Tier 2 Canada Research Chair in Human Cancer Stem Cell Biology, and is Director of the McMaster Surgeon Scientist Program. Her PhD thesis described the novel identification of a population of cancer stem cells that exclusively drive the formation of brain tumours. Since 2007, Dr. Singh's lab applies a developmental neurobiology framework to the study of brain tumorigenesis.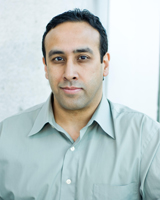 Stem cell treatments: Hype vs reality

Dr. Bhatia is Scientific Director and Senior Scientist of the Stem Cell and Cancer Research Institute (SCC-RI), and Professor in the Department of Biochemistry and Biomedical Sciences, Faculty of Health Sciences at McMaster University. His career began when he received his B.SC. (Honors) in Molecular Biology from McMaster University in 1992 followed by his Ph.D., in Human Biology and Nutritional Sciences from the University of Guelph. Dr. Bhatia holds the Michael G. DeGroote Chair in Stem Cell and Cancer Biology as well as a Tier 1 Canada Research Chair in Human Stem Cell Biology. He also serves as scientific consultant to government and industry, to medical companies interested in stem cell-based technologies, and sits on numerous editorial and scientific advisory boards. Although stem cells can serve as sources for cellular and organ replacement in tissue damaged by trauma or genetic influences, and for disease intervention, Dr. Bhatia's studies focus on drug development in campaigns related to cancer stem cell targeting, using human stem cells to understand how cancer begins and how treatment may be revolutionized. His work has led to four translational projects in "first-in-person/man" trials in the last 5 years, and has been published in several major journals. Dr. Bhatia has been a recognized leader in human stem cell research for more than 15 years, and has received several awards throughout his career including being named as a Canadian recipient of the Queen Elizabeth II Diamond Jubilee Medal, was recipient of Canada's Top 40 Under 40 award, and received the Premier's Research Excellence Award from the Ministry of Energy, Science and Technology.
OIRM is pleased to host this event in partnership with McMaster University's Health Sciences Department.

When & Where

Art Gallery of Hamilton
123 King Street West
Hamilton, ON L8P 4S8
Canada

Thursday, 21 April 2016 from 6:00 PM to 9:00 PM (EDT)
Add to my calendar
Organizer
The Ontario Institute for Regenerative Medicine (OIRM) is a non-profit stem cell institute funded by the Ontario government and dedicated to transforming discoveries into clinical trials and cures. Through our commitment to collaboration and partnerships, we leverage our resources to fund and support promising advances. OIRM is a passionate champion for investigators and their patients as we build a healthier future for Ontario, Canada, and the world.