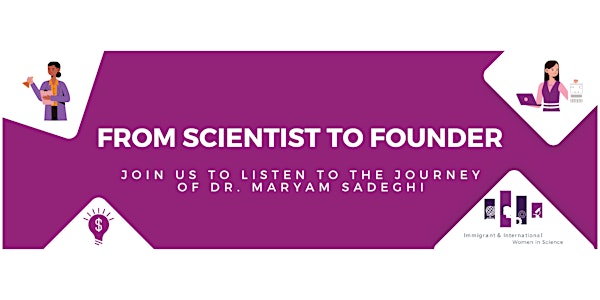 STEM Entrepreneurship: From Scientist to Founder
Join us to listen the story of an immigrant and successful woman who had transitioned from academia to the business world.
Date and time
Mon, Mar 27, 2023 4:00 PM - 5:30 PM PDT
About this event
1 hour 30 minutes

Mobile eTicket
Transforming a career passion into a successful company comes with many challenges. Many scientists may not envision a career as entrepreneurs for many reasons including an unawareness of the various paths through which they could achieve this and a lack of access to funding opportunities.
In this event, we will discuss with Dr. Maryam Sadeghi, Co-founder and Chief Executive Officer (CEO) of MetaOptima Technology Inc.. Dr. Sadeghi will share her journey from scientist to entrepreneur. As an immigrant woman and scientist in Canada, Dr. Sadeghi's perspectives and experiences will offer an extraordinary overview of the path for becoming a founder of a tech company in Canada in 2023. This event will provide valuable insight for immigrant women scientists considering their own career path.
We invite all immigrant and international women (IWS) in science across Canada, as well as all supporters and advocates for fellow IWS wishing to learn about entrepreneurship in the Tech environment.
The link to connect to the event will be sent to participants 1 day prior the event.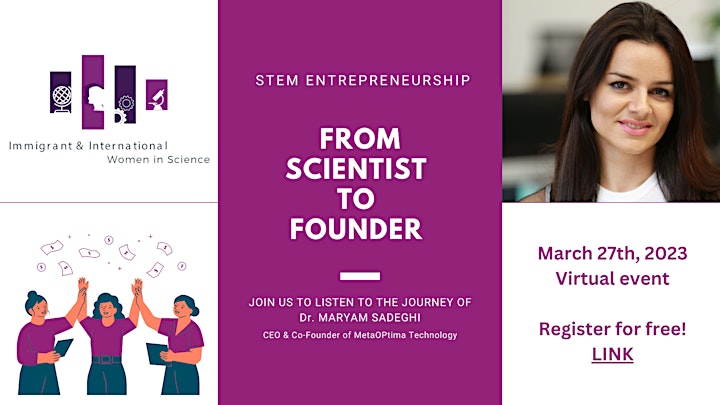 Speaker: Dr. Maryam Sadeghi
Bio:
Maryam Sadeghi, the CEO and Co-Founder of MetaOptima Technology Inc, completed her PhD in Computing Science at Simon Fraser University in the Medical Image Analysis lab. In addition, Maryam was the recipient of the CIHR Skin Research Training Scholarship and completed her research at the BC Cancer Agency and Skin Care Center at UBC Dermatology.
In 2012, she co-founded MetaOptima Technology Inc. with Dr. Majid Razmara in Vancouver, Canada, where MoleScope and DermEngine were developed for intelligent dermatology, smart skin imaging, analytics and management. The company was one of 10 that were shortlisted for the 2013 BCIC New Ventures Competition, and won a $40,000 Wavefront Wireless prize package. In 2014, Dr. Sadeghi also won the Venture Prize from Coast Capital Savings.
Ever since, Dr. Sadeghi has been actively involved in various activities related to innovation, including appointments as board member and Director for many R&D organizations in B.C.
In 2016, Dr. Sadeghi made the Business In Vancouver's Forty Under 40 Awards List for her innovative work and successful commercialization of the DermEngine platform and MoleScope dermoscope.
Who can attend:
This event will be primarily tailored to immigrant or international women from a science background in Canada. We, however, invite and appreciate the support from allies who are interested in providing support to our community.
PARTICIPATION AGREEMENT:
1. Mutual respect for individual perspectives.
2. Listen with generosity and empathy.
3. Contribute ideas, resources, and experiences.
4. Confidentiality for any details shared during the meeting.
5. Hold the space for each participant to share
ABOUT IWS NETWORK:
Immigrant and International Women in Science (IWS) is a growing peer support network with chapters across Canada.
Established in 2018, our vision is to build a collaborative environment for immigrant and international women in science that promotes equity, diversity and inclusion in Canada.
We hold monthly meetings facilitated by committed volunteer IWS leaders on various opportunities and challenges unique to multicultural women.
Consent for photos and videos and other recordings:
By registering and attending this event, you consent to be photographed, filmed and/or otherwise recorded. Your attendance of this event constitutes your consent to such photography, filming and/or recording and to any use, in any and all media throughout the universe in perpetuity, of your appearance, voice and name for any purpose whatsoever in connection with the organization presently entitled: Immigrant and International Women in Science. By registering, you also understand that all photography, filming and/or recording will be done in reliance on this consent given by you by attending this event.
Please get in touch with one of your local city leaders if you would like to abstain from any recording.
Note: By registering for this event, attendees understand that their contact information will be shared with the IWS Network organization that reserves the right to contact them in the future regarding this event or related events and activities.
Signing up for an event automatically subscribes you to our mailing list. To stop getting monthly updates on our events via email, please contact your IWS city chapter leader, or unregistered via the link provided in future emails.
For more information visit: https://iwsnetwork.ca/