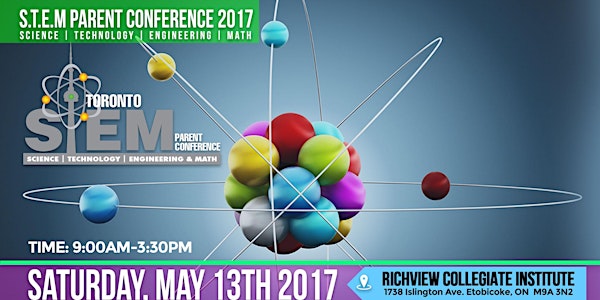 STEM PARENT CONFERENCE 2017 TORONTO
When and where
Location
Richview Collegiate Institute 1738 Islington Avenue Etobicoke, ON M9A 3N2 Canada
Description
SATURDAY MAY 13TH 2017
You are specially invited to the annual
~~ Science Technology Engineering & Mathematics (STEM) Parent Conference ~~
"Empowering Parents to Inspire the Next Generation of STEM Professionals"
This event is brought to you by PASS! (Parents Advocating for Student Success) with proud support from the Ministry of Education & The Toronto District School Board.
Interdisciplinary Learning & Enterpreneurship
MAIN HIGHLIGHTS:
Connecting parents as educational partners today will be a first step in nurturing children who will pursue STEM careers and become future STEM professionals.
Our goal is to simplify the idea of STEM education and remove some common misconceptions. In fact, we want to convey the message that STEM is part of our everyday activities and life experiences.
We endeavour to break-down gender and media stereotypes, demystify "STEM" while providing an experience that sparks excitement in parents and children for STEM based education.
CONFERENCE OVERVIEW!
The STEM Parent Conference 2017 will have 5 Key areas of Involvement:
1. STIC (Science, Technology, Imagination and Creativity) KIDZ ZONE! 3 -12 years
2. Engaging Workshops
3. Expert Panel Discussion
4. Creative Corner (hands-on experience)
5. Marketplace/ Exhibits
The S.T.E.M. Parent Conference discussions will include: Science, Coding, Aviation, Archaeology and Paleontology, Engineering and Robotics, Literacy vs Numeracy, Problem- Solving for STEM, Developing Thinking/ Perception Skills for STEM Careers, Lego Robotics, Alternative Education Pathways, Aligning Education with STEM Career Paths, Financing Education (Grants & Bursaries), STEM grades K-12 and much more...
While in S.T.I.C. Kidz Child Minding, children ages 3-12 years will also engage in fun STEM based activities such as: Science exploration, Aviation Flight Consoles, "Mad Science", Lego Robotics, Creative expression, and more... We encourage Students 13-17 yrs to attend with a parent/guardian
Please join us for an exciting day of STEM learning
A learning event, generously supported by the Ontario Ministry of Education and the Toronto District School Board
Please note that the views expressed at this event do not necessarily reflect those of the Ontario Ministry of Education, TDSB, or any other supporting organization.
RICHVIEW COLLEGIATE INSTITUTE
1738 Islington Ave. Etobicoke, ON M9A 3N2
(Registration and Breakfast 8:30am - 9:30am)
TIME: 9:30 a.m.- 3:30 p.m.
Free Registration | Free Busing | Free Child Minding | Free Refreshments, Food & Drinks
Please note, pre-registration is required for *

Lunch *Child Minding *Translation and *Transportation
R.S.V.P. (ONLINE OR CALL US)
REGISTER NOW ONLINE OR CALL
647.739.4663 | 647-717-9519
info.stemconference@gmail.com