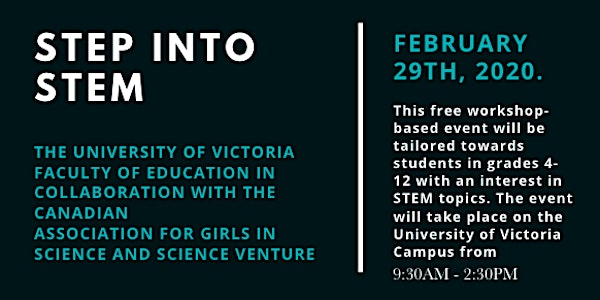 Step Into Stem
This event is a series of four 1hr long workshops themed around topics relevant to STEM; Science Olympics, Coding, Medicine, & Demos
When and where
Location
University of Victoria, Maclaurin Building, Learning Commons Room D201 3800 Finnerty Road Victoria, BC V8P 5C2 Canada
About this event
Step Into STEM is an opportunity for ALL students, regardless of gender, to learn and understand science, technology, engineering and mathematics in an immersive environment. The hope is to break historical stereotypes that these industries are gender dominated or that they are complicated and tedious careers. Students will be invited to participate in four workshops, ranging in length from 45 minutes to 1 hour, to engage in hands-on learning led by Post-Degree Professional Program pre-service teachers and Faculty of Education professors. Additionally, experts from the field will be invited to speak about job prospects in their area of study to inspire all students to pursue careers related to STEM.
Partnership alongside the Canadian Association for Girls In Science (CAGIS) and Science Venture will help organize and facilitate this event
We are hoping to have 50-70 student participants in attendance so that we can split the students into smaller groups of ~30 students according to age groups (estimated grades 4-9, 10 -12). By splitting the students by age, we hope to allow the tailoring of the individual workshops to maintain interest and engagement of students
Science Olympics: smaller groups of students will complete a series of 5 challenges that will test innovation, foster creativity, encourage participation of all, and utilize existing knowledge from the students.
Coding: students will get the chance to explore free coding software options online to build animations through platforms such as Scratch, Grasshopper, or Hour of Code
Medicine: local first responders will lead a workshop focusing on first aid and bandaging. These medical advocates will share experiences from their careers and mentor as positive role models.
Demonstrations: pre-service teachers get an opportunity to refine their demonstration skills and to excite and inspire the students about about a wide variety of science and technology topics that students may not have known were possible or existed.
*Event Starts at 10:00AM Sharp.*
**Please arrive between 9:30AM and 9:55AM for check-in .**
***Awaiting funding to potentially provide a catered lunch***