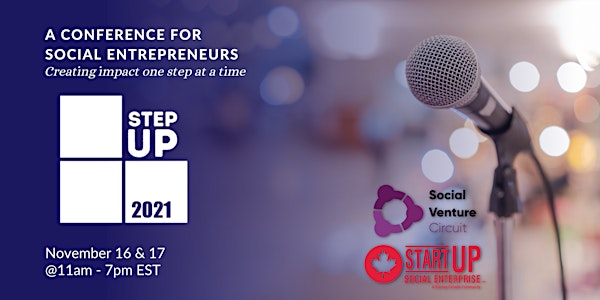 Step Up 2021 Conference - Celebrating Social Enterprise
Step Up 2021 is bringing you two days of learning and connection with social impact leaders and subject matter experts
Refund Policy
Contact the organizer to request a refund.
Eventbrite's fee is nonrefundable.
About this event
Join us for a memorable journey of learning and celebration. We have brought together two great days of inspiration and insight, storytelling from experienced social impact leaders and valuable advice from subject matter experts.
Key themes for this year's event are:
Envisioning the future of social enterprise in Canada
Designing sustainable strategies to scale operations and social impact
Advocating for inclusive community action and ownership
Accessing fundraising and impact investment for operating sustainability
Who should attend:
Social entrepreneurs and intrapreneurs: learn from experts in a variety of sectors creating social impact. Explore new ideas, expert resources and connections that can add value to your own projects
Social impact professionals: connect with other professionals, leaders and organizations in this space to explore career and growth opportunities
Champions for social enterprise: dive deeper to explore the challenges facing the sector and how you can support social impact leaders with your products and services
Visit our conference page for more details.
This event is brought to you by Social Venture Circuit and Startup Social Enterprise, a Startup Canada community.
Register now for this must-attend event!
Here is a quick sneak peek into the two days:
Scaling impact in the clean technology and circular economy spaces
Building meaningful community engagement around your social impact cause
Catering to the unique marketing needs for social impact organizations
Planning for successful fundraising and investment
Explore what you need from your local ecosystem to innovate and scale
Prioritizing diversity and inclusion with your social impact vision
Our sessions are led by some amazing leaders in the entrepreneurship and social impact space including: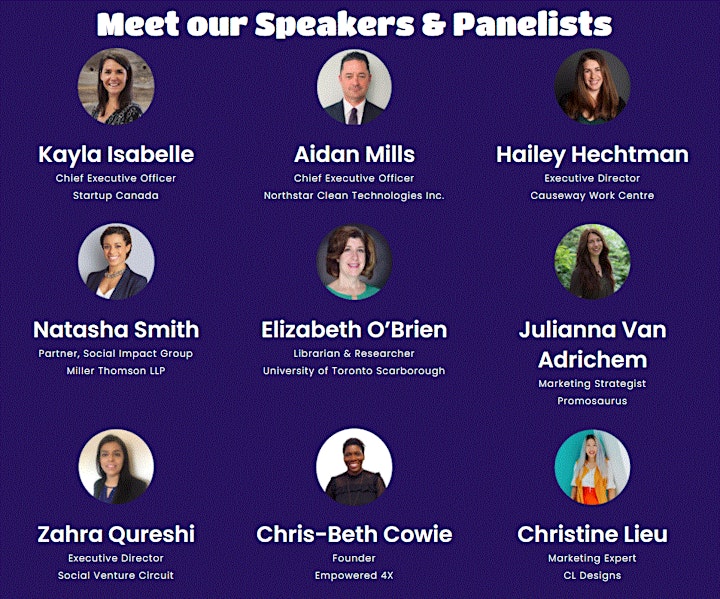 Check our conference page for more details on speakers and sessions. Stay tuned for the full itinerary.
Tuesday, November 16, 2021: 11am - 7pm EST - Presentation and Panel Sessions
Wednesday, November 17, 2021: 11am - 5pm EST - Presentation and Panel Sessions
Wednesday, November 17th: 5pm - 7pm EST - Virtual Exhibition Tables & Networking
Recordings will be available after the conference so you can re-watch or still take advantage of the content you missed in the live presentations.
Thank you to our sponsors and exhibitors including Startup Canada and the Startup Community Empowerment Fund supported by Mastercard, UPS and Sovereign Insurance, ICUBE UTM, Innovation Guelph, EDGE Sheridan, YSpace ELLA and the Novinger Insurance team.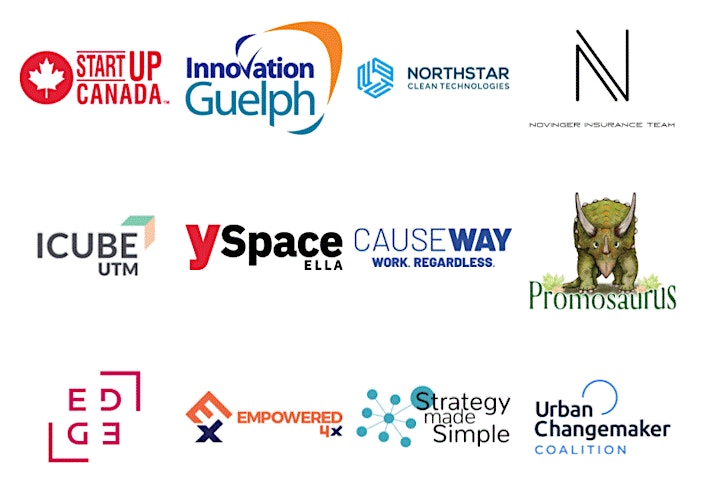 Media consent: Screenshots and video recordings may be taken at this event. Your image may be used in printed and electronic publications for promotional and educational purposes and may be made available to the media and other third parties, or published on the Internet. By registering for any of our events, you understand and acknowledge that your image may be taken and used at our discretion. If you have concerns about your image being used for these purposes, please reach out to members@socialventurecircuit.ca.
FAQ
What if I cannot attend the full conference?
Attendees with a valid ticket will receive full access to recorded sessions after the conference to revisit any presentations. Don't miss the exhibition and networking time on Wednesday, November 17th from 5pm - 7pm EST.
Can my organization host a booth at the exhibition or become a sponsor?
Yes! You can contact our team for more details: zahra@socialventurecircuit.ca
Where can I learn more about the membership?
Visit our website for more details. The discounted membership fee is a great offer for conference attendees to join our network and get 50% on their first year of membership.
What is the refund policy?
Refunds are not available through Eventbrite. Please contact the organization directly at members@socialventurecircuit.ca