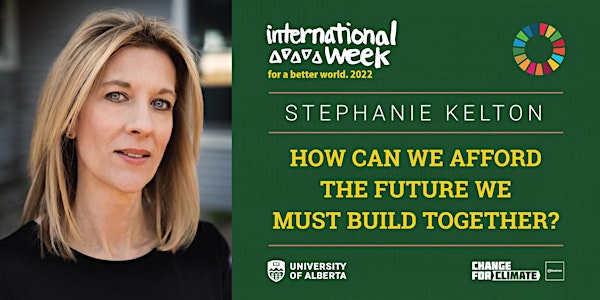 Stephanie Kelton: How can we afford the future we must build together?
Join economist Stephanie Kelton as she discusses how Alberta can finance a just transition towards a green economy
About this event
The world is moving toward decarbonization. The question is, will Alberta move with it, or will we be left with stranded assets and a devastated economy? Join renowned economist Stephanie Kelton, who will discuss how Alberta can join global decarbonization efforts on our own terms.
To build the future we need, we must begin by firmly establishing a mission. Stephanie Kelton argues that instead of asking "What can we afford to do?", we must ask, "What is it we want to accomplish?" Money—or a perceived lack thereof—is too often seen as an obstacle to ambitious policymaking.
Alberta needs a mission-oriented strategy to guide the transition away from non-renewable resource extraction to a more diversified and resilient economy. Stephanie Kelton will discuss how this requires a break with old habits of thought, a new approach to budgeting national resources, and a firm commitment to a just transition and good jobs for all.
This talk will emphasize SDGS 8, 13, and 16.
About Stephanie Kelton
Stephanie Kelton is a leading authority on "Modern Monetary Theory", a new approach to economics that is taking the world by storm. She is one of the most important economists influencing the policy debate today. Her new book, The Deficit Myth: Modern Monetary Theory and the Birth of the People's Economy, shows how to break free of the myths and misunderstandings about money and the role of taxes, debt and deficits that have hamstrung policymakers around the world.
International Week: February 1–7, 2022
This is the opening keynote for the University of Alberta's International Week 2022.
A warming globe, increasing numbers of refugees and displaced persons, gender disparity, economic inequalities, freshwater shortages, famine, war… We are bombarded with these issues and many others facing the planet and its inhabitants every day. To address these issues, the UN established the Sustainable Development Goals (SDGs) to be achieved by 2030.
I-Week is a chance for you to hear international and local perspectives on global issues. Join us February 1-February 7, 2022 as International Week speakers connect their work to the UN Sustainable Development Goals (SDGs), which were adopted in 2015. The Goals call on governments and civil society around the world to address the world's most pressing issues from poverty and education to health and the environment.
UAlberta's annual International Week is an incubator of ideas and a source of inspiration for us to work together for a better world.